Ballatw goes off on toxicity and mismanagement in competitive Fortnite
One of the most well-respected voices in the Fortnite community, Arten 'Ballatw' Esa, went off on Twitter about the rampant toxicity at the highest levels.
One of the most well-respected voices in the Fortnite community, Arten 'Ballatw' Esa, went off on Twitter about the rampant toxicity at the highest levels.
Anyone who regularly follows the Fortnite professional scene knows Ballatw. He, along with other casters like AussieAntics and ShyoWager, have been credited with keeping viewers in the pro scene with their unmatched from-home casting of tournaments and qualifiers.
The recent events have changed things for everyone, but Epic seemed to have given up on professional casting before the quarantine. They provide prize pools for online qualifiers and let the rest fall into place.
Balltw and others have been picking up the slack – watching VoDs, commentating live gameplay, and even getting replays from popular pros who aren't streaming the events.
Pretty much everyone in the community respects Balla's opinions. He's the level-headed voice of reason in most cases and his words about Fortnite carry weight.
That's why it's particularly surprising to see one of the biggest ambassadors for competitive Fortnite blast the professional community, as Balla did on March 29.
This Twitter rant likely stemmed from a reply to a now-deleted inside joke from Clix. Balla replied, calling the joke homophobic (this may not be the original intention), which prompted a reply from streamer and caster Clay Stehling, who happens to be gay. Fortnite pro, Zayn, took things one step further, and they got dark.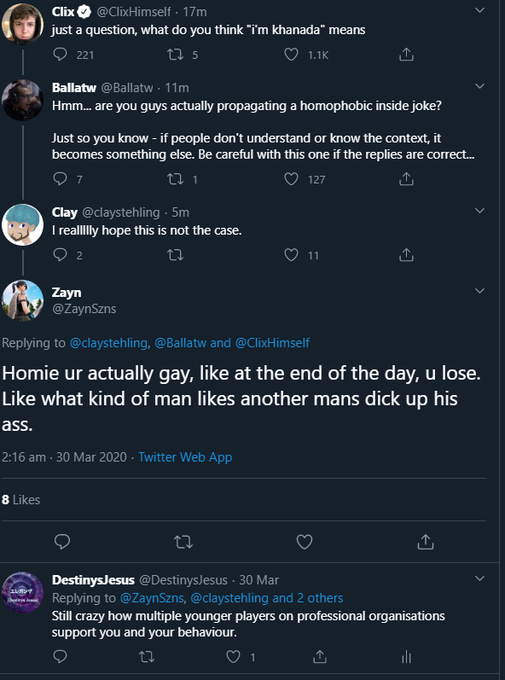 This thread is now deleted, and Zayn claims that his Twitter was hacked. Based on the lack of tweets and his past behavior, few people in the community are buying this excuse.
Balla replied to the above screenshot from DestinysJesus, tagging Clix, Mongraal, BenjyFishy, and Stretched. "You guys enable this kid, by the way. Stop," he wrote.
Balla then tweeted some harsh words for all of the competitive Fortnite community. Among other things, Balla admitted that he is "starting to feel like an idiot for ever believing in the potential."
There were a host of replies to this tweet. Content creators, other casters, and pro players all gave their two cents. The overwhelming theme of many replies referenced the age of the average Fortnite pro.
Fortnite has one of – if not the – youngest professional community in all of esports. Naturally, that means that this group will be immature in their behavior and humor.
Balla took things a step further, though. He referenced the management of Fortnite esports, relating to the lack of structure, accountability, communication, and support.
Balla has a point, here. The "role models" in the community like Ninja, Nick Eh 30, and Myth aren't playing Fortnite professionally, anymore.
At one point, the biggest drama in pro Fortnite was Myth complaining that SypherPK didn't have a two-minute delay during a tournament. Now, we have high-level pros saying the N-word on-stream.
With few exceptions, the highest level of professional Fortnite is run by teenagers. The oldest players in the game are people like Nate Hill at 25 and Tfue at 22 – but they are outliers.
It's easy to point the finger at young players for trying to be funny and edgy for their young viewers. It's more difficult to look at the top of Fortnite competitive and see the mismanagement, there.
Recently, Epic seem to have adopted the "Lord of the Flies" mentality with Fortnite. They throw money at the community and let the chips fall where they may. It's up to community reports to detect cheating, which is another topic that's plaguing professional Fortnite.
Epic need to get their hands back on the wheel if they want to right the ship of professional Fortnite. Balla has several points, here. The problem lies with the management of the competitive system and of players.
Some players are calling for professional Fortnite to be 18+. This might take some of the toxicity and immaturity out of the professional community but it won't solve everything.
Only attention, communication, and support will truly fix the issues. Right now, there appears to be no light at the end of the tunnel. It's a sad day when someone with the authority of Ballatw talks about the competitive community like this.
Epic nerf Fortnite aim assist on PC yet again
Epic Games have released another Fortnite aim assist nerf for PC players.
Here we go again – another reported nerf to controller aim assist on PC in Fortnite. Will this one be enough to satisfy the keyboard and mouse (KBM) community? Will it be the final iteration of aim assist? Probably not, but let's get into it.
This update flew under the radar for most players, as Epic didn't officially announce this change to the public. Data miners reported on the change with the updated files, and pros began to test it out.
According to Hypex, the new values are as follows:
PullInnerStrengthHip -> from 0.6 to 0.45
PullOuterStrengthHip -> from 0.5 to 0.38
PullInnerStrengthAds -> from 0.7 to 0.52
PullOuterStrengthAds -> from 0.4 to 0.3
This seems to be a relatively substantial nerf, but we'll have to wait and see what happens when controller players get their hands on the updated values. According to early reports, console players should be unaffected.
At some point, it seems like Epic are going to nerf aim assist on PC to the point where it will be more beneficial to use a console. This is a bit hyperbolic but could be a legitimate outcome.
We'll keep you posted if and when professional controller players speak out on the aim assist topic. For now, not much has happened on that front – suggesting that little has changed.
Fortnite player shows the best methods for unlocking Agent Peely
What's the best way to unlock XP for the golden Agent Peely?
The golden variant of Agent Peely is one of the popular topics in Fortnite Season 2. Those who started at level one – with no tier or XP purchases – would need to grind-out 29.5 million XP in order to reach level 350 for a fully-golden Agent Peely.
For most players, this is completely unattainable. Even after you complete all of the challenges, punch cards, and daily challenges, you'll need to earn 15.9 million XP through your normal Fortnite matches – a mark very few people will come close to hitting.
One Fortnite player broke everything down into a graphic, letting players know the best way to earn XP in Fortnite and unlock the elusive golden Agent Peely.
As you can probably guess, playing normal Fortnite matches isn't going to cut it. If you play for the win, you'll need to play an estimated 19.36 hours per day – assuming that you started at the beginning of the season.
If you play Fortnite with a loot-first mindset, you can substantially cut down on this time – of course, you won't want to break any of the ammo boxes, llamas, or chests. This playstyle will bring you Agent Peely after 6.44 hours per day.
Finally, we have the best way to grind Fortnite XP for Agent Peely: Team Rumble. Play this game for loot, kills, and XP and you'll be able to unlock Agent Peely after 3.86 hours per day. The math was completed and graphed by Reddit user u/zMuska.
Of course, these hours-per-day breakdowns assume that you are skilled at Fortnite and play every day. If not, it will take you a lot longer.
Players have already voiced their frustration with Epic Games over the golden Agent Peely grind. Some have even pledged to boycott any Item Shop XP that has been rumored to be going on sale – although we haven't seen it yet.
Most players hope that Epic temper the XP requirements next season. They promised us "more fun, less grind" with this Battle Pass – which is technically true if you only want to reach level 100. Completionists know that it isn't as simple as that.
Epic push Fortnite Season 3 and Doomsday Event back one week
Epic have pushed back the Fortnite Season 3 release date by one week.
Fans have been gearing up for Fortnite Season 3 this past week, with news of the Doomsday Event coming this weekend and Season 3 starting next week.
On May 28, Epic released a short blog post that pushed everything back one week. They didn't go into detail as to why they made the shift, but are likely working on balancing new game mechanics, weapons, items, etc.
"In an effort to get everything ready for Chapter 2 – Season 3, we're extending Season 2 by one week," The Fortnite Team wrote in their blog post. "The new launch day of Season 3 will be Thursday, June 11. Also make sure to check out a one-time-only live event called The Device, now scheduled for Saturday, June 6 at 2 PM ET (please show up 30 minutes early to help secure your spot, space is limited!)."
This is disappointing to a lot of Fortnite players but could be good news in the long run. We'd rather wait a week for the new season than have it released in a broken state.
Rumors have it that a flood is coming, meaning massive changes for the island and, potentially, some new mechanics and vehicles added to the mix. Swimming underwater seems to be headed to the game as well, as leaks suggest.
This is a tough mechanic to get right. A lot of other competitive games have tried and failed, so this may be the ultimate reason for the Season 3 delay.
As of now, the new Fortnite Season 3 release date is June 11, 2020. We'll keep you posted if and when more details become clear.