Ballatw goes off on toxicity and mismanagement in competitive Fortnite
One of the most well-respected voices in the Fortnite community, Arten 'Ballatw' Esa, went off on Twitter about the rampant toxicity at the highest levels.
One of the most well-respected voices in the Fortnite community, Arten 'Ballatw' Esa, went off on Twitter about the rampant toxicity at the highest levels.
Anyone who regularly follows the Fortnite professional scene knows Ballatw. He, along with other casters like AussieAntics and ShyoWager, have been credited with keeping viewers in the pro scene with their unmatched from-home casting of tournaments and qualifiers.
The recent events have changed things for everyone, but Epic seemed to have given up on professional casting before the quarantine. They provide prize pools for online qualifiers and let the rest fall into place.
Balltw and others have been picking up the slack – watching VoDs, commentating live gameplay, and even getting replays from popular pros who aren't streaming the events.
Pretty much everyone in the community respects Balla's opinions. He's the level-headed voice of reason in most cases and his words about Fortnite carry weight.
That's why it's particularly surprising to see one of the biggest ambassadors for competitive Fortnite blast the professional community, as Balla did on March 29.
This Twitter rant likely stemmed from a reply to a now-deleted inside joke from Clix. Balla replied, calling the joke homophobic (this may not be the original intention), which prompted a reply from streamer and caster Clay Stehling, who happens to be gay. Fortnite pro, Zayn, took things one step further, and they got dark.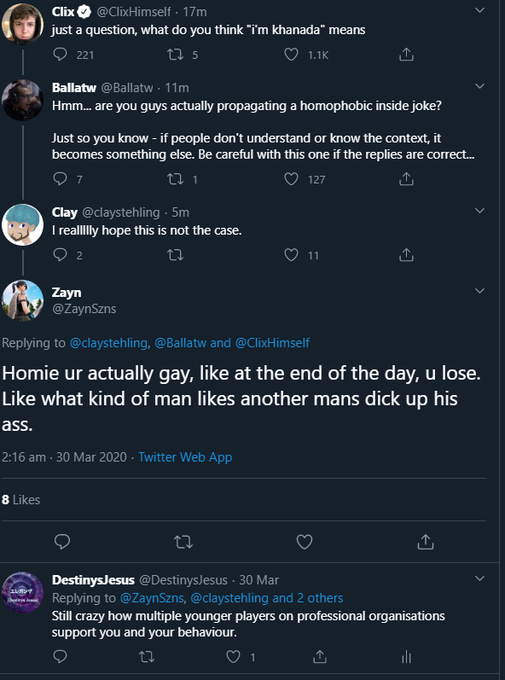 This thread is now deleted, and Zayn claims that his Twitter was hacked. Based on the lack of tweets and his past behavior, few people in the community are buying this excuse.
Balla replied to the above screenshot from DestinysJesus, tagging Clix, Mongraal, BenjyFishy, and Stretched. "You guys enable this kid, by the way. Stop," he wrote.
Balla then tweeted some harsh words for all of the competitive Fortnite community. Among other things, Balla admitted that he is "starting to feel like an idiot for ever believing in the potential."
There were a host of replies to this tweet. Content creators, other casters, and pro players all gave their two cents. The overwhelming theme of many replies referenced the age of the average Fortnite pro.
Fortnite has one of – if not the – youngest professional community in all of esports. Naturally, that means that this group will be immature in their behavior and humor.
Balla took things a step further, though. He referenced the management of Fortnite esports, relating to the lack of structure, accountability, communication, and support.
Balla has a point, here. The "role models" in the community like Ninja, Nick Eh 30, and Myth aren't playing Fortnite professionally, anymore.
At one point, the biggest drama in pro Fortnite was Myth complaining that SypherPK didn't have a two-minute delay during a tournament. Now, we have high-level pros saying the N-word on-stream.
With few exceptions, the highest level of professional Fortnite is run by teenagers. The oldest players in the game are people like Nate Hill at 25 and Tfue at 22 – but they are outliers.
It's easy to point the finger at young players for trying to be funny and edgy for their young viewers. It's more difficult to look at the top of Fortnite competitive and see the mismanagement, there.
Recently, Epic seem to have adopted the "Lord of the Flies" mentality with Fortnite. They throw money at the community and let the chips fall where they may. It's up to community reports to detect cheating, which is another topic that's plaguing professional Fortnite.
Epic need to get their hands back on the wheel if they want to right the ship of professional Fortnite. Balla has several points, here. The problem lies with the management of the competitive system and of players.
Some players are calling for professional Fortnite to be 18+. This might take some of the toxicity and immaturity out of the professional community but it won't solve everything.
Only attention, communication, and support will truly fix the issues. Right now, there appears to be no light at the end of the tunnel. It's a sad day when someone with the authority of Ballatw talks about the competitive community like this.
How to disable pre-edits in Fortnite
After over a year of fan requests, Epic have added a 'disable pre-edit' option to Fortnite. Here's where you can find it.
In the v15.20 update, Epic Games added a much-requested setting to Fortnite: 'disable pre-edits.' Here's how it works and how to select it.
Finally, after years of Reddit threads, Twitter posts, and pro players begging, Epic added a 'disable pre-edit' setting to Fortnite.
Here's everything you need to know about the new setting, including how it works and where to find it.
What does 'pre-editing' mean?
Pre-editing refers to the ability to edit a structure before placing it. The most popular use of pre-edits throughout Fortnite history was a cone/ramp edit when controller players had to use Combat Pro.
Now, however, very few players use pre-edits. Instead, pre-edits offer an obstacle, as they're almost always completed by mistake. Of course, there are still some niche applications for pre-edits, but most players wanted Epic to add an option to disable these edits.
How to disable pre-edits
You can find the new option under the settings tab (cog wheel) in the start menu. Scroll down to the "Building" section, and you'll see four options. One of them is the new "Disable Pre-Edit Option."
If you turn this off, you'll no longer be able to edit structures before placing them – good news for the bulk of the Fortnite community.
If may have taken Epic years to add this option, but it's finally here. Next stop, an FoV slider!
How to use pre-editing to your advantage in Fortnite
Don't turn off pre-edits so fast! Learn how to make pre-edits work for you in Fortnite with these new competitive strategies.
Learn how to make pre-edits work for you in Fortnite with these competitive strategies.
Pre-edits in Fortnite can be maddening when you're in the middle of a fight. More often than not, the pre-edits will work against you as you accidentally edit a hole in your floor or a window in your wall. Before you know it, you're taking fall damage or getting shot because you hit the wrong button while battling someone.
Epic recently added a lon-requested setting to Fortnite, giving players the ability to toggle pre-edits on and off. Now, with a simple setting change, you'll never need to worry about pre-edits again.
This doesn't mean that pre-edits are entirely useless. In the patch before the setting change was released, pro player Maken used them expertly to outplay his opponent.
Useful pre-edits have also been posted to the r/FortniteCompetitive subreddit in the past. These pre-edits focus on cones, and give players the ability to fake-out opponents and even place their structures through turbo-builds.
The first strategy involves subverting the expectations of your opponent. Most skilled players anticipate edits, but using a pre-edited cone can get you a free shot.
As you can see, all you have to do is edit the wall, place your triangle cone, resent the cone edit, and shoot your opponent. There's hardly anything they can do to prevent this free shot – especially since they aren't going to see it coming.
The above clip from u/DemianNieuwenhuis has a very niche application. After all, using a regular cone is going to be far more useful in most situations. The only time your pre-edited cone will work is when someone is standing outside of your box.
This next clip is more of an exploit than anything. It also requires you to pre-edit your cone; this time in a V shape. You can exploit the new Turbo Building system and place the V-cone under your opponent's ceiling after breaking their cone.
Again – like the other clip – this strategy will only be useful in certain situations. You won't be able to cone-block opponents or even protect yourself from above if you run around with your cones all jacked up like this.
Still, these strategies are worth mentioning – especially if you find yourself in a 1v1. You can surprise your opponent with both of them, and steal some shots without taking damage.

Fortnite split-screen: how to play with friends
Epic introduced the ability to play split-screen Fortnite in Chapter 2 Season 1. Here's how to enable the setting.
Epic introduced the ability to play split-screen Fortnite back in Chapter 2 Season 1. Here's how to enable it so you can play locally with a friend.
Fortnite has always had a focus on playing with friends, but that always meant you had to play online. Even if you were in the same house as your friend or family member, the two of you had to play on two separate devices.
This changed back in the v11.30 update in Chapter 2 Season 1. Epic introduced split screen capabilities on consoles for the first time. It wasn't perfect when it first came out, but it's since gotten a lot better.
How to use the Fortnite console split-screen feature
Initiating split-screen is simple. All you have to do is connect two controllers to your Xbox or PlayStation. Split-screen still isn't available on mobile, PC, or Nintendo Switch. Here are the steps you need to follow:
Start Fortnite
Connect a second controller to the console and turn it on
Hit 'Main Menu'
Player 1 will need to invite Player 2 with their Epic account
Player 2 will need to sign into their account
Player 2 will join and split-screen will automatically initiate
You can even save another player's information on another account on your console, making split-screen easier and quicker to complete.
The feature still isn't perfect and doesn't replace the feeling of playing online. You'll only have access to half of your screen, so you're going to miss a few things that normal players will see. Still, playing split-screen is far more preferable than switching off with your friend or family member game after game. Enjoy!
Image Credit: Epic Games/u/SmonkYT