Ballatw goes off on toxicity and mismanagement in competitive Fortnite
One of the most well-respected voices in the Fortnite community, Arten 'Ballatw' Esa, went off on Twitter about the rampant toxicity at the highest levels.
One of the most well-respected voices in the Fortnite community, Arten 'Ballatw' Esa, went off on Twitter about the rampant toxicity at the highest levels.
Anyone who regularly follows the Fortnite professional scene knows Ballatw. He, along with other casters like AussieAntics and ShyoWager, have been credited with keeping viewers in the pro scene with their unmatched from-home casting of tournaments and qualifiers.
The recent events have changed things for everyone, but Epic seemed to have given up on professional casting before the quarantine. They provide prize pools for online qualifiers and let the rest fall into place.
Balltw and others have been picking up the slack – watching VoDs, commentating live gameplay, and even getting replays from popular pros who aren't streaming the events.
Pretty much everyone in the community respects Balla's opinions. He's the level-headed voice of reason in most cases and his words about Fortnite carry weight.
That's why it's particularly surprising to see one of the biggest ambassadors for competitive Fortnite blast the professional community, as Balla did on March 29.
This Twitter rant likely stemmed from a reply to a now-deleted inside joke from Clix. Balla replied, calling the joke homophobic (this may not be the original intention), which prompted a reply from streamer and caster Clay Stehling, who happens to be gay. Fortnite pro, Zayn, took things one step further, and they got dark.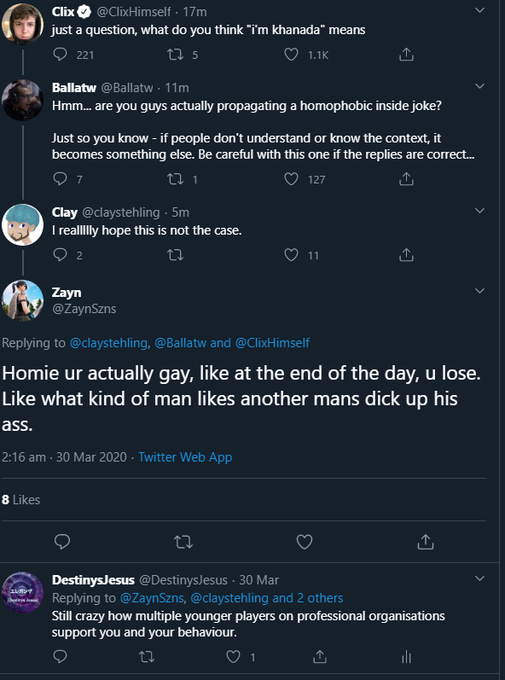 This thread is now deleted, and Zayn claims that his Twitter was hacked. Based on the lack of tweets and his past behavior, few people in the community are buying this excuse.
Balla replied to the above screenshot from DestinysJesus, tagging Clix, Mongraal, BenjyFishy, and Stretched. "You guys enable this kid, by the way. Stop," he wrote.
Balla then tweeted some harsh words for all of the competitive Fortnite community. Among other things, Balla admitted that he is "starting to feel like an idiot for ever believing in the potential."
There were a host of replies to this tweet. Content creators, other casters, and pro players all gave their two cents. The overwhelming theme of many replies referenced the age of the average Fortnite pro.
Fortnite has one of – if not the – youngest professional community in all of esports. Naturally, that means that this group will be immature in their behavior and humor.
Balla took things a step further, though. He referenced the management of Fortnite esports, relating to the lack of structure, accountability, communication, and support.
Balla has a point, here. The "role models" in the community like Ninja, Nick Eh 30, and Myth aren't playing Fortnite professionally, anymore.
At one point, the biggest drama in pro Fortnite was Myth complaining that SypherPK didn't have a two-minute delay during a tournament. Now, we have high-level pros saying the N-word on-stream.
With few exceptions, the highest level of professional Fortnite is run by teenagers. The oldest players in the game are people like Nate Hill at 25 and Tfue at 22 – but they are outliers.
It's easy to point the finger at young players for trying to be funny and edgy for their young viewers. It's more difficult to look at the top of Fortnite competitive and see the mismanagement, there.
Recently, Epic seem to have adopted the "Lord of the Flies" mentality with Fortnite. They throw money at the community and let the chips fall where they may. It's up to community reports to detect cheating, which is another topic that's plaguing professional Fortnite.
Epic need to get their hands back on the wheel if they want to right the ship of professional Fortnite. Balla has several points, here. The problem lies with the management of the competitive system and of players.
Some players are calling for professional Fortnite to be 18+. This might take some of the toxicity and immaturity out of the professional community but it won't solve everything.
Only attention, communication, and support will truly fix the issues. Right now, there appears to be no light at the end of the tunnel. It's a sad day when someone with the authority of Ballatw talks about the competitive community like this.
Fortnite Season 7 brings next-gen visuals to PC
At the start of Season 7, PC players will be able to enjoy Fortnite's next-gen visuals without buying an Xbox Series X or PS5.
When Fortnite launches on the Xbox Series X and PlayStation 5, its graphics surpassed that of PC. Now, PC players can enjoy Fortnite's next-gen visuals at the start of Season 7.
Fortnite's next-gen visuals aren't incredibly breathtaking, but they do add a bit of flair to the game. The storm's visual effects are different, and there are some pretty cool clouds. However, they're not anything that would make someone want to spend hundreds of dollars for a new console. The fancy smoke clouds and liquids are impressive, but they don't add much to the overall gameplay.
Now, players won't have to buy a new console to enjoy these visual effects. Fortnite's next-gen visuals were exclusive to consoles, but they'll soon be coming to PC. Epic Games announced that when Chapter 2 Season 7 launches next week, so will a patch that upgrades PC visuals.
Fortnite on PC gets a next-gen visual upgrade
This upgrade will ramp up the visuals for those who play with "Epic" Quality Presets. According to a press release from Epic Games, "You'll notice that both Battle Royale and Creative modes benefit from improved Storm and cloud effects, as well as enhanced simulations for smoke and liquid." This upgrade also features improved post-processing features that help with bloom, lens flares, and shadow qualities.
While players won't have to purchase a next-gen console, they will still need a beefy computer to use these settings. Low and Medium setting specification requirements won't change after v17.00, but High settings will be the equivalent of the pre Season 7 Epic settings. Below are the new required Epic Quality Presets Specifications:
Nvidia GTX 1080, AMD Radeon RX 5700 XT, or equivalent GPU
4 GB VRAM or higher
Intel Core i7-8700, AMD Ryzen 7 3700x, or equivalent
16 GB RAM or higher
NVMe Solid State Drive
Windows 10 64-bit
These are not the recommended specifications for playing the game optimally, but they are the required specs to run Fortnite with Epic visuals. If a player wants to enjoy the new cloud effects and liquid simulations, they might end up having to pay a good chunk of change to upgrade their PC.
5 updated Fortnite Zone Wars codes you have to try
Want to try out some of the newest Fortnite Zone wars maps? Take a look at these five options here.
Want to try out some of the Fortnite Chapter 2 Zone Wars maps? Take a look at these five options here.
Zone Wars is one of the most popular Creative Mode map genres in Fortnite – so much so that Epic included a Zone Wars playlist during Chapter 2.
We probably won't see another official Zone Wars lineup while Chapter 2 is still fresh, but here are five updated map codes for some of the best Fortnite Chapter 2 Zone Wars maps for your Playground Fill matches.
Make sure to get to the Hub as fast as you can so you can avoid the Red vs. Blue battle.
Realistic Solos (XA)(Pack 1): 1234-0621-9943
Realistic Solos (XA)(Pack 1) by Prettyboy may not have "zone wars" in the name, but it is an authentic competitive experience that can get intense quickly. Two to 16 players spawn in random locations across various well-crafted maps. With randomized loadouts, players race to be the last one standing.
Nuketown 2025 Zone Wars: 1149-4422-7888
Nuketown 2025 zone wars by Clapzfn is more of a novelty than anything. It's very cool to revisit this highly detailed recreation of a Call of Duty classic. Some of the buildings have invisible barriers at the top, and the storm always pushes to the center of the map. Regardless, it's a ton of fun to be the last player standing in Nuke Town.
Desert Zone Wars Chapter 2: 1811-9621-1739
Those who have been playing zone wars maps for a long time are probably familiar with Jotapegame's desert zone wars maps. However, this is the latest installment in the series that incorporates the changes made in Chapter 2. Enjoy the classic desert-themed zone wars with modern weapons and items.
Area 51 Alien Zone Wars: 9843-7754-8806
Area 51 Zone Wars by Dropnite is one of the most aesthetically pleasing zone wars maps available. From the way it spawns players in to all of the decorative pieces, it really makes you feel like you're in Area 51. It also offers a fantastic competitive experience that's sure to get players ready for the final moments of FNCS tournaments.
50 Player Zonewars: 6167-1882-6710
50 Player Zonewars is one of the most intense creative maps once the lobby is full. The loot pool changes regularly to match Arena Mode, and there are plenty of different maps. For the higher skill tourneys that have 50 or more people in the endgame, this mode is perfect for realistic practice.
Leave us some codes in the comments if we missed your favorite Fortnite Chapter 2 Zone Wars maps!
All Fortnite Season 6 Exotic Weapon locations
Fortnite Season 6 is here, and only a few Exotic weapons made it. Here are all Exotic weapon locations for the new Fortnite season.
Fortnite Season 6 marked the return of Exotic weapons to Fortnite. Not all of the Season 6 weapons are there, however, and they've moved locations.
There's no shortage of new mechanics in Fortnite Season c, with the addition of crafting, the map changes, and a whole lot more.
Mythics have returned to the game in Season 6 but in a limited capacity. The only classic Mythic items in Fortnite Season 5 include the Spire Jumpboots and the Spire Assassin's Primal Shotgun.
What's more, Epic added craftable items to the game that allow players to create unique weapons out of existing parts. For instance, a Mechanical Bow and two Shockwave Grenades make the Shockwave Bow – a massive upgrade from both weapons.
Fortnite Season 6 Exotic weapon locations
Exotic weapons have returned to Fortnite Season 6, but not as many as we had in Season 5. These will be supplementary items rather than the focus of the season, which appears to be on the new crafting mechanic.
Many of the NPCs who sold these items in Season 5 have also either moved locations or don't sell them anymore, so a new guide is needed. Here's a map of all of the Season 6 Exotic weapon locations.
As you can see, there are seven Exotic weapons and items currently available in Fortnite Season 6. These are the:
Hop Rock Dualies: sold by Gutbomb in Logjam Woodworks
Chug Cannon: sold by Slurp Jonesy in Slurpy Swamp
Shadow Tracker Pistol: sold by Power Chord in Dance Club Cabin
Marksman Six Shooter: sold by Deadfire northwest of Lazy Lake
Unstable Bow: sold by Rebirth Raven northwest of Sweaty Sands
Raz's Mythic Explosive Bow: dropped after eliminating Raz at The Spire
The good news is that, unlike last season, all of the NPCs that sell Exotics only spawn in one location – at least, so far.
We'll keep this post updated as Epic add more Exotics to Fortnite Season 6. We expect to see them takes things further as the season goes on, so stay tuned to more news on Exotic weapons.
Image Credit: Epic Games, Fortnite.GG