Allegations suggest many players are cheating in Fortnite tournaments
One pro Fortnite player has been accused of cheating in several Fortnite tournaments. This accusation suggests that several players could placing in tournaments on the back of hacks.
Another day, another cheating allegation at high levels of competitive Fortnite. Early on the morning of July 31, Fortnite player Zykoma accused his former trio teammate, Bman, of cheating in Daily Cash Cups and the Bugha Cup. Attached to the accusation was a compilation of clips that appeared to show Bman tracking and locating players who should have been invisible to him.
"So yesterday, @BuckteeFN (part of my trio) found that our third member, @bmanFN, was secretly using hacks without our knowledge," Zykoma wrote in his tweet. "During daily trio cups AND bugha cup. I'm posting this to show how easily these hacks are accessible and can go multiple tournaments undetected."
In addition to the first compilation of clips, Zykoma tweeted some screenshots of alleged Discord DMs from Bman, appearing to show the latter admitting to cheating during the Daily Cash Cup, at least.
In the conversation, Bman says things like "I messed up in a daily and now I'm getting canceled" and "This isn't gonna do s**t. Pros hide it perfectly fine."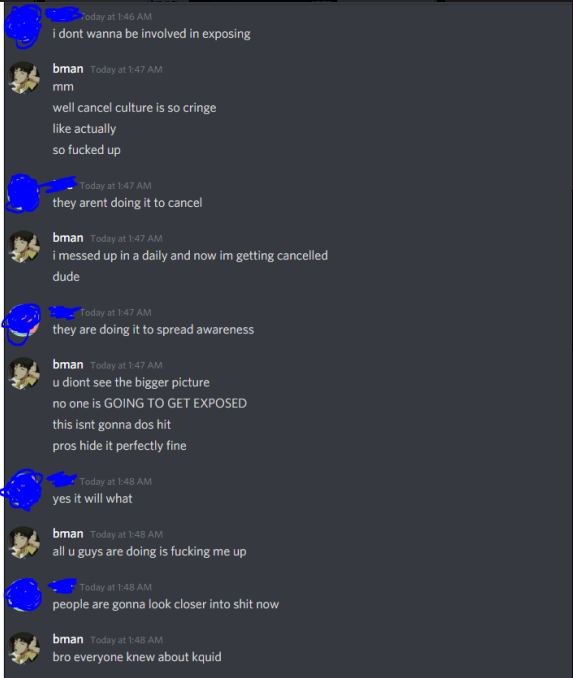 Although Bman is alleged to have admitted to cheating privately, he's maintained his innocence to the public. He even took to Twitch to host a VoD review of a few of his Bugha Cup matches. The stream lasted all of 11 minutes (of a 4-hour tournament) and his Twitch chat was, predictably, very toxic.
During the short stream, Bman seemed to inadvertently confirm the legitimacy of the Discord DMs. When asked to explain the messages, he told his viewers, "I said I regret s**t. I regret s**t all the time. I've switched trios so many f***ing times, it's insane. Like, I just wish I could stick with one f***ing trio. But then I get ratted out for something I didn't do, but okay."
This situation isn't about one player potentially cheating in a Fortnite tournament, however, it's about the prevalence of this issue. Several top-tier pros have talked about up-and-comers using soft aim hacks in tournaments. We covered Cented's tweet, yesterday, which called for Epic to investigate and ban some of these players.
We also spoke with pro player Jonathan 'Yung Calc' Weber, who echoed the popular sentiment within the professional community. "A lot of people are just randomly placing now and their aim is way too good," he told us, "so a lot of pros think people are cheating."
Reverse2k added to the chorus of voices calling on Epic to intervene when it comes to cheating in tournaments – players who are either using hacks or teaming. "I feel like players only get punishment when random people go into replays and watch their gameplay," he wrote. "Like where is the anti-cheat?"
We reached out to both Bman and Epic Games for comment on this topic, and neither has responded at the time of writing. We expect to hear something on this from Epic at some point.
There's a substantial issue with cheaters getting through the anti-cheat, and remaining silent would likely be a green light for cheaters to keep competing in tournaments. It's undoubtedly on their radar, though, and they may be handling it internally, for now. We'll keep you updated as this story develops.
Update 7/31 12:56 pm EST
Bman responded to our request for comment just after the article went live. He told us this:
"All I can say is that this is the exact same situation with Dubs, I am not cheating and I will stick by that. I have been building my rep and my skill since World Cup and have been playing fair ever since then. I just want everyone to know I wouldn't cheat in a tournament and ruin someone else's chances at making money because some people need it more than others."

We asked about the DMs that appeared to show his admission of doing something wrong. He told us, "The DMs show how I played poorly during the Daily Cup when I said I regret something and the one with the crossed-out names isn't real." This statement is referring to the image we embedded earlier in the article, suggesting that the screenshot directly above is legitimate.
When pressed further, Bman told us, "That was me saying they can drop me if they want. I was playing very very bad that day." We asked what his teammates would be exposing him for. He did not respond to that question and blocked our account. His Twitter has since been deactivated.
SypherPK showcases the best hero ability in Fortnite Season 4
SypherPK has crowned Fortnite Season 4's best Mythic hero ability: Sorm's Whirlwind Blast
Fortnite Season 4 is, in many ways, a return to form for Fortnite. We're having a lot more lighthearted fun than we had over the course of the past couple of seasons. On top of that, with the spray weapons nerfed or gone, the competitive meta is also more entertaining to watch and play.
Hero abilities are helping to keep the game fresh, as well, and offering several different playstyles that weren't there during the first portion of Chapter 2. Instead of ramped-up versions of existing weapons, the Season 4 Mythic items are entirely new.
Obviously, some Mythic abilities are more powerful than others. For instance, Silver Surfer's Re-Deploy ability has gotten a lot of attention in competitive modes, while Groot's Baller has largely been left behind.
One ability seems to stand above the rest, however – at least when it comes to the Core Fortnite game modes. Storm's Mythic Whirlwind Blast ability might be the most powerful one that Epic have added.
During a recent stream, SypherPK noticed something that a lot of players hadn't. He shot his Doctor Doom energy orb at a player, only to have it come flying back at him. As it turns out, Storm's ability reflects projectiles.
When you add this to the fact that you can avoid fall damage, launch players to their death, and reflect damage from incoming cars, it's an easy decision when you have to choose one Mythic item to carry.
SypherPK released a video that shows all of the uses for Storm's Mythic ability, including the most popular and effective one: launching players to their death. You can also reflect all of the other offensive hero abilities in Fortnite – save for Iron Man's Unibeam.
Hopefully, this item stays out of competitive Fortnite. If not, then we can be sure of what the next "Kit's Shockwave Launcher" will be during the Season 4 FNCS. Keep your head on a swivel if you run into a player using this ability in-game.
Leaked Fortnite weapon is a cross between a Minigun & Grenade Launcher
This leaked Fortnite weapon is scary…
The Fortnite community tends to be split when it comes to explosive weapons. Some enjoy the ability to break down any structure in the game, while others prefer a rocket-free experience when cranking 90's for high-ground.
We've seen all kinds of explosive weapons come and go from Fortnite. We've had the Quad Launcher, Grenade Launcher, Proximity Launcher, regular RPG, Pumpkin Launcher, and several others. Only a couple of them have remained in the loot pool for more than a season.
According to Fortnite data miner, @Mang0e_, it looks like the latest explosive weapon is on the horizon. We've only seen some statistics and mesh image of the item, but that's enough for us to be intimidated as to the destruction it could cause.
Mang0e_ described the weapon as a "cross between a Grenade Launcher and a Minigun." If that doesn't send a chill up your spine, we don't know what will. These are two of the most powerful weapons that Fortnite has ever seen. Now, we're combining them?
Of course, this is only preliminary information and we have no idea if this item will ever even come to Fortnite. The initial impression could be way off as well, so it's no time to panic.
After all, we saw Machine Pistols leaked last year and they still haven't entered the game. Just recently, we got the first piece of concrete news on the item since last November. This is all to say that it could be a long time before this strange "heavy weapon" comes to Fortnite – if it ever does.
We'll keep you posted when we learn more about the weapon, but it could be a while. Epic likely won't release the next Fortnite update for at least a week or two, and we don't expect to see this weapon when it does come out. In the meantime, make sure to follow us on Twitter, @FortniteINTEL, to be the first to know all of the breaking Fortnite news.
Fortnite Mythic weapon leak: 'Mystique's Dual Auto Pistols'
Fortnite leaks reveal that Mystique is finally getting a Mythic item.
Fortnite Season 4 is all about the hero abilities. We've seen an ability for nearly every hero in the game along with some for heroes that haven't even been released, such as Black Panther and Venom.
The only Battle Pass hero who hasn't received a Mythic ability is, strangely, Mystique. To be fair, it might be a bit difficult for Epic to come up with one. Her superpower, after all, revolves around shapeshifting into other people. We can use this as a built-in Mystique emote, but it doesn't work as a standalone in-game mechanic.
Well, it seems like Mystique's mythic item is in development. That's right: reports have it that we're getting an item rather than an ability. Fortnite data miner, @Mang0e, released his findings: Mystique's Dual Auto Pistols.
You probably don't remember this weapon model – it's not everyone's job to follow all of these Fortnite leaks – but this Machine Pistol was leaked over a year ago. After several updates, Epic adjusted the statistics and rarities of the unreleased weapon.
Still, even after the weapon was updated, Epic kept it out of the game for almost a year. It seems like we may finally see a version of this weapon enter Fortnite in Season 4.
We still have a lot of unanswered questions about this weapon. Most likely, we'll be able to get our hands on it through the drones located at the Quinjet landing sights. This has been the most common place to grab Mythic hero abilities. Of course, we don't know this for sure.
Will the third leak be the charm for the Machine Pistol, AKA Mystique's Dual Auto Pistols? Only time will tell. We'll keep you posted when we learn more about this weapon.