Allegations suggest many players are cheating in Fortnite tournaments
One pro Fortnite player has been accused of cheating in several Fortnite tournaments. This accusation suggests that several players could placing in tournaments on the back of hacks.
Another day, another cheating allegation at high levels of competitive Fortnite. Early on the morning of July 31, Fortnite player Zykoma accused his former trio teammate, Bman, of cheating in Daily Cash Cups and the Bugha Cup. Attached to the accusation was a compilation of clips that appeared to show Bman tracking and locating players who should have been invisible to him.
"So yesterday, @BuckteeFN (part of my trio) found that our third member, @bmanFN, was secretly using hacks without our knowledge," Zykoma wrote in his tweet. "During daily trio cups AND bugha cup. I'm posting this to show how easily these hacks are accessible and can go multiple tournaments undetected."
In addition to the first compilation of clips, Zykoma tweeted some screenshots of alleged Discord DMs from Bman, appearing to show the latter admitting to cheating during the Daily Cash Cup, at least.
In the conversation, Bman says things like "I messed up in a daily and now I'm getting canceled" and "This isn't gonna do s**t. Pros hide it perfectly fine."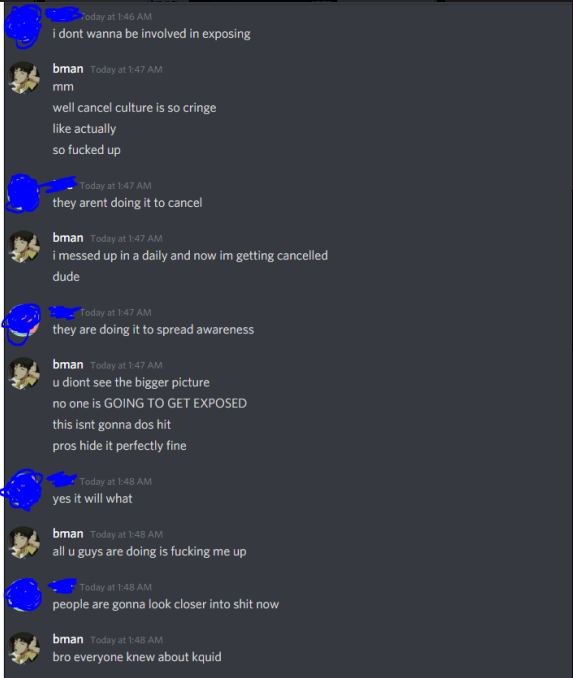 Although Bman is alleged to have admitted to cheating privately, he's maintained his innocence to the public. He even took to Twitch to host a VoD review of a few of his Bugha Cup matches. The stream lasted all of 11 minutes (of a 4-hour tournament) and his Twitch chat was, predictably, very toxic.
During the short stream, Bman seemed to inadvertently confirm the legitimacy of the Discord DMs. When asked to explain the messages, he told his viewers, "I said I regret s**t. I regret s**t all the time. I've switched trios so many f***ing times, it's insane. Like, I just wish I could stick with one f***ing trio. But then I get ratted out for something I didn't do, but okay."
This situation isn't about one player potentially cheating in a Fortnite tournament, however, it's about the prevalence of this issue. Several top-tier pros have talked about up-and-comers using soft aim hacks in tournaments. We covered Cented's tweet, yesterday, which called for Epic to investigate and ban some of these players.
We also spoke with pro player Jonathan 'Yung Calc' Weber, who echoed the popular sentiment within the professional community. "A lot of people are just randomly placing now and their aim is way too good," he told us, "so a lot of pros think people are cheating."
Reverse2k added to the chorus of voices calling on Epic to intervene when it comes to cheating in tournaments – players who are either using hacks or teaming. "I feel like players only get punishment when random people go into replays and watch their gameplay," he wrote. "Like where is the anti-cheat?"
We reached out to both Bman and Epic Games for comment on this topic, and neither has responded at the time of writing. We expect to hear something on this from Epic at some point.
There's a substantial issue with cheaters getting through the anti-cheat, and remaining silent would likely be a green light for cheaters to keep competing in tournaments. It's undoubtedly on their radar, though, and they may be handling it internally, for now. We'll keep you updated as this story develops.
Update 7/31 12:56 pm EST
Bman responded to our request for comment just after the article went live. He told us this:
"All I can say is that this is the exact same situation with Dubs, I am not cheating and I will stick by that. I have been building my rep and my skill since World Cup and have been playing fair ever since then. I just want everyone to know I wouldn't cheat in a tournament and ruin someone else's chances at making money because some people need it more than others."

We asked about the DMs that appeared to show his admission of doing something wrong. He told us, "The DMs show how I played poorly during the Daily Cup when I said I regret something and the one with the crossed-out names isn't real." This statement is referring to the image we embedded earlier in the article, suggesting that the screenshot directly above is legitimate.
When pressed further, Bman told us, "That was me saying they can drop me if they want. I was playing very very bad that day." We asked what his teammates would be exposing him for. He did not respond to that question and blocked our account. His Twitter has since been deactivated.
This theory puts Siona's origin in Fortnite Chapter 1 Season 3
Are Siona and the crashed ship from Chapter 1 Season 3?
The theme of Fortnite Season 3 is obvious: a flood took over the map and it's slowly receding. There also appears to be an emphasis on fire, although that could be considered an additional game mechanic rather than a theme.
If we've learned anything over the past few seasons, however, it's that the primary theme of a particular season rarely ends up affecting the plot in the way we think. Just look back at Season 2. We all assumed that there was a war brewing between Ghost and Shadow. In the end, it all seemed to be a ruse to hide Midas' true motive: breaking the storm.
Those who look past the surface-level theme of Season 3 will notice a couple of things that don't totally fit. We have the next generation of bosses, Aquaman, a new Coral Castle POI – all of which fit the water theme and continue the basic storyline from Season 2.
What doesn't fit the theme, however, is Siona, her kit, and the crashed spaceship outside of Craggy Cliffs. All of these seem to fit the Chapter 1. Season 3 theme rather than that of Chapter 2 Season 3.
Well, what if that's exactly where Siona and the crashed spaceship come from? What if they were originally from the Chapter 1 map – lost in space when everyone else was transported through the Black Hole. It took them a little longer to get to the new map, but they found their way, nonetheless.
Reddit user, Twitch streamer, and overall Fortnite lore expert, Koooooomar, pieced together both Season 3 themes using one, simple symbol: the one found on the back of the boots of the Chapter 1 Season 3 astronauts. This is the same symbol on the top of the crashed rocket from Chapter 2 Season 3.
What does this mean for the end of Season 3? Where did the ship go when it took off? Back to the original Fortnite map? We don't know for sure, but we may be closer than we think to getting answers.
We expect the upcoming HighTower event to directly address the crashed spaceship. As was the case with the Ghost and Shadow war, we think the flood is a distraction from what's really happening on the island.
As for what all of this means – your guess is as good as ours. For now, we can only suspect that Siona and the crashed ship left the Chapter 1 map during Season 3 – arriving on the new map in time for the same season. Are we still in the loop? "When I hear this again, will it help me remember? Or once looped, will I be just as mutes as the others?"
Opinion: Cars brought the fun back to Fortnite
The introduction of cars has brought back the biggest missing element in Fortnite: lighthearted fun.
The Fortnite v13.40 update brought one of the most anticipated items to the game: cars. Players had high expectations for cars in Fortnite, and the finished product didn't disappoint.
With one simple item, Epic solved one of the biggest problems that were plaguing Fortnite for the longest time: everyone cared too much about winning. For almost all of Chapter 2, the most fun part of the game was getting a win. This wasn't always the case in Fortnite.
Since the implementation of skill-based matchmaking, Fortnite players got a lot more serious about getting wins. Late-game public matches mirrored low-level Arena games, with players boxing-up and trying to survive until the end.
In some ways, it seems like Epic supported this environment in Chapter 2. The loot pool was simple and unchanging for the most part – with very few items dedicated to having fun. The days of goofy plays seemed to be over, unless we were playing the Unvaulted LTM.
With the release of cars, however, we saw players focusing on something that seemed to be lost within the Fortnite community: having fun.
We're seeing taxi services, fortified gas stations, car battles, and everything in between. Some players don't seem to care if they get the win, as long as they can have a good time in their match. That used to be what Fortnite was about.
Take a look at this next clip, for instance. All of these players are trying to complete the challenge of driving from Retail to Pleasant. Just a week ago, it didn't seem like something like this would be possible.
As the title of the Reddit post states, it's fun to dominate a lobby but it's far more entertaining to laugh your way through a match – win or lose.
This clip from SypherPK spoke to us. He's fantasizing about how this Fortnite update would be if all of the big names were still playing the game. Imaging TimtheTatman getting run down by CourageJD or DrLupo hitting a moving headshot with a Hunting Rifle.
Personalities like these have, largely, left Fortnite, but we're all still here. We can have these moments in our games with our friends. Players are returning to find that the sweaty game they left is fun again; all because of one new element.
Cars will eventually get old and players will start becoming more serious, again. Hopefully, Epic can continue to create lighthearted updates like this one and keep the vibe that we're all feeling right now. Cars brought the fun back to Fortnite. Let's hope that it stays around for a while.
More leaked details about Fortnite HighTower event: "Coming very soon"
The Fortnite Season 3 event, HighTower, could be ramping-up very soon.
According to reports from the Fortnite data mining community, the most recent update – v13.40 – is the last update of Season 3. This means that Season 3 is on track to be the first season in Chapter 2 to end on schedule. Even if it's extended by a week, it will be far shorter than either of the previous two seasons.
Data miners found some event files in the most recent patch, pointing to a season-ending event that's set to get underway sooner rather than later. The first batch of leaks were largely comprised of strings of code. We learned that the event has the code name "HighTower" and that craters will begin to appear around the map. You can take a look at our initial recap here.
Since then, data miners have been looking closely at these files. There looks to be a rift that will begin to develop in the sky and grow over time – similar to what we saw with the first rift in Chapter 1.
The rift will appear either over The Agency or Mount Kay and should enter the game "very soon," according to Hypex.
Epic have been a fan of hiding some clues in spectrograms since the beginning of the Fortnite storyline. We've seen several images come out of spectrograms dating back to Chapter 1 Season 4.
The sound of this rift creates an image in a spectrogram as well. All that's visible is a shadowy figure, who will undoubtedly reveal himself by the end of the season – or at the beginning of the next season.
According to Hypex, we should also begin to see the runes appear around The Agency relatively soon. We could also see a crater appear near Salty Springs, a "crack in the sky" over Risky Reels, and a new HighTower POI to the south of The Agency.
Since this is the final patch of Season 3, this might be all of the information we learn before the runes, cracks, POIs, and rifts start to appear in-game. After that, we'll probably need to wait for the season-ending event.
As far as what the event will bring – your guess is as good as ours. No one predicted that we'd be ascending to another plane of existence at the end of Season 2, so we're not even going to speculate about where Season 3 will bring us. Send us your best theories on Twitter @FortniteINTEL.