Allegations suggest many players are cheating in Fortnite tournaments
One pro Fortnite player has been accused of cheating in several Fortnite tournaments. This accusation suggests that several players could placing in tournaments on the back of hacks.
Another day, another cheating allegation at high levels of competitive Fortnite. Early on the morning of July 31, Fortnite player Zykoma accused his former trio teammate, Bman, of cheating in Daily Cash Cups and the Bugha Cup. Attached to the accusation was a compilation of clips that appeared to show Bman tracking and locating players who should have been invisible to him.
"So yesterday, @BuckteeFN (part of my trio) found that our third member, @bmanFN, was secretly using hacks without our knowledge," Zykoma wrote in his tweet. "During daily trio cups AND bugha cup. I'm posting this to show how easily these hacks are accessible and can go multiple tournaments undetected."
In addition to the first compilation of clips, Zykoma tweeted some screenshots of alleged Discord DMs from Bman, appearing to show the latter admitting to cheating during the Daily Cash Cup, at least.
In the conversation, Bman says things like "I messed up in a daily and now I'm getting canceled" and "This isn't gonna do s**t. Pros hide it perfectly fine."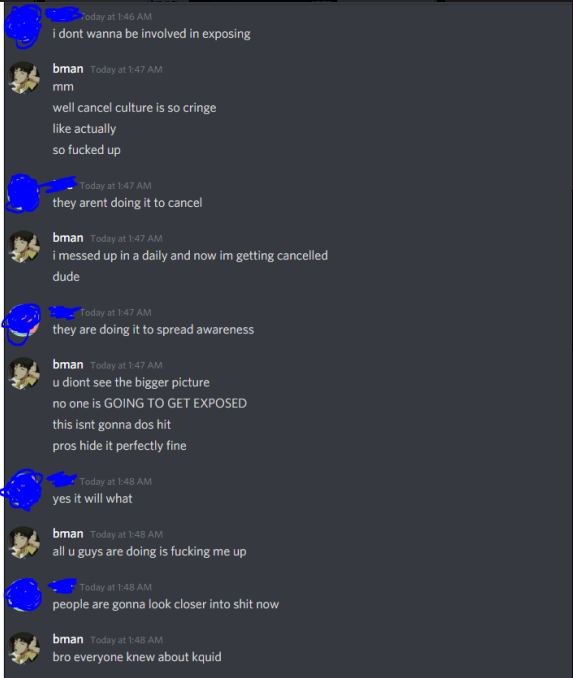 Although Bman is alleged to have admitted to cheating privately, he's maintained his innocence to the public. He even took to Twitch to host a VoD review of a few of his Bugha Cup matches. The stream lasted all of 11 minutes (of a 4-hour tournament) and his Twitch chat was, predictably, very toxic.
During the short stream, Bman seemed to inadvertently confirm the legitimacy of the Discord DMs. When asked to explain the messages, he told his viewers, "I said I regret s**t. I regret s**t all the time. I've switched trios so many f***ing times, it's insane. Like, I just wish I could stick with one f***ing trio. But then I get ratted out for something I didn't do, but okay."
This situation isn't about one player potentially cheating in a Fortnite tournament, however, it's about the prevalence of this issue. Several top-tier pros have talked about up-and-comers using soft aim hacks in tournaments. We covered Cented's tweet, yesterday, which called for Epic to investigate and ban some of these players.
We also spoke with pro player Jonathan 'Yung Calc' Weber, who echoed the popular sentiment within the professional community. "A lot of people are just randomly placing now and their aim is way too good," he told us, "so a lot of pros think people are cheating."
Reverse2k added to the chorus of voices calling on Epic to intervene when it comes to cheating in tournaments – players who are either using hacks or teaming. "I feel like players only get punishment when random people go into replays and watch their gameplay," he wrote. "Like where is the anti-cheat?"
We reached out to both Bman and Epic Games for comment on this topic, and neither has responded at the time of writing. We expect to hear something on this from Epic at some point.
There's a substantial issue with cheaters getting through the anti-cheat, and remaining silent would likely be a green light for cheaters to keep competing in tournaments. It's undoubtedly on their radar, though, and they may be handling it internally, for now. We'll keep you updated as this story develops.
Update 7/31 12:56 pm EST
Bman responded to our request for comment just after the article went live. He told us this:
"All I can say is that this is the exact same situation with Dubs, I am not cheating and I will stick by that. I have been building my rep and my skill since World Cup and have been playing fair ever since then. I just want everyone to know I wouldn't cheat in a tournament and ruin someone else's chances at making money because some people need it more than others."

We asked about the DMs that appeared to show his admission of doing something wrong. He told us, "The DMs show how I played poorly during the Daily Cup when I said I regret something and the one with the crossed-out names isn't real." This statement is referring to the image we embedded earlier in the article, suggesting that the screenshot directly above is legitimate.
When pressed further, Bman told us, "That was me saying they can drop me if they want. I was playing very very bad that day." We asked what his teammates would be exposing him for. He did not respond to that question and blocked our account. His Twitter has since been deactivated.
Best Controller settings for Fortnite Chapter 3 Season 1
If you're looking to take your game to the next level, then you need to make sure you have the best controller settings for Fortnite Chapter 3 Season 1.
To be on top of your game, you need the best Fortnite settings. The default settings Fortnite starts players with won't cut it. In order to maximize performance, you need to optimize every setting.
Approaching Fortnite's settings menu alone can be daunting. There's plenty of options to choose from which can get confusing. But we are here to show you the best Controller settings for Fortnite Chapter 3.
Best Fortnite Controller Settings
Fortnite Game Settings Tab
The "Game" Settings tab is the second tab in the settings menu. It is indicated by a cogwheel.
Movement
Toggle Sprint – Off
Sprint By Default – On
Sprint Cancels Reloading – Off
Auto Open Doors – Off
Combat
Hold to Swap Pickup – Off
Toggle Targeting – Off
Mark Dnager when Targeting – On
Auto Pick Up Weapons – Off
Preffered Item Slots – Personal Preference
Auto Sort Consumables to RIght – Off
Building
Reset Building Choice – Off
Disable Pre-Edit Option – Off
Turbo Buidling – On
Confirm Edit on Release – On
Tutorial
Extra Game Options
Tap to Search/Interact – On
Fortnite Controller Options Tab
You don't need to worry about the two tabs in-between "Game" and "Controller Options". The controller settings are indicated by a controller icon.
Input
Controller Auto-Run – On
Buil Immediately (Builder Pro) – On
Edit Hold Time – 0.100 Sec
Vibration – Off
Sensitivity
Build Mode Sensitivity Multiplier – 1.6x
Edit Mode Sensitivity Multiplier – 1.7x
Use Advanced Options – On
Advanced Look Sensitivity
Look Horizontal Speed – 50%
Look Vertical Speed – 60%
Turning Horizontal Boost – 0%
Turning Vertical Boost – 0%
Boost Ramp Time – 0%
Instant Boost When Building – On
Advanced ADS Sensitivity
ADS Look Horizontal Speed – 17%
Look Vertical Speed – 17%
ADS Turning Horizontal Boost – 0%
Turning Vertical Boost – 0%
ADS Turning Boost Ramp Time – 0%
Advanced Sensitivity
Look Dampening Time – 0.20 Seconds
Look Input Curve – Exponential
Aim Assist Strength – 100%
Controller Deadzone
Left Stick – 6%
Right Stick 6%
Adaptive Trigger (PS5 Only)
Enable Adaptive Trigger – Off
Use Effect For Press – Off
Button Layout Tab
The Button Layout Tab is the last tab you will need to fiddle with, and there isn't much to it. Set your controller configuration to Builder Pro. You won't need to change any of the buttons unless you personally prefer otherwise.
And that's everything you need to change to have the best Fortnite controller settings. They will take some getting used to at first, but the increased sensitivity will definitely improve your reaction time.
For more Fortnite, check out how to use the Visualize Sound Effects setting, and stay tuned for more news and guides.
The 5 most hated skins in Fortnite
The Fortnite community is no fan of these skins.
Fortnite skins have taken on a life of their own since the game came out. Back in the early days, we couldn't imagine spending money on a free game. Now, hundreds of dollars later, we're still padding our lockers as collectors of in-game cosmetics.
Some skins tell a lot about the player wearing them. A Peely? They're just trying to goof around and have some fun. A Dynamo? Sweat is probably pouring onto their keyboard at all times.
Today, we're taking a look at the most hated skins in Fortnite – the skins that elicit an immediate reaction from opponents. You better be ready for some backlash if you post a clip while wearing one of these skins.
5. Female Soccer Skins
Female Soccer Skins have been hated ever since they first came out. This might have been the first "sweaty" skin to come to Fortnite, and it remains in the category to this day. However, it's been made available in the Item Shop quite frequently so everyone from sweats to casuals owns it.
"Soccer skin" means more than just the skin that someone is wearing, at this point. It's a term that longtime Fortnite players will likely remember for the rest of their gaming careers. However, because of its frequent item shop appearances, it's last on the list.
4. Custom Superhero Skins
These skins have cause quite a stir with players and have disrupted the competitive scene on more than one occasion. The actual name of these skins is Boundless, and they are among the most customizable skins in the game. Many players bought them for their versatility at first, but they were quickly abused by competitive players.
Players could set their skins to have an all-black or all-white color scheme which would make them harder to see. These color combos were banned from the game, but players still found a way to make their skins harder to see. This lead to these sweaty skins being banned outright in all competitive play.
3. Anime Skins
This category of skins is pretty new since "anime" skins were introduced in Chapter 2 Season 5. A bundle of anime skins was also released during Season 6 which contains some of the sweatiest and most hated Fortnite Skins.
Chigusa, Megumi, and Yuki are part of the Cyber Infiltration bundle, and Lexa was given to players who reached a certain level of the Season 5 Battle Pass. For some reason, players hate these cell-shaded skins and would rather face off against Soccer Skins.
2. Surf Witch
When we asked Twitter which skins they hated the most, a large number of responses included Surf Witch. It seems this skin is hated because it's used by "sweats" and also because of its lackluster design.
Surf Witch's design isn't much different from many of the other female skins. In fact, she has a very similar design to Haze, a preexisting skin. Many players think that Surf Witch is a cheap rip off of Haze, and their hate is derived from their similarities.
1. Dynamo
Dynamo is – by far – the most hated skin in Fortnite, at the moment. If you post a clip while wearing the Dynamo skin, you're guaranteed to see the bulk of your replies consist of something along the lines of, "Dynamo, ew."
We're not exactly sure why Dynamo has its status as the most hated skin in Fortnite. Perhaps, it's because Dynamo a very sweaty skin that isn't difficult to get. Unlike Crystal and Aura, a lot of players think Dynamo is, simply, a bad skin on top of the fact that it's incredibly sweaty.
Whatever the reason, wearing a Dynamo skin puts a target on your back. If you hit the island wearing Dynamo, then you better be as good as the skin suggests you are.
Does this list mean that you shouldn't be wearing these skins in Fortnite? Absolutely not. In fact, a lot of players like playing the role of an antagonist in all sorts of games. It can be fun. Wear whatever you want – these are just some of the skins that are in the community's crosshairs at the moment. We're sure that it will change in the future. Wear what you want and have fun!
How to get Fortnite Inflate-A-Bulls and how to use them
Epic Games have added another disguise to Fortnite Season 8 following the v17.10 update, and they're called Inflate-A-Bulls.
If you ever wanted to tip-toe around the Fortnite world hidden in a cow costume, well, now is your chance!
On July 13, 2021, Epic posted a new update on their official live blog, confirming the Inflate-A-Bull has been added to the game.
Now, you're going to need to know how to use it, and where to find them – because they look like a lot of fun.
How to use Fortnite Inflate-A-Bull
Fortnite Inflate-A-Bulls can be attached to your back and can be – shock horror – inflated to bounce or roll away from dangerous scenarios.
Essentially, they may save your life during close gunfights.
Quick tips!
Even if a player shoots your way and pops the inflatable, you will be protected from the damage.
Epic have also released a quick tip for players to follow as well, to get the most out of this strange disguise. They posted: "Tip: Rolling downhill with an Inflate-A-Bull is a LOT faster than just running downhill".
Where to find Fortnite Inflate-A-Bull
These pesky disguises can be found in two ways: IO Chests and normal Chests.
However, there is one NPC on the Fortnite island selling these as well – Rick Sanchez. For those who don't know, Sanchez can be found at the IO Base east of Weeping Woods (seen above).