All major map changes in Fortnite Season 5
Fortnite Season 5 brought substantial changes to the map. Here are all of the new POIs in Fortnite Season 5.
Fortnite Season 5 is here. Take a look at all of the major POIs included in the new season.
It seems like Fortnite has been upping the ante with each recent Fortnite Season. It might be recency bias, but this seems like the biggest season in Chapter 2 so far.
Let's take a look at all of the major changes included in the Fortnite Season 5 map.
New Fortnite Map
The Fortnite Season 5 map looks amazing. No, it's not a completely new map like some people thought. Still, Epic fleshed things out with new locations that fit the theme and expand on what's already there.
Here's how the new map looks when you enter the game for the first time. As always, we expect Epic to add to this as the season goes on.
Salty Towers
Tilted Towers is back! Well, it's kind of back. Salty Springs and Tilted Towers have morphed together to create Salty Towers – perhaps a better name for the area.
This will be the hottest drop spot in the game on release – potentially for the entire season. Salty Springs was already a hot drop spot, and Tilted is the game's original hottest spot.
This is going to be fun. Can't wait to see NickMercs come back and dominate, here.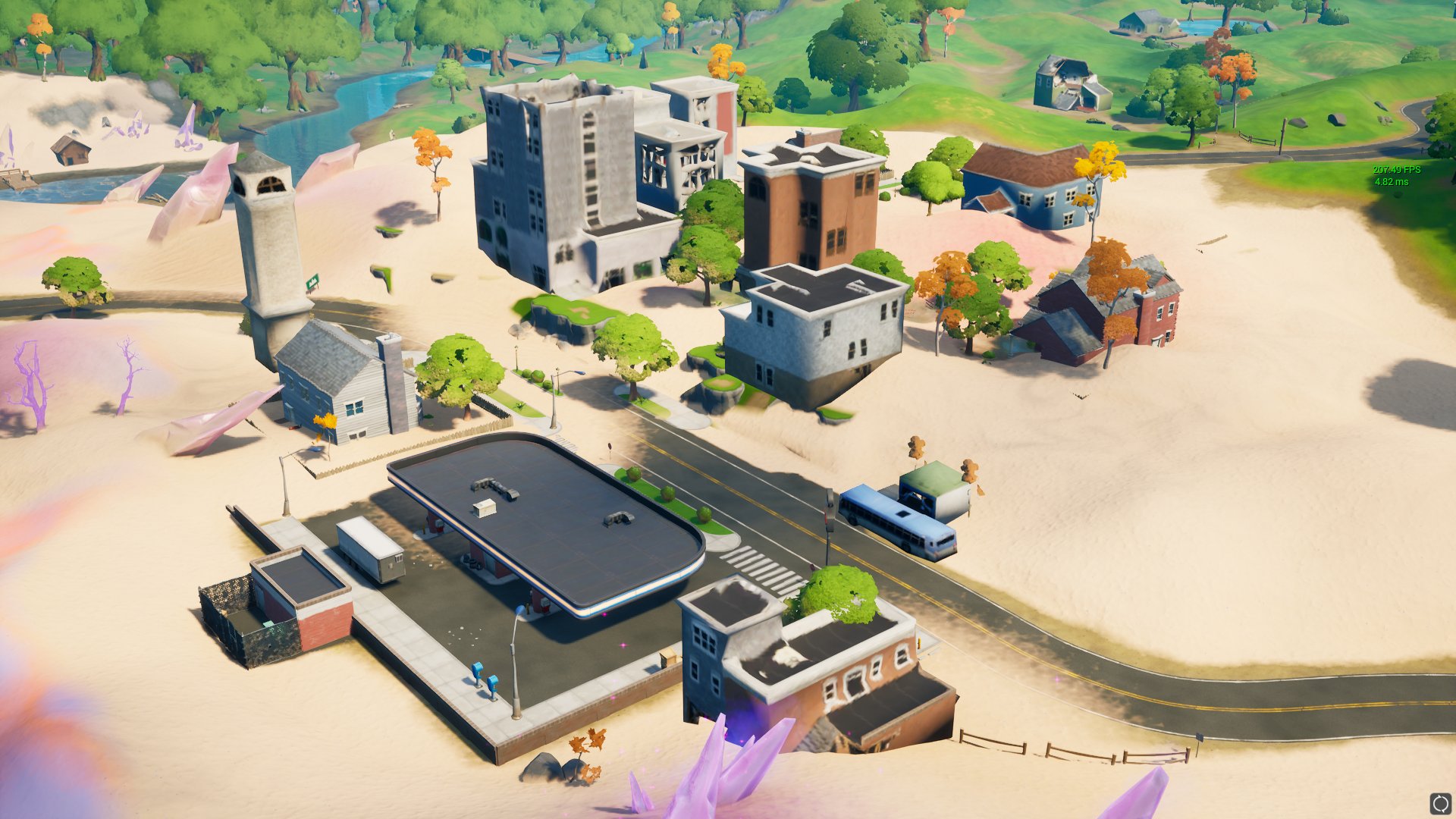 Stealthy Stronghold
Stealthy Stronghold gives us a Jurassic Park vibe, along with some old school Dusty Divot foliage.
This location might end up being one of the tamer drops over the course of the season. It occupies the northeast portion of the map, which was always a good place to land if you didn't want a large fight.
We can't wait to see what's under all these trees.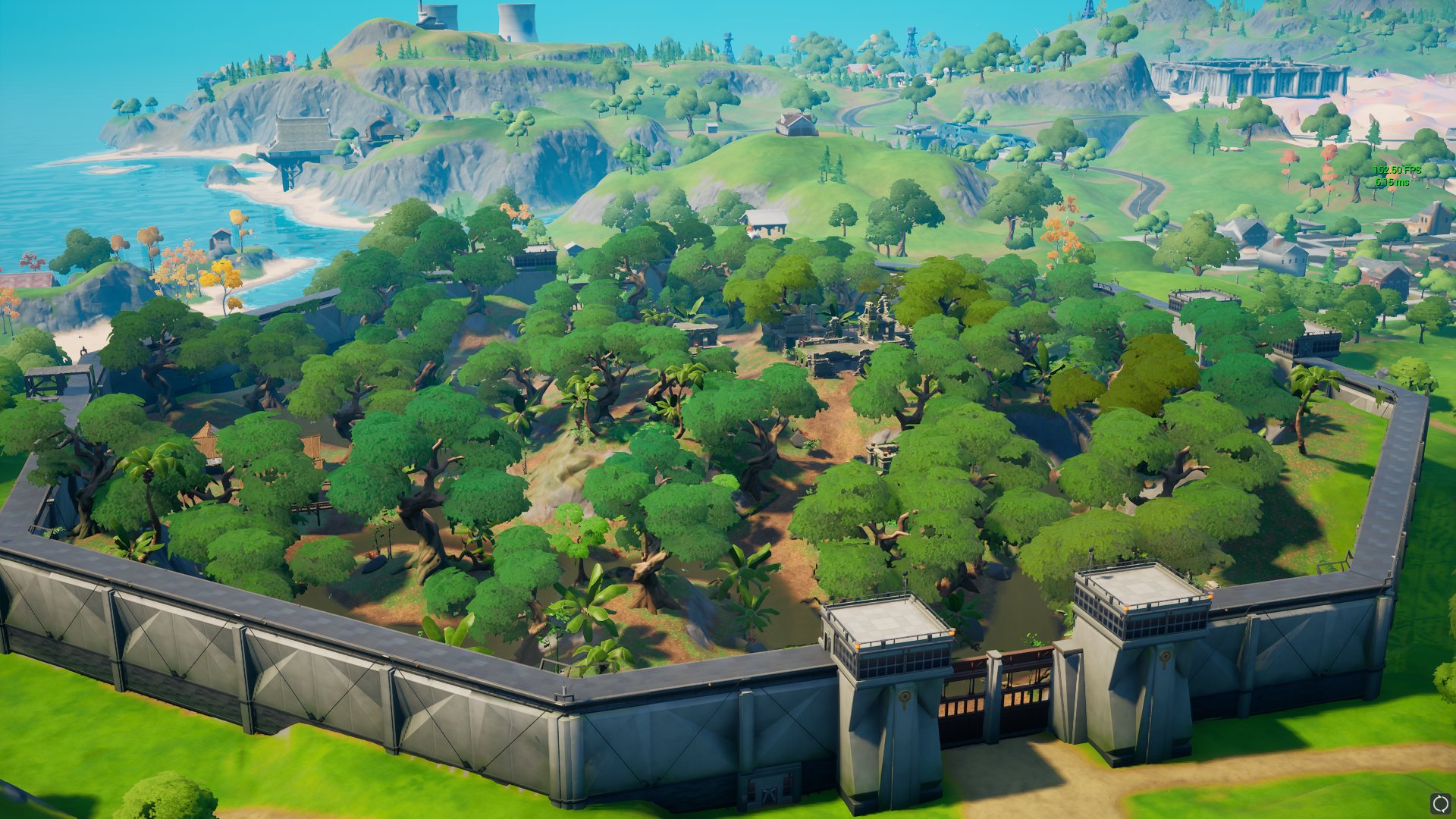 Colossal Coliseum
Colossal Coliseum is going to be a tough place to fight. You won't want to get caught in the middle with enemies on the sides.
We expect this to be another hot drop for players in Season 5. It is, after all, a coliseum.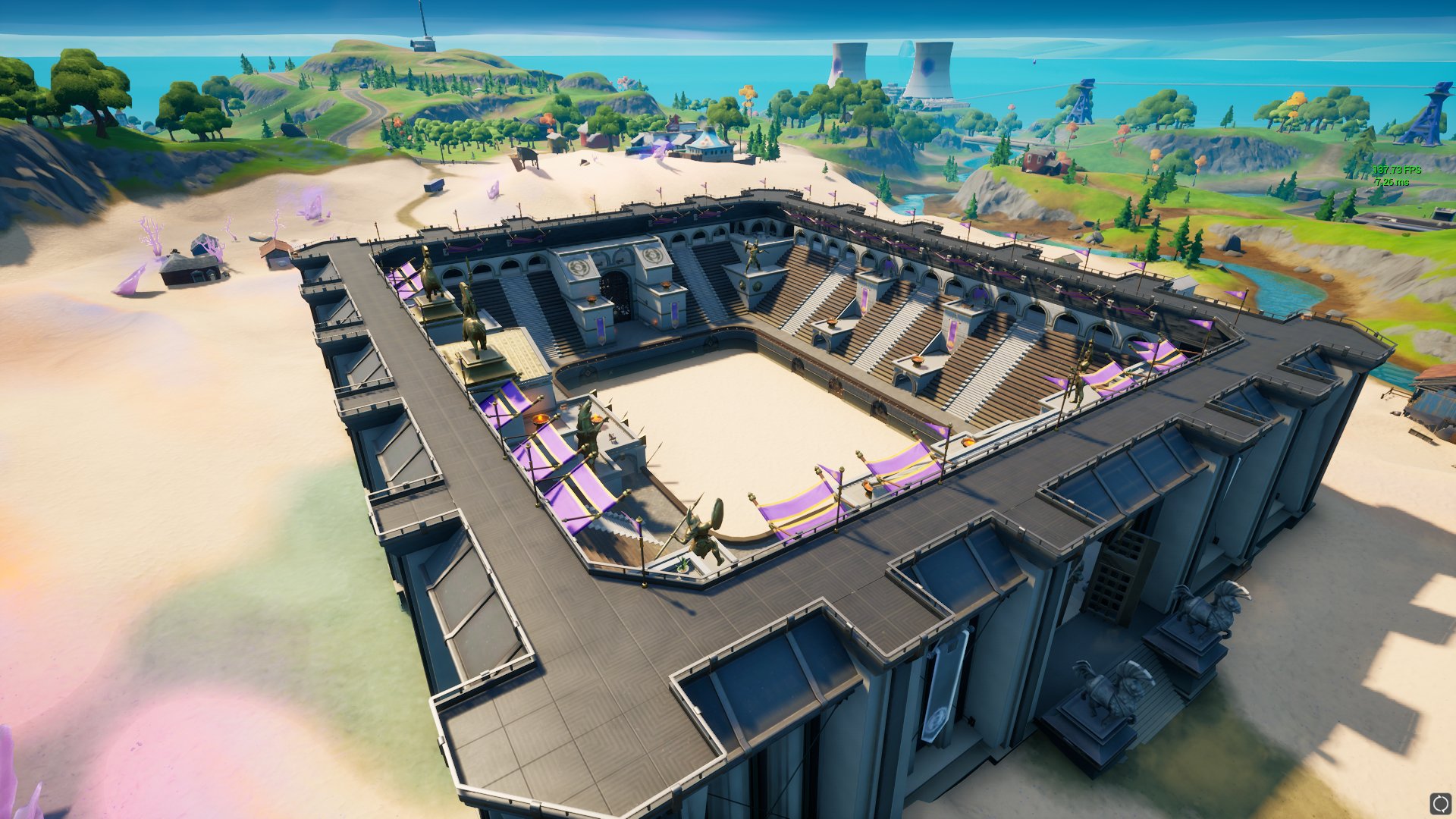 Hunter's Haven
Hunter's Haven seems like a smaller version of Misty Meadows or Lazy Lake, but we'll have to see. This is a perfect place for a new location, though, right in the previously vacant center of the island.
We're not as excited about Hunter's Haven as we are about some of the other locations around the map, but we'll check it out. It could end up being our favorite.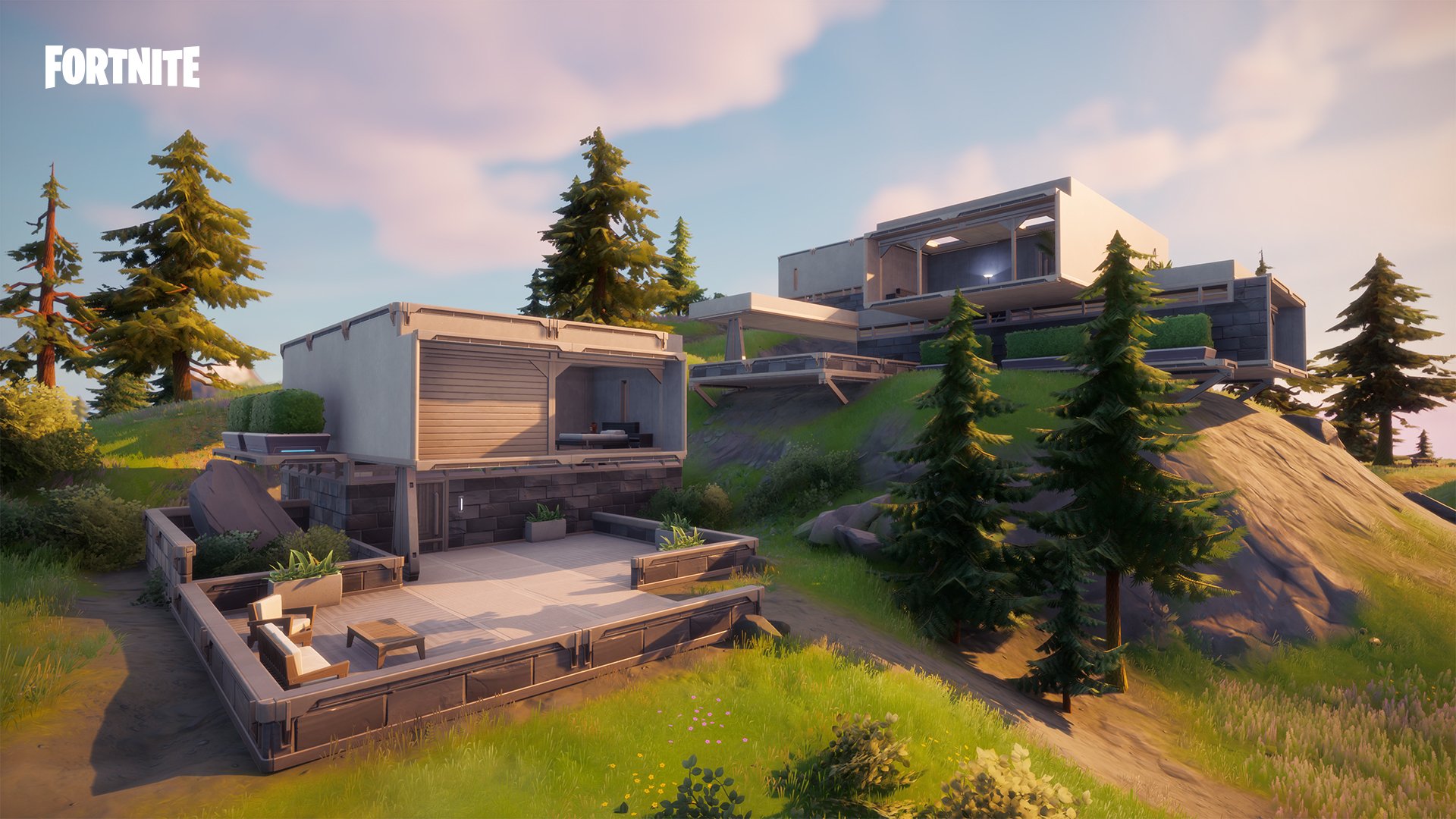 The Zero Point
The Zero Point has returned – this time, significantly smaller than we remember it. Of course, this might not be its final form…
The area surrounding the Zero Point appears to be a no man's land. It will be interesting to see if this orb causes a low-gravity effect like the last one did. For now, it looks like Epic replaced a spice drop spot with an empty area – not always a bad thing.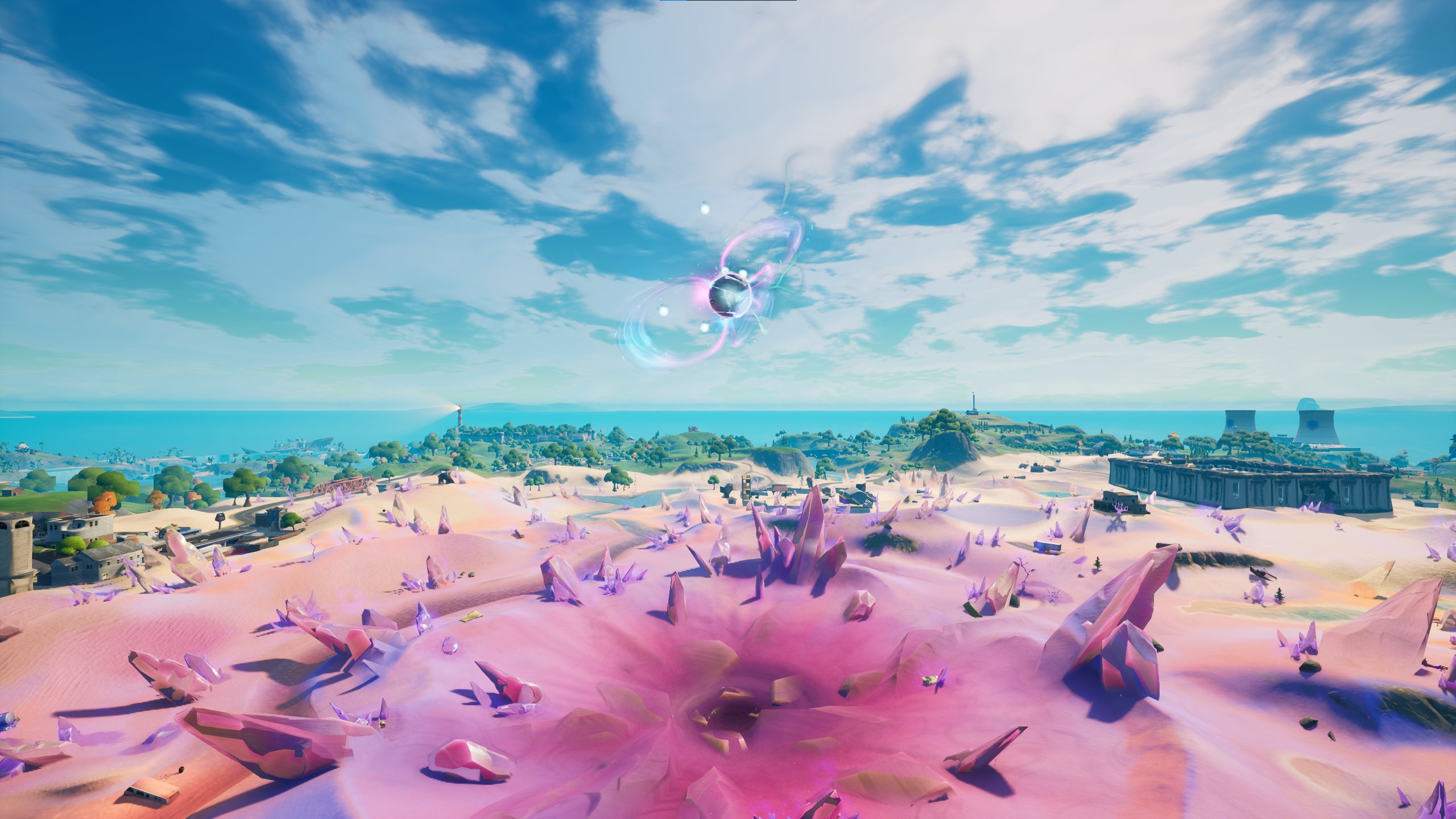 Of course, there are a ton of other, smaller POIs that aren't included on this list. You'll have to dive in and find them with the rest of us.
We'll see you in Salty Towers. It's going to be a bloodbath. Good luck out there.
Fortnite Indiana Jones quests: How to find the secret door in Shuffled Shrines
Fortnite players can finally unlock Indiana Jones with v21.20. They must find the secret door in Shuffled Shrines and here's a guide for it.
The Indiana Jones quests are finally here in Fortnite Chapter 3 Season 3. Here's how you can find the secret door past the main chamber in Shuffled Shrines.
While players were expecting Fortnite v21.20 to revolve around No Sweat Summer, it has turned out to be all about Indiana Jones. The secret skin for this season's Battle Pass is now unlockable through challenges and a brand new POI called Shuffled Shrines has been added to the map.
The Shuffled Shrines puzzle in Fortnite allows players to enter the secret door
First and foremost, you must visit the brand new Shuffled Shrines POI on the Fortnite Chapter 3 Season 3 island. It is located south of Sanctuary, and has been marked in the image below:
After landing, you have to search the location for clues and find four runes on each edge of Shuffled Shrines. They will display one of these Red, Blue, and Yellow symbols:
The runes (clues) will be scattered across Shuffled Shrines and their symbol resets every game. Hence, you should not try copying the patterns that worked for others.
It is important to find the fure runes and then head to the middle of Shuffled Shrines where you will find four interactive runes in front of a door.
Solving the puzzle is basically a game of hit-and-miss. You have to rotate the runes according to the clues. To open the door, the symbols on the runes in front of the door should be identical to the ones that are scattered around Shuffled Shrines.
Apparently, the symbol of the runes on the left should match with the rune located in the southwest corner of Shuffled Shrine. Similarly, the one placed second from the left should match with the rune located on the top right corner (Northwest).
After solving the puzzle correctly, the main chamber should open. However, be careful because the path is full of traps.
Where is the secret door past the main chamber in Shuffled Shrine
It is important to note that the challenge doesn't complete when you solve the puzzle and enter the main chamber. There's an artifact inside that grants 250 Gold Bars, but more importantly, there's a secret door to the right of this artifact. The entrance is hidden by green bushes.
Players can enter this area and find two chests inside which should complete the Indiana Jones challenge. This quest will not only provide XP, but will help in unlocking the character's outfit and a selectable style.
Finding the secret door past the main chamber is clearly more complex than any of the challenges we've ever seen in Fortnite. The puzzles and the traps are already too harsh but before that, players must fight a ton of opponents who'll land to complete the same quest.
Fortnite x Dragon Ball Z collab is coming in Chapter 3 Season 3 according to leaks
With Fortnite v21.20, Epic Games has added some Dragon Ball Z capsules to the files. This could mean that a Goku skin is finally coming.
Leakers have finally found evidence that hints toward a collaboration between Fortnite and Dragon Ball Z. Here's what anime fans should expect out of it.
It wouldn't be an overstatement that Naruto was one of the biggest crossovers in Fortnite's history. Epic Games rolled out two waves of Naruto cosmetics, and fans loved them equally.
While fans of Naruto are more than satisfied with the emphasis on anime skins, fans of other series like One Piece, Bleach, and Dragon Ball Z have always complained about the ignorance towards their favorite characters.
Fortnite adds Dragon Ball Z capsules in the v21.20 update
With the latest v21.20 update, Epic Games added a new Stamina Prop to Creative which appears to be a replica of Capsule Corp from Dragon Ball Z.
The logo and the color scheme of the prop is identical to the ones we've seen in the anime series. Moreover, HYPEX revealed that it has outlines like other anime cosmetics.
While the Capsule Corp prop is the only Dragon Ball Z element we have in Fortnite, it is enough to ignite the hopes of fans around the world. Goku is easily one of the most popular fictional characters ever, and it makes perfect sense for him to be a part of the battle royale game after Naruto.
There are some skins in the files that are still encrypted. Hence, it wouldn't be a surprise if one of them is Goku.
What to expect from Fortnite x Dragon Ball Z in Chapter 3
Capsule Corporation in Dragon Ball Z is a company founded by Dr Brief who is Bulma's father. Capsule Corp Goku is quite popular among fans, and we might see him as a skin in the Item Shop.
Considering that Naruto arrived with Creative and The Nindo challenges, it wouldn't be a surprise if Epic Games comes up with something similar for DBZ. To be fair, both Naruto and DBZ are two of the most popular anime series out there. Fans would love to purchase the skins from the Item Shop, but free rewards are equally desirable.
The likes of Goku, Vegeta, Frieza, and Broly should become a part of Fortnite once the crossover becomes official. However, it is uncertain if it will take place in Chapter 3 Season 3 or later. This is because Naruto was a part of the files from Chapter 2 but was officially added after months of anticipation.
Having said that, Dragon Ball Super: Super Hero is coming to the US and Canada on August 19, which could very well be the date for the crossover as well.
Fortnite v21.20 update introduces Indiana Jones skin, quests, Shuffled Shrines POI, more
Indiana Jones is finally available in Fortnite with the 21.20 update. The developers have even added a new Shuffled Shrines POI for him.
As expected, the Temple Bloom landmark has gone through significant changes in Fortnite v21.20. It is now called Shuffled Shrines and you must visit it to complete the Indiana Jones quests.
Indiana Jones is the secret skin in the Fortnite Chapter 3 Season 3 Battle Pass. Following weeks of anticipation, the 21.20 update has finally introduced quests that will help players in unlocking the outfit as well as other cosmetics.
Here's everything related to Indiana Jones that is a part of Fortnite v21.20.
Indiana Jones quests in Fortnite are now live
The following quests and rewards are now available in Fortnite Chapter 3 Season 3 for Battle Pass owners:
Search chests at Shifty Shafts (5)- Indiana Jones Banner Icon
Damage opponents while riding or standing on a vehicle (500) – Rogue Archaeology wrap
Use the Grapple Glove to swing off trees (10)- Raider's Relics harvesting tool
Collect the Durrburger Relic from The Temple and The Ruins in a single match- Expedition Bag backbling
Find the Secret Door past the main chamber in Shuffled Shrines- Indy's Dustoff emote
Stash a Mythic or Exotic item in a tent- Indy's Escape spray
Make Runaway Boulders roll for 100 meters in a single match- First Misadventure Loading Screen
Finish top 5 in a match- Emergency Raft glider
While completing four of these quests will grant the Indiana Jones outfit to players, they can unlock a Temple Explorer style by completing ten challenges.
Shuffled Shrines POI in Fortnite has new gameplay mechanics, Idol Artifacts, and more
The Temple Bloom landmark has now turned into a new location called Shuffled Shrines which is dedicated to Indiana Jones. Accordingly, you will experience the following elements there:
Emote unlocked doors
Different music
Puzzles
Traps

Allow Walls
Stream Traps
Poison Darts
Explosives
Trigger Plates

Torches
There will be a wide range of traps in Shuffled Shrines because players will have to collect Idol Artifacts from this location. Moreover, there will be three threat levels.
The Idol Artifacts represent Durr Burger, Tomato Head, and Object of Power. They will help in opening a treasure vault, and Fortnite will tell players if they've succeeded or failed in properly exploring the Indiana Jones temple.
Interestingly, the Object of Power artifact has three parts. You have to collect all three to make the fourth and final artifact.
The Shuffled Shrines POI has a secret door that is also mentioned in the quests. Players first have to enter a code to open it and then pass traps to collect the artifact. Upon collection, they have to again pass through traps and make it out alive like in the movies.
It is evident that Fortnite v21.20 has primarily focused on Indiana Jones and there are countless Easter Eggs for you to discover. Even though the cosmetics are restricted to Battle Royale owners, the new and adventurous Shuffled Shrines POI is open to everyone.