All leaked Fortnite skins & cosmetics from v14.60
Fortnite v14.60 brought leaked skins, pickaxes, and more cosmetics to the game.
Fortnite v14.60 is here, and you know what that means: a batch of leaked skins that will be hitting the Item Shop in the upcoming weeks.
Fans are eagerly awaiting the next Fortnite event, which is rumored to be the biggest event in the history of the game. Until then, we can pass the time by drooling over some upcoming skins. The Cob skin is going to be a must-have going into Thanksgiving.
Leaked Skins & Back Bling
Fortnite is bringing a couple of interesting Thanksgiving skins to Fortnite, this year, including a skin concept that has existed for a while. Peely is getting the seasonal treatment and being turned into corn on the cob. This will, reportedly, be a part of a skin bundle with the evil pie-looking skin.
Of course, players will also see Venom enter the game as early as today in the Venom Cup. Winners of the skin will be able to use it this week. Everyone else will have a chance to buy it at a later date – probably this weekend.
The resident witch and wizard – Elmira and Castor – received a Dark variant in this patch, as well. Players who already own these skins will be able to access this new style right away.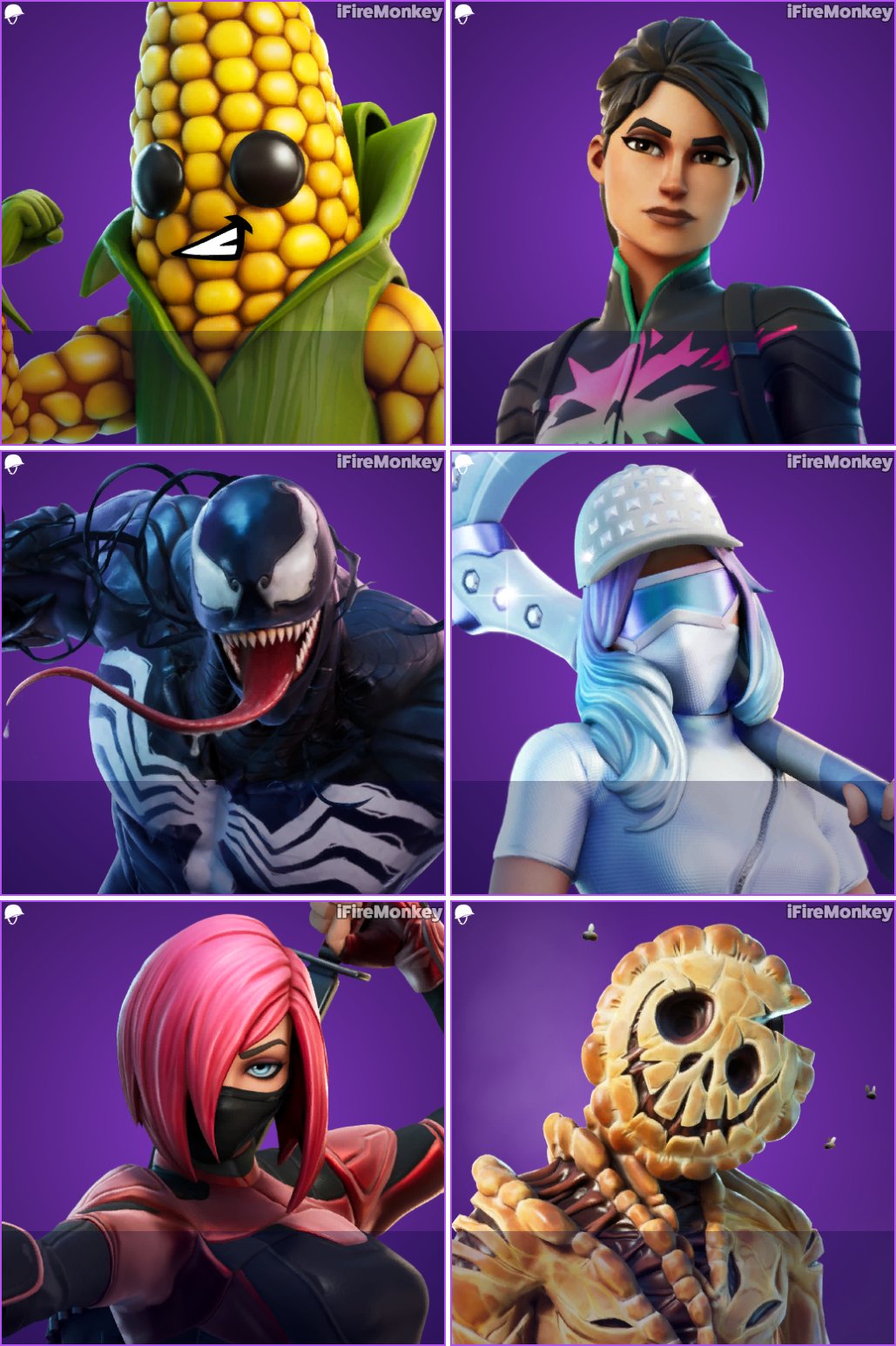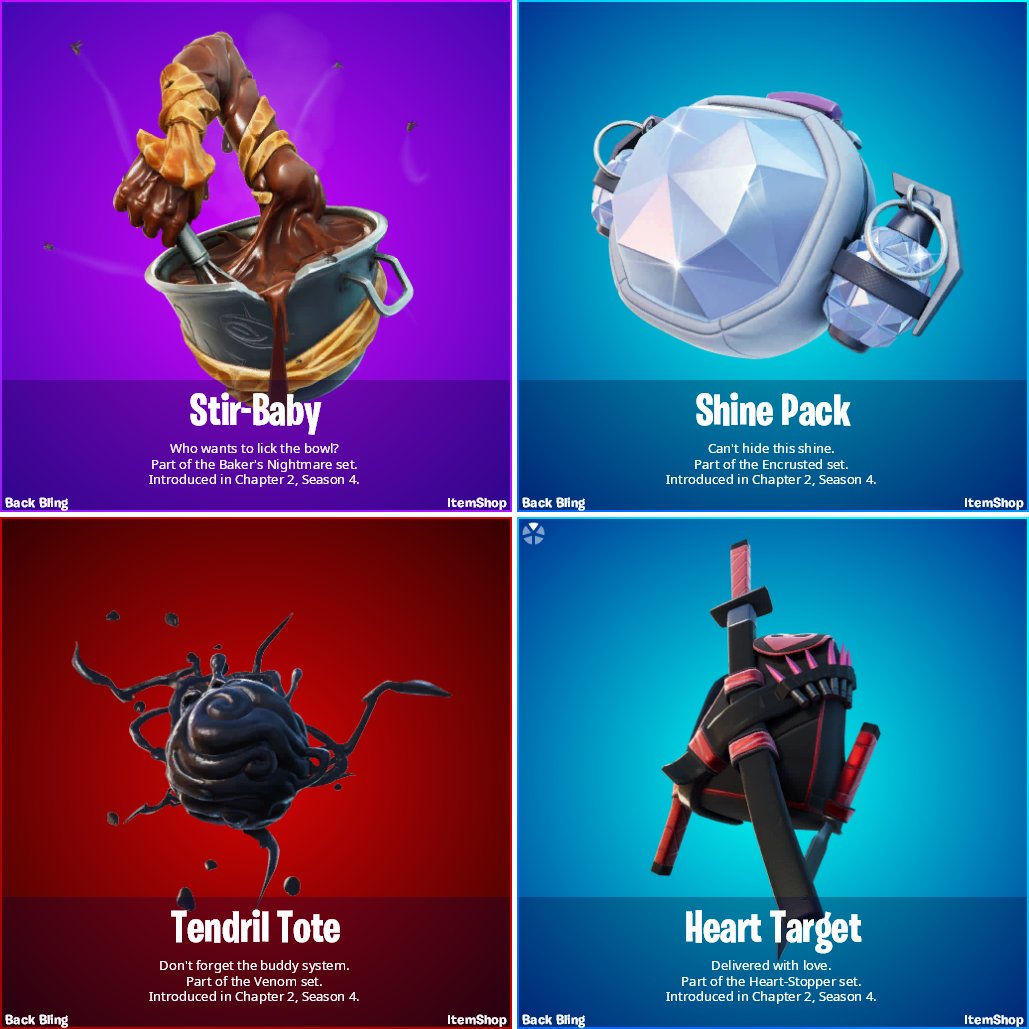 Leaked Pickaxes
The leaked pickaxes in this update aren't much to write home about – all but Venom's pickaxe. We have some bad news about that one, though.
According to Hypex, it will be a built-in pickaxe that we won't be able to use with other skins.
Leaked Wraps
We'll be getting a few wraps to go along with the leaked skins in the section above. The Galaxy Wrap appears to be another style for the female Galaxy skin that we saw a while back.
The Rainbow Fog wrap looks to be a part of the upcoming Fortnite X House Party collaboration, meaning players will probably be able to get it for free.
Misc.
There are a few miscellaneous leaked cosmetics as well, including a Reboot Van emoticon, a Thor music pack, and two sprays that relate to Ghost Rider and Peely.
We don't know whether or not you'll be able to buy these items, but most of the time Epic save these for free challenge rewards.
Cosmetics weren't the only leaks that were a part of the v14.60 update. We also have some information on what we can expect coming out of the next Fortnite event: Devourer of Worlds.
We'll keep you covered with all of the leaks ahead of the update, so make sure to follow us on Twitter @FortniteINTEL.
Stats reveal the deadliest locations in Fortnite Season 5
Fortnite data miner, Lucas7Yoshi, has created a map of the most deadly locations in Fortnite Season 5. Here's where to land or avoid.
The Fortnite world is a deadly one. Take a look at some of the most dangerous locations on the entire map.
It's no secret that Fortnite – and all battle royales, for that matter – have hot-spots for players to drop. If you want a fight, you'll find one at Salty Towers in every game. If you want a more relaxed experience, Craggy Cliffs might be your speed.
Which are the deadliest places on the Fortnite map? Regular players know about some of them. It should be no secret that Salty Towers and Pleasant Park see a lot of action.
Data miner Lucas7Yoshi has been gathering all kinds of Fortnite data, lately. Most recently, he compiled a map of the most active locations in Season 5. As you can see, Salty Towers and Lazy Lake top the list.
The areas shrouded in blue aren't completely inactive, but they show how much activity happens at the center of the map. If you want a safe drop, the northeast corner is probably your best bet.
From the map, you can see that the action isn't isolated to the center. Sure, it's the most active, but Holly Hedges, Sweaty Sands, Retail Row, and Slurpy Swamp almost always have a few deaths per match.
These locations are probably more bus path-dependent than Pleasant, Salty, and Lazy, but they still get a ton of attention. Stealthy Stronghold – likely bolstered by the addition of Predator – can also be seen on the map.
This map doesn't give us too much new information, but it's interesting to see how much activity takes place in different areas of the map. Even the no man's land of the Zero Point has more deaths than places like Steamy Stacks – the safest named POI in Season 5.
We're interested in learning more about Fortnite trends as Lucas7Yoshi continues his research. So far, he's compiled data for the most popular cosmetics to go along with his new death map.
Fortnite Winter Trials event & rewards leaked
Epic Games quickly added and removed a webpage that revealed a new Fortnite event: Winter Trials. Here's everything we know so far.
Epic Games released a new website, announcing the Fortnite Winter Trials. They have since removed the site, leading fans to believe it was leaked early.
Most of the time, when we're discussing Fortnite leaks, we're talking about data miners finding files in the game that relate to certain events, skins, etc. In rare cases, Epic let something slip a bit early. That's what we have here.
On January 25, Epic released the Fortnite Winter Trials webpage, showcasing free rewards, an influencer tournament, community voting on events, and more.
The website was quickly removed after it was added, but data miner Hypex was able to record some of the contents before it went down.
The details of the event are still limited, but it appears as though players will be earning badges for logging in, voting for challenges, and playing Fortnite.
Over the course of the rest of the season, your playtime and badges will reward you with free cosmetics. Most of them are hidden, but we know about a spray, emoticon, and weapon wrap from the images on the website.
We should see an official announcement of the event soon. Since Epic were the ones who jumped the gun, we expect to see them announce the event as soon as tomorrow – if not later tonight.
We'll update this post when we learn more about the event, along with additional details on how to earn free cosmetics. Stay tuned.
Fortnite tease new Drift Crew skins
Epic Games are dropping some cryptic hints relating to the iconic Drift character in Fortnite, and speculation suggests it's all leading to a new Drift Crew skin.
On January 24, Epic Games posted a series of mysterious tweets, to get the community guessing.
Their first post referenced Drift directly, saying: "Drift? Drift. Come in. Do you read me?" A series of messages followed, asking for help – presumably Drift's help.
The Fortnite account has since deleted the tweets, but here's a screenshot of all of them from iFireMonkey.

Data miner HYPEX was quick to highlight that these teasers are almost certainly connected to the upcoming new Drift Skin, which appears to be a female version of the fan-favorite skin.
Fortnite Crew is the monthly subscription service, and it's expected that this new Drift skin will be included in the February edition of the subscription rewards.
The subscription grants players each new Battle Pass, plus 1,000 V-Bucks, in addition to the cosmetic rewards.
We'll have to wait and see confirmation about the new Drift skin as we put January in the rearview mirror and move into February.