All IO Guard spawn locations in Fortnite Season 5
Want to take on the IO Guards or avoid them at all costs? Find out all of their spawn locations in Fortnite Season 5.
Fortnite Season 5 has brought some high-powered NPC enemies to the game. Here are their spawn locations so you can steer clear or look for a battle.
Marauders may have been the least popular additions in all of Fortnite Chapter 2 so far. Their random spawn locations and proclivity to appear at the worst times led players to despise the music associated with their arrival.
These Marauders were replaced with Gorgers in Season 4, and now with IO Guards in Season 5 – both of which are an improvement on their original form.
The IO Guards that litter the game now are a mixed bag. They're tanky and don't offer much useful loot, but they have set spawn locations around the map. If you want to avoid them, you can.
These Guards spawn in elevator-like terminals that appear to transport them from another dimension. We're drawn to this conclusion by the fact that these structures don't always include IO Guards. We've seen chests, structures, and Chapter 1 relics come out of these terminals – so they don't always mean danger.
Since the IO Guards spawn in pre-determined locations, they're a lot easier to track than Gorgers or Marauders were. Fortnite Data Miner, Mang0e, did just that. Here's a map of all 20 potential IO Guard spawn locations.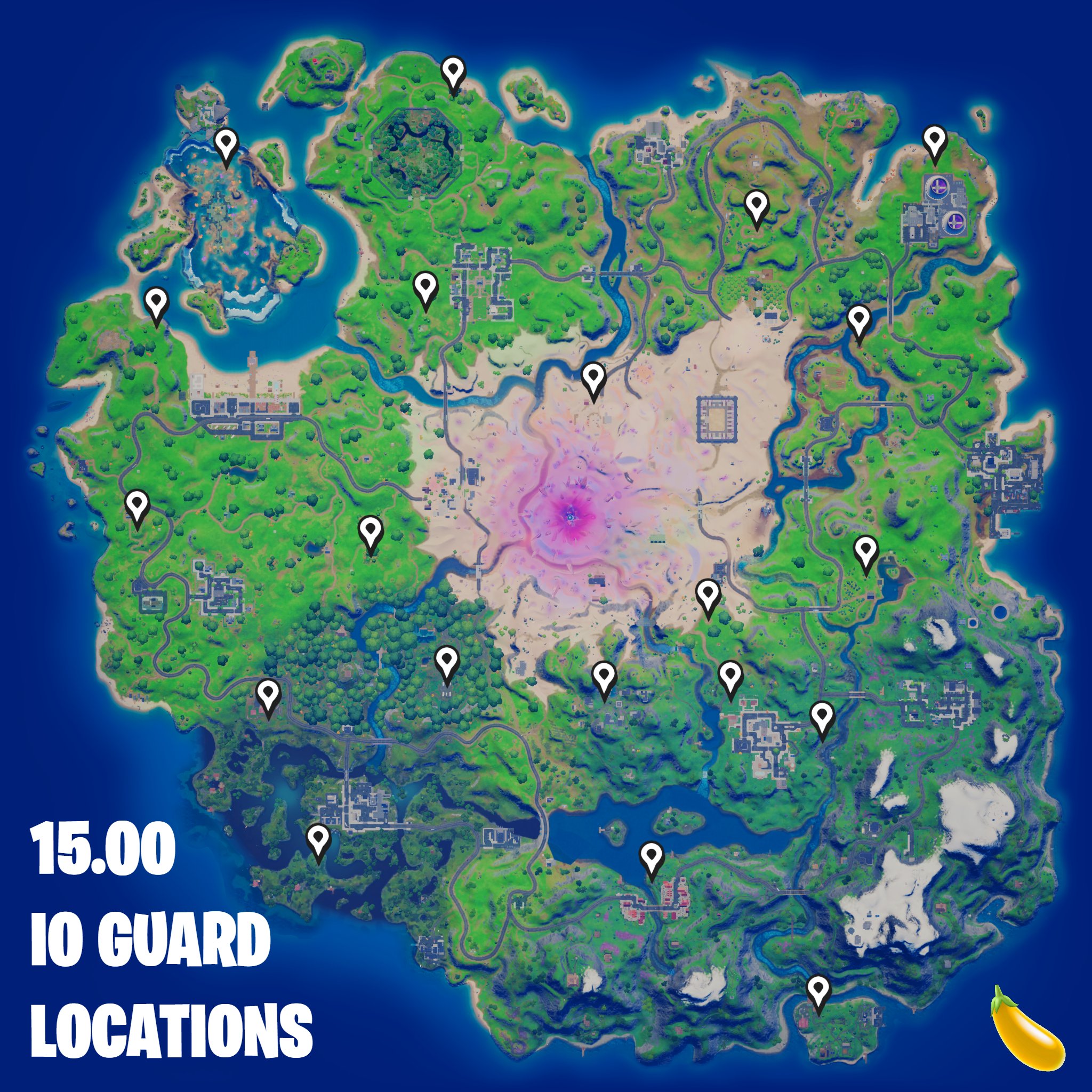 Whether or not you want to fight the IO Guards is up to you. Most of the time, the Tac ARs and Mini Shields that they drop aren't worth the ammo, materials, and healing items you'll need to kill all of them.
At least you can plan your games around these IO Guards, unlike the deadly NPC gangs of past Fortnite seasons.
Image Credit: @Mang0e, u/ThatPumpkinHook
How to deliver a truck to Sunflower's Farm in Fortnite Season 5
One Fortnite Season 5 Week 8 challenge requires players to deliver a truck to Sunflower's Farm. Here is the location so you know where to go.
The Fortnite Season 5 Week 8 challenges require you to deliver a truck to Sunflower's Farm. You might not know exactly where this challenge has you going, so we're here to help.
The challenges for Season 5 Week 8 are relatively easy when you compare them from those of previous weeks. Most of them will be able to be completed through normal gameplay, which is always good news.
One particular challenge requires you to know where to go: deliver a truck to Sunflower's Farm. Sunflower is an NPC that offers Cabbages for gold and a few random quests.
You can find Sunflower and her farm to the north of The Orchard. This is the second stage of a quest that begins at The Orchard, so you won't have to travel very far. Here it is, marked on a map.
All you need to do is grab a truck from one of the surrounding areas and drive it to the farm. Be careful if you're coming from the north, as IO Guards spawn on the hill above the farm.
The first part of this quest requires you to destroy produce containers at The Orchard, which is only a few steps away from Sunflower's farm. Unfortunately, it doesn't seem like this can be completed in one match.
After this one, the rest of the challenges should be easy to complete. They're worth doing too, as you'll need to surpass level 200 to unlock all of the enlightened skins in Season 5. Good luck!
Fortnite Season 5 Week 8 challenge guide
The Fortnite Season 5 Week 8 challenges are here. Take a look at how to complete all of them, including how to destroy tomato produce boxes.
Fortnite Season 5 Week 8 is here. Take a look at all of the challenges and how to complete them.
Fortnite Season 5 is chugging along, and a new week means a new list of challenges to complete. There's a ton of XP up for grabs in Season 5, and this week brings us a much-needed break from searching specific locations for gnomes, coins, and similar items.
This week, we'll be able to complete all of these challenges in Team Rumble with little effort. If you're lucky enough, you may even be able to complete most of the Epic challenges in a single match.
Here's what you need to do:
Destroy apple and tomato produce boxes at The Orchard Farmers Market (3)
Drive a car through the corn field at Steel Farm (1)
Deliver a truck to Sunflower's Farm (1)
Pistol Damage (250)
Collect Gold Bars (500)
Blow up a gas pump (1)
Distance traveled Gliding (3,500)
All of these challenges are easy to complete as long as you know where to go. Collecting Gold Bars is as easy as breaking a few couches and beds while eliminating enemies. If you're not in a rush to finish it, it will happen over the course of a few hours of play.
Orchard Farmers Market and Steel Farm are the two areas surrounding what used to be Frenzy Farm. The Orchard is to the North and Steel Farm is to the East. Here they are on a map, for reference.
The rest of these challenges should be easy enough to complete, which is always good news. Challenges can be fun to grind, but not week after week. This time, we got a nice break with some easy challenges.
How to find Predator's Apartment in Hunter's Haven
Predator is entered Fortnite. Find out how to unlock his Bio Helmet Online built-in emote by visiting his apartment in Hunter's Haven.
Predator has finally entered the Fortnite universe in Season 5. Here's how to find his apartment in Hunter's Haven to unlock his built-in emote.
Fortnite players thought that Season 4 was the season on crossovers but quickly realized that Season 5 would be even more jam-packed. Predator is only the most recent of several crossovers that have come to Fortnite in the form of bounty hunters.
You can take a look at our full guide to unlocking the Predator Battle Pass skin here. Once you battle your way through hordes of enemies at Stealthy Stronghold and unlock the skin, your mission has only begun.
Next, you'll need to complete several quests as Predator, including using his new Cloak Device and visiting his apartment at Hunter's Haven.
Predator's apartment location
Hunter's Haven is the home to all of the bounty hunters who have entered Fortnite. Several characters have set up shop, here, and Predator is no different.
You can find his new apartment in the northeast corner of the POI. Inside, you'll find a command center complete with a home for Predator's armor – fitting, as the Bio Helmet Online emote allows you to remove Predator's mask.
Take a look at the exact location on the map below.
Once you find his apartment, you can move onto the other Predator tasks, such as completing a bounty while wearing the skin.
All of these challenges award players with XP to go along with the cosmetics, so they're worth competing if you want to unlock all of the enlightened skins for the season. The real task will be eliminating Predator in the first place, as Stealthy Stronghold has just become the hottest drop on the map.