All IO Guard spawn locations in Fortnite Season 5
Want to take on the IO Guards or avoid them at all costs? Find out all of their spawn locations in Fortnite Season 5.
Fortnite Season 5 has brought some high-powered NPC enemies to the game. Here are their spawn locations so you can steer clear or look for a battle.
Marauders may have been the least popular additions in all of Fortnite Chapter 2 so far. Their random spawn locations and proclivity to appear at the worst times led players to despise the music associated with their arrival.
These Marauders were replaced with Gorgers in Season 4, and now with IO Guards in Season 5 – both of which are an improvement on their original form.
The IO Guards that litter the game now are a mixed bag. They're tanky and don't offer much useful loot, but they have set spawn locations around the map. If you want to avoid them, you can.
These Guards spawn in elevator-like terminals that appear to transport them from another dimension. We're drawn to this conclusion by the fact that these structures don't always include IO Guards. We've seen chests, structures, and Chapter 1 relics come out of these terminals – so they don't always mean danger.
Since the IO Guards spawn in pre-determined locations, they're a lot easier to track than Gorgers or Marauders were. Fortnite Data Miner, Mang0e, did just that. Here's a map of all 20 potential IO Guard spawn locations.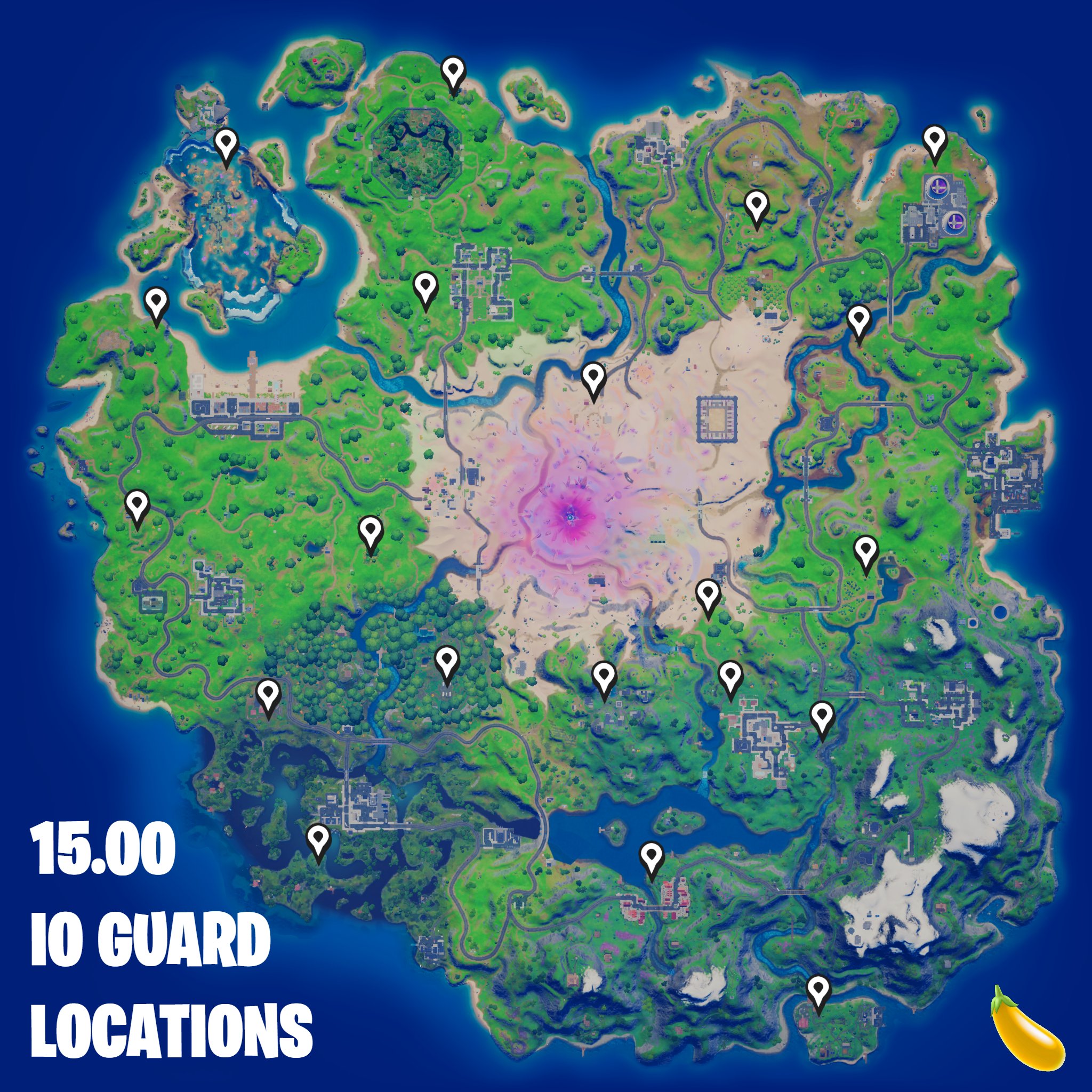 Whether or not you want to fight the IO Guards is up to you. Most of the time, the Tac ARs and Mini Shields that they drop aren't worth the ammo, materials, and healing items you'll need to kill all of them.
At least you can plan your games around these IO Guards, unlike the deadly NPC gangs of past Fortnite seasons.
Image Credit: @Mang0e, u/ThatPumpkinHook
Fortnite: Where to find Pizza Party item and what it does
Fortnite Chapter 3 is adding a new Pizza Party item that allows players to restore their shields through the power of pizza.
If you're wanting to switch up your diet in Fortnite, you can use the Pizza Party item to gain shield and fill your stomach.
One of Fortnite's mascots is Tomatohead who is also the mascot for the fictional restaurant Pizza Pit. This is a POI that has appeared in Fortnite for several seasons.
It's one of the many fictional restaurants that have appeared in-game along with Durrr Burger, Sitcks, and Butter Barn.
However, players haven't been able to enjoy any of the food from these restaurants until now. Pizza Pit's ovens are on and players can finally enjoy eight slices of cheesy goodness.
How to get Pizza Party item in Fortnite
The Pizza Party is a pizza box containing eight slices of pizza. In addition to cheese and sauce, each slice is topped with a Shield Mushroom that restores 50 shield.
Each box has 8 slices, but each slice can only get players up to 50 shield similar to minis. Players can find Pizza Party boxes in the normal loot pool.
As well, players can purchase a Pizza Box for 50 gold from the Tomatohead NPC. He is located in Tilted Tower, and he only has 4 Pizza Boxes in stock.
According to Hypex, the Pizza Party box will be added to Fortnite on Tuesday, January 25.
For a measly 200 gold, players can pick up 1,600 shield. However, we don't know how long it takes to eat a slice. And this would also require players to give up two item slots.
For more Fortnite, check out where to find Spider-Man's web shooters in Chapter 3.
How to get the Green Goblin Spider-Man skin in Fortnite Chapter 3
Fortnite Chapter 3 is adding another Spider-Man crossover skin. This time, players can dress as the iconic villain Green Goblin.
Spider-Man's arch-nemesis Green Goblin is making his way to The Island. Here show you can get this villainous skin.
One of the most exciting crossovers in Fortnite history is the Spider-Man skins and web shooter. Fortnite has been littered with Marvel crossovers in the past, but this one is a fan favorite.
And in classic Fortnite fashion, just one skin from the Spider-Man series was not going to be enough. Outside of the MCU Spider-Man and the Zendaya MJ skins, Fortnite is also adding the Green Goblin.
How to get the Green Goblin skin in Fortnite
As of right now, we aren't sure when the Green Goblin will release. He was added during the Fortnite v19.10 patch and is set to release sometime in the near future.
As for how you get the Green Goblin, that's going to cost players some money. Yes, Green Goblin will be available in the Item Shop.
Like other Marvel skins, Green Goblin will likely cost the player 1,500 V-Bucks. He will probably come with a rideable glider and pickaxe.
In addition to Green Goblin, Fortnite has crossovers planned for Hawkeye as well as another Arcane collaboration. We will continue to keep this post updated as more information becomes available.
Until then, check out where to find every NPC on Fortnite Chapter 3's map, and stay tuned for more news and guides.
How to upgrade weapons in Fortnite Chapter 3: upgrade benches and vending machines.
Fortnite Chapter 3 has a few ways to upgrade weapons. Here's where to find the Fortnite upgrade benches and vending machines.
Crafting and Upgrade Benches are still the main means of upgrading weapons. Here's how to upgrade weapons in Fortnite Chapter 3.
Fortnite Chapter 3 introduces an entirely new map which means new Upgrade Bench locations. While players can't run to NPCs and get cheap and instant upgrades, it's still possible to power up your gear.
From Weapon Upgrade Benches to Vending Machines, players can spend hard-earned bars to bump their weapons up a level.
Whatever you choose, this guide will help you figure out how to upgrade weapons in Fortnite Chapter 3.
Upgrade Benches Fortnite Chapter 3
The quickest but most expensive way to upgrade weapons is by using Fortnite Upgrade Benches. The Upgrade Bench is also the most reliable way to upgrade weapons in Fortnite Chapter 3.
Using an upgrade bench instantly bumps up the rarity of a weapon, but it comes at a cost. Players will have to spend hundreds of bars each time they want to upgrade their weapons. However, you just can't beat the power of an upgrade bench.
Here is how much each upgrade costs while using a Fortnite Upgrade Bench:
Common (grey) -> Uncommon (green) = 200 bars
Uncommon (green) -> Rare (blue) = 300 bars
Rare (blue) -> Epic (purple) = 400 bars
Epic (purple) -> Legendary (orange) = 500 bars
The Fortnite.gg map below shows all of the Fortnite Upgrade Bench locations. In Chapter 3, there are 18 different Upgrade Bench locations. No matter where the next Storm Circle is headed, there's usually a Fortnite Upgrade Bench nearby.
Vending Machines in Fortnite Chapter 3
The second way to "upgrade" weapons is by purchasing a better one from a Vending Machine. These are a much cheaper alternative to upgrading weapons, however, they aren't as reliable.
This is because players won't know what weapons a vending machine carries until they get to them. However, they can carry any rarity of weapons from Uncommon (green) to Legendary (gold).
Weapons from a Vending Machine cost 50 Gold Bars. This is a massive discount compared to the 300 bars it takes to upgrade a weapon from green to blue.
Below is a map that shows all of the Vending Machine Locations in Fortnite Chapter 3.
Chapter 3 has removed crafting, sidegrading, and sideways weapons. So while there aren't as many upgrade methods as before, these methods are far more reliable.
For more Fortnite, check out all of the major map changes from this season, and stay tuned for more news and guides.