All Fortnite v12.30 Deadpool map changes and leaks
Deadpool is almost here, and he'll be making a splash when he comes into the game. Take a look at all of the leaked map changes found in the v12.30 game files.
Deadpool is almost here, and he'll be making a splash when he comes into the game. Take a look at all of the leaked map changes found in the v12.30 game files.
Fortnite players were excited and surprised to see that Deadpool would be the Season 2 secret skin. Since then, we've been counting the days until he eventually comes to the game.
It's now Season 2 week 7, which means it's traditionally the time for the secret skin to be revealed. Deadpool's calendar tells us as much too, with this Friday circled.
We got a boat-load of leaks – no pun intended – about Deadpool in the v12.30 patch. Here's everything we know, so far.
Deadpool Yacht takeover
According to the v12.30 leaks, Deadpool will be taking control of The Yacht when he enters the game, this Friday.
We've seen what The Yacht will look like under Deadpool's control, complete with the Midas statue revealing itself to be the superhero, himself.
What will the henchmen be like when Deadpool takes over? We don't know, just yet. According to the game files, however, we'll be able to disguise ourselves as Deadpool at The Yacht.
Does this mean that the henchmen will be Deadpool as well? That would be incredibly confusing, but it's possible.
Deadpool's Hand Cannons
Since Deadpool is taking over the Yacht, it's assumed that his mythic Hand Cannons will replace the mythic Heavy AR, although Meowscles could be relocated to another area of the map.
Thanks to the usual suspects, we have the statistics of Deadpool's Hand Cannons before they enter the game. Here's a breakdown from @iFireMonkey.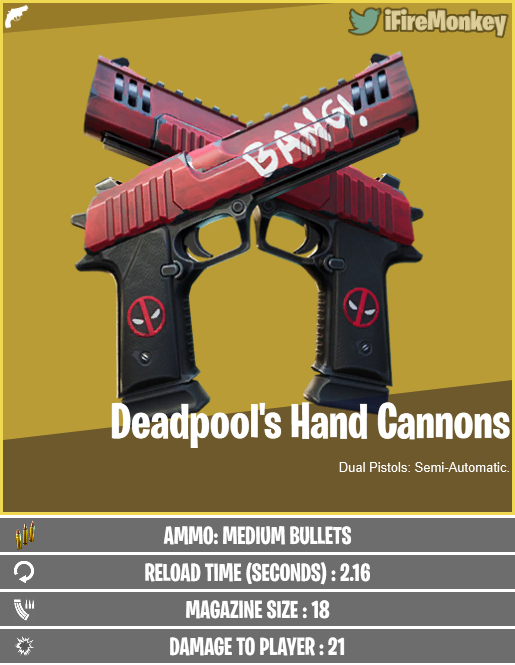 Battle Bus and Supply Drops
As many fans predicted, Deadpool will also be taking control of the Battle Bus. Not only that, though, but he'll also be the theme for the supply drops.
These changes will probably last for a week or two – until the next patch comes out. Either way, it will be an exciting welcome to one of the more popular skins in the game. Let's hope that the Deadpool Bus music is bearable, at least.
Unmasked Deadpool
We also saw a selectable style leaked for Deadpool. According to the game files, we'll be able to unmask the skin and look at his beautiful face.
With Deadpool being such a popular skin, it will be interesting to see whether more players wear him with or without his mask.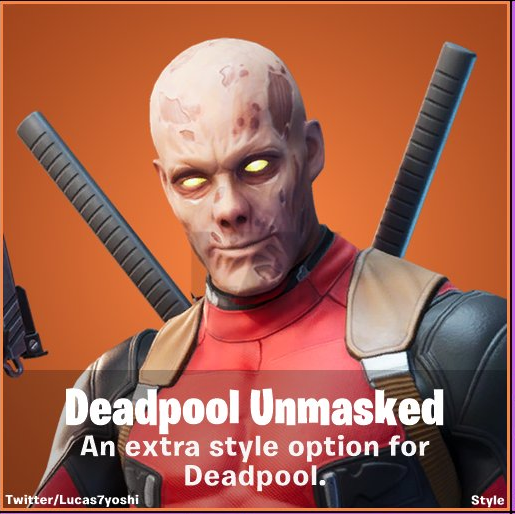 That's all the news that we have on Deadpool so far. We'll update this post with any other details that come out ahead of Friday's assumed release of the new skin.
Fortnite v16.20: what to expect
The Fortnite Season 6 v16.20 update is expected to go live this week. Here's what we expect to see in the next Fortnite update
The Fortnite v16.20 is expected to release this week. Here's what we'll see in the patch notes when the update goes live.
We're working our way through Fortnite Season 6, but Epic are continuing to give us new content to explore. We're only a week past v16.10 and are already expecting to see v16.20 go live this week.
Here's our typical patch breakdown on what to expect in the update, including some leaked items and a long list of bug fixes.
Bug fixes
Epic are consistently updating their game to fix bugs, glitches, and exploits. In the v16.20 patch, we'll see a ton of fixes – including a fix for an exploit that allowed players to gain unlimited health/shield over the course of a match.
Here are all of the bug fixes that should be addressed in the v16.20 update.
Cannot create system-level parties between PS5 and PS4 when playing Fortnite.
Code Green Wrap not appearing correctly.
Arena playlist issues.
Storm visibility is clear when using Performance Mode.
Collection Book Character #17 not appearing on the Island.
Slurpshrooms and Coconuts temporarily disabled.
(Creative) Start with 'Pickaxe' Creator setting still spawning with a Pickaxe.
(Creative) Vehicles not moving properly in Creative.
(Mobile) Cosmetics in Lobby appearing blurry on Nintendo Switch.
(Mobile) 3D resolution reset itself even if the player saved the settings.
Leaks
We've seen a few leaks about content that could be coming to Fortnite in the coming weeks. The most likely addition to Fortnite in v16.20 would be the Unstable Bow – a rumored Exotic weapon that should be coming to Season 6.
On top of that, we've seen leaks about vehicle and weapon mods, additional crafting materials, and more. We don't know if/when any of these will come to the game. We always take leaks with a grain of salt, but many of these items will likely make their way to Fortnite – possibly in the next update.
We'll keep you posted when we have official word from Epic on the v16.20 patch. We expect to see it on April 13 or 14, at the latest.
In the meantime, make sure to follow us on Twitter @FortniteINTEL so you never miss out on any of the latest Fortnite news.
How to tame Raptors in Fortnite Season 6
Raptors have entered Fortnite Season 6 in the v16.10 update. Here's where to find and how to tame Raptors.
Raptors are now available in Fortnite Season 6. Here's where to find and tame the new creatures.
The Fortnite v16.10 update brought a new form of wildlife to Fortnite: Raptors. These predators are now roaming the island, looking for blood.
Of course, you can tame these dinosaurs to fight by your side. Unfortunately, you can't ride them, but they can be a huge help when it comes to combat. Here's everything you need to know.
Fortnite Raptor locations
Unsurprisingly, Raptors spawn around the areas where their eggs hatched. You can find them around Stealthy Stronghold, outside of Craggy Cliffs, south of The Spire, and south of Misty Meadows.
Raptors spawn in pairs and are stronger than wolves when you fight them. This is not to say that taking them down will be difficult. We're not dealing with Marauders, here.
Here's a map of all of the known Raptor spawns in Fortnite Season 6. We'll update this map if the spawns change or if players find more locations.
How to tame a Raptor in Fortnite
Taming a Raptor is the same as taming most of the other wildlife on the island. It will be the same process as taming a Wolf – arguably easier as wolves spawn in packs rather than pairs.
Eliminate a Wolf, Chicken, or Boar for its meat
Find a Raptor
Throw the meat at its feat and wait for the Raptor to eat
Walk up to the Raptor and hold "Interact" to tame.
Be careful, as Raptors spawn in pairs. Just because you tame one, doesn't mean its partner doesn't still want to eat you.
With such a quick addition of a new animal, we wouldn't be surprised to see Epic add more wildlife to the island as Season 6 chugs along.
We'll update you if we learn anything else about the wildlife of Fortnite – or if we find any new tricks to taming Raptors.
Image Credit: Epic Games, Fortnite.gg
Fortnite update v16.10 patch notes: Primal Shotgun nerf, Junk Gun & more
Fortnite's V16.10 patch is now live across PC, Xbox, PlayStation and more, with changes being made to the Primal Shotgun, other items, and a few bug fixes to boot too.
Fortnite Chapter 2, Season 6 is now well underway and the first mid-season patch is here in the former v16.10.
The patch isn't anything too crazy, there are no major map changes, game-changing new items, or anything like that. But, Epic have addressed the Primal Shotgun like some players have been calling for.
Additionally, Raptors will be available as tameable pets too, and cand be used to eliminate enemy players across the battle royale island. So, let's get into the patch notes and check out everything that's changed.
Primal Shotgun nerf & balancing
As noted, the biggest change in this patch is most the nerf to the Primal Shotgun. It's become so used since the start of the new season, and caused issues.
What have Epic done in this update? Well, the close-range weapon's fire rate is being tweaked with while damage stays the same. The fire rate was previously 3.8, but thats been cut, though, an exact number isn't known just yet.
Additioanlly, changes are being made to a few items and floor loot as both Animal Bones and Mechanical Parts can be found on the floor now.
Fortnite v16.10 balancing changes
Crafting & loot adjustments
Creative Powerups now support Team, Class, and All combinations
Primal Shotgun fire rate reduced
Makeshift Shotgun gets v16.10 adjustments
Crafting material costs now scale with Makeshift rarity
Animal Bones, Mechanical Parts added to floor loot
New weapon: Junk Gun
There's also a new weapon in town as well, the Junk Gun. As the name suggests, the weapon fires, well, junk.
Not too much is known about the Junk Gun just yet, but it appears as if trash/junk will become a ammo type just for this weapon.
Raptors come to Fortnite
A Jurassic Park/Jurassic World crossover has been rumored since last seasaon, and now with Epic going with a Primal theme in Season 6, it's time for Raptors to descend on the battle royale.
Expect to see these Raptors chasing down players, and eliminating foes as there are kill feed messages in the files for them.
These Raptors should spawn up around Forest areas, given that's their natural habitat. They'll also be tamable so that you can use them to your advantage.
Fortnite v16.10 bug fixes
On top of all that, Epic are looking to root out a few big errors across the battle royale mode and Creative.
There aren't too many fixes but the ones that are being impleneted with this patch should solve quite a few headaches.
General
Cannot create system-level parties between PS5 and PS4 when playing Fortnite.
Battle Royale
Anomaly may not appear on Shark Island.
Chapter 2 Season 5 Legacies missing.
Visibility is extremely decreased when inside the Storm.
Opening the inventory will cancel Tap to Search/Interact/Revive actions.
Character Quests not counting for progression.
Stackable items are not split when Shift-Dragged.
Creative
Slow-motion effect.
AI can get stuck in obstacles.
Player portal appears as "Creative Don't Fill."