All Fortnite Season 3 map changes and new POIs
Epic Games have unveiled one of the biggest map overhauls in Fortnite history to kick off Season 3.
The game's developers had somewhat been dragging their heels with the release of the latest major update, having delayed it more than once – making it the second-longest spell players have had to go without sweeping changes.
Now, though, we can all finally jump off the Battle Bus and right into the action. If it was water you wanted, you will be delighted, because a whole load of water is what we've got.
Fortnite Season 3 full map image
Let's start off with the map itself, which has been covered in water due to rising sea levels, destroying some of the places we'd been accustomed to seeing in previous seasons.
Those located near beaches, as you can imagine, have been swept away.
The mountainous areas have managed to stick around, but apart from that chunk of land, there's a lot more islands to move between these days. Using vehicles might be important now, more than ever.
All new POIs in Fortnite Season 3
New POIs include in the image above are the following:
The Fortilla
The Authority
Catty Corner
Rickety Rig
The Fortilla
Fortnite Season 3's reveal trailer certainly revealed something, right off the bat, and that was a new point of interest – called Fortilla.
As seen below, and on the map, the Fortilla is like nothing we've ever seen before in Fortnite. There's also reportedly going to be a vault and keycard available here, too.
It's stacked with pop-up buildings, which were teased somewhat in the promotional pictures revealed pre-Season 3, and most of it floats!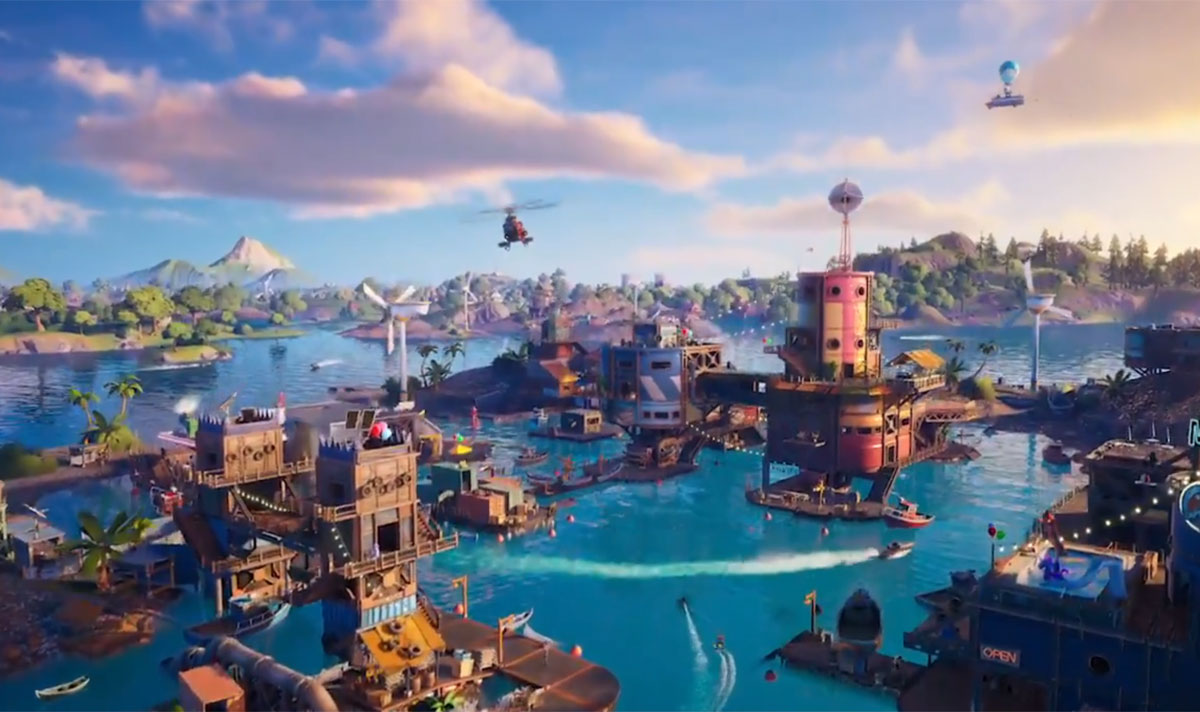 The Authority
The Authority is the new Agency, which means it's the new place to land if you want a hectic early-game. This is going to be a hotbed of activity for the duration of the season, and only true killers will make it out of here in the first couple of days.
Catty Corner
Meowscles has made himself at home in the box factory. Finally, justice is served as Meowscles has his own place to call home after being displaced by Deadpool.
Now, Meowscles commands an army of angry robots with laser-accuracy, just like the Henchmen from last season. Catty Corner is a two-part location, in case you're having trouble finding the vault.
Rickety Rig
The Rig got rebuilt and reworked for Season 3. It's much less of a draw with the massive new Fortilla nearby, but don't let its size fool you. There's an opened vault, here, which offers a free Supply Crate and chest.
We're also pegging this as one of the primary POIs to open up as the season progresses. It looks like there's a good amount left under the water.
More to come
One of the most interesting elements of Fortnite Season 3 is the idea that the water will progressively lower as the season moves along. We'll be seeing some new POIs reveal themselves with some old ones coming, as well. The Grotto, for instance, looks intact under the water.
We'll continue to update this post with screenshots of other POIs shortly. More to follow…
Bizzle joins old teammates after split with Commandment & Clix
Bizzle, Clix, and Commandment have split as Bizzle rejoins Dubs and Megga.
There's been a bit of shuffling in professional Fortnite trios over the past couple of days. The team of Bizzle, Commandment, and Clix has split, each going their separate ways. Bizzle joined his old partners, Megga and Dubs, While Commandment joined Edgey and Cented. For now, Clix is the only one of the three to not have a trio team.
This news comes after a rough server performance in a recent Trios tournament, which saw all of the players rubber-banding, lagging, and being lost in the storm with no way to get out. As Bizzle tweeted, the performance looked like one of the first Fortnite tournaments to exist.
Following this tournament, Commandment was the first to announce that he'd be leaving the team. Bizzle released a TwitLonger, stating that he'd be teaming back up with Megga and Dubs rather than looking for a third player to join him and Clix.
The TwitLonger also took aim at the current state of competitive Fortnite along with the server performance. "The Shockwave launcher disabled us from playing the way we were used to and crazy end game lag lead to a lot of thrown games. Every game we would have height, or outplay the team who had it and take it from them, and with the Shockwave launcher being in the game it completely ruined our play-style and attitude," he wrote.
Despite the split, the three players appear to be on good terms with one another. Clix replied to Bizzle's tweet, telling him that he's the best player that Clix has played with.
The most interesting part of this situation is that Chap and Edgey called this split a few weeks back. The dueling trios were having a grief battle in pro scrims, leading to Chap telling his team and viewers, "I can't wait for this trio to split."
Edgey, who is ironically now teamed-up with Commandment, told Chap and Av that Bizzle and Clix would "snake each other for Dubs and Megga." It may not have ended in any bad blood, but that's essentially what happened.
Although the Season 3 FNCS is Solos, most of the pros prefer the Trios format, meaning that's what we largely see in scrimmages. We're also seeing several Trios tournaments and Cash Cups this season, so we'll undoubtedly see the new teams hit Season 3 soon. Now, all that's left is to see where Clix lands. Fellow NRG member UnknownArmy needs a team…
How to claim the new PlayStation Plus Celebration pack
Epic and Sony have joined forces to offer PlayStation players another free Fortnite cosmetic pack.
Yesterday, we covered the news of Sony's large investment in Epic Games and what that meant for Fortnite. One of our biggest takeaways in the article is that PlayStation would likely get some additional exclusive cosmetic bundles for their players.
It didn't take long for this to come to fruition. A day later, Epic announced the new PlayStation Celebration bundle to go along with their other exclusive skins. This one includes the "Introducing" emote, Stratosphere Glider, and Down Arrow Contrail.
The Celebration Pack should be available to all players, worldwide, on July 10. Some players already have access to it. Those who have already claimed their exclusive Fortnite cosmetic items should know the process, but here it is for those who are unaware:
Visit the PlayStation Store
Navigate to Fortnite
Scroll down until you see the new Celebration Pack
Download the cosmetic pack.
This pack replaces the old Celebration Pack that included a couple of free skins, but you can grab both if the former pack is still in the shop. Don't worry too much if you missed it, as we expect Fortnite to release several exclusive PlayStation packs in the future.
We don't know how long this bundle will be in the store, but you can expect it to last a couple of months, at least. Grab it now to make sure you don't miss out!
What does the $250 million Sony investment mean for Fortnite?
The implications of a massive investment on the biggest game in the world, Fortnite.
On July 9, it was announced that Sony invested $250 million in Fortnite developer, Epic Games, making them a minority investor in the company. This brings Epic's total investment capital to $1.58 billion.
Epic has been a major player in video games for a long time but made their biggest mark on the space with Fortnite, the game that we all came here to talk about.
Although Fortnite is Epic's biggest product, at the moment, the company has their hands in several different titles and sources of income The Epic Games store, for instance, is looking to rival Steam by purchasing some massive games as exclusive content.
According to multiple reports, Sony's investment in Epic will not affect the release of future titles. It's not like Epic are going to make Fortnite a PlayStation exclusive. It might work in reverse, however. There's a chance that Sony could bring some of their PlayStation exclusives to the Epic Games store on PC.
What does this mean for Fortnite? Well, in the words of Rod 'Slasher' Breslau, "Fortnite will never die." This is a tad hyperbolic, but it's clear that the gaming industry, as a whole, is ready for Fortnite to stick around for another ten years, or so. It wouldn't be the first game to have a massive lifespan.
Apart from some additional money to work with, the biggest thing this means for Fortnite is probably in the cosmetic department. Now that Sony is a major investor in Epic, we can expect the developer to scratch their back with some exclusive skins.
Don't worry, though. PlayStation players probably won't get any priority when it comes to using new features or anything like that. What does the $250 million Sony investment mean for Fortnite? Ten more years of our favorite battle royale.