All Fortnite Chapter 2 daily challenges leaked
After finally releasing the first set of proper patch notes in Chapter 2, Epic confirmed that daily challenges are making a comeback in Fortnite, and leakers may have already found them all.
Epic removed the tradition daily challenges back in August 2019, which annoyed some players as it essentially meant there was less to do if you were a 'free' player.
Without buying the Battle Pass, there were more limited challenges available each day. But Epic quickly rectified things by confirming that the limited-time missions which were replacing them would be available to all players, even those without the battle pass.
Daily Challenges are back and more….

Find out what's new for Battle Royale in the 11.20 update!https://t.co/Dj2tnicb63

— Fortnite (@FortniteGame) November 20, 2019
Daily challenges are back though, in addition to the continuing limited-time missions, confirmed in the v11.20 patch notes, with three available to complete each day.
As the name implies, the tasks rotate on a daily basis, but leakers have managed to compile a full list of all the challenges possibly coming in future days throughout Season 1 of Chapter 2.
The full list of leaked daily challenges, courtesy of FortniteInsider:
Apply Shields
Catch Fish
Catch items from fishing spots at Lazy Lake
Catch items from fishing spots at Slurpy Swamps
Catch items from fishing spots at Sweaty Sands
Catch Weapons
Damage
Damage with Explosives
Damage with Pickaxe
Damage with Rares
Damage with Scoped Weapons
Damage with SMGs
Damage to Structures
Damage with Uncommon Weapons
Damage to Vehicles
Damage with Epic Weapons
Eliminations
Blow up a fishing spot with an Explosive weapon
Use a Harpoon on a fishing spot
Catch items from fishing spots
Gain Health
Harvest Brick
Harvest Metal
Harvest Wood
Hit Weakpoints
Outlast enemies in solos or duos
Outlast enemies in solos or squads
Pickup each rarity
Pickup legendary weapons in different matches
Top 10 solo or duos
Top 10 solo or squads
Win a Team Rumble match
Play Matches
Play Matches with friends
Search Ammo Boxes
Search Ammo Boxes [can be specific to any named POI]
Search Chests
Search Supply Drops
Use throwable items in different matches
Use traps in different matches
As noted in the v11.20 patch notes, you can have three active daily challenges at a time, and once a day you can swap one of them out for another.
Each challenge will reward you with XP, and as mentioned, you don't need to be a Battle Pass owner to access them – simply check the newest challenges when you log in each day.
With Season 1 of Chapter 2 now extended until early February, so we can expect to see this list of varied challenges rotate over the next few months, hopefully giving you a chance to complete all of them.
As with all leaks, it's important to note that things could change in development.
Send the Coral Buddies to space with this secret Fortnite challenge
Help the Coral Buddies join the astronaut from Craggy Cliffs with this secret Fortnite challenge.
Fortnite Chapter 2 Season 3 brought us a list of secret challenges that involve the Coral Buddies. This group seems to be doing a lot better than they were at the beginning of the season, as they've now expanded and build a Coral Castle on top of the massive Whirlpool to the north of Sweaty Sands.
Attentive players have already helped bring the Coral Buddies into the Wood and Brick phases of development, but Season 3 Week 8 brought a new challenge to the game: giving them the materials they need to launch a rocket into space.
You can find the group of Coral Buddies where they've always been – outside of the lighthouse in the northwest corner of the map. Here's an old picture of where their island was, but it's still accurate.
The rocket requirement is only 100 metal, but you'll need to gather it before hitting the island. There doesn't appear to be any metal sources around them, which is part of the reason that they need our help to begin with.
The Coral cosmonauts have already started building the base for their rocket. All you have to do is walk up, give them some metal, and watch them finish the project.
Once you give the Coral Buddies what they need, they'll build their rocket and take off into space – possibly in search of the old Chapter 1 map. Let's hope they find what they're looking for.
With this challenge and the crashed spaceship at Craggy Cliffs, Epic are pointing us to the stars. Could this have something to do with the rumored event and Season 4? Only time will tell.
Fortnite Season 3 Week 8 challenge guide
The Fortnite week 8 challenges are here. Take a look at how to complete them.
Finally, after weeks of waiting, cars have entered Fortnite. Now, we're keeping our fingers crossed that the numerous bugs surrounding cars don't push Epic to remove them from the game. If you don't know what we're talking about, you can take a look at them here.
The entrance of cars to Fortnite marks the eighth week of Season 3, which means that we have some challenges to complete for the Battle Pass. Many regular players should be nearing level 100 by now – if they haven't reached it already. Playing the game and completing the challenges should have given you enough XP to come close, at least.
Here are all of the challenges that we'll need to complete for Season 3 Week 7, along with an image from data miner iFireMonkey:
Search 7 Chests at Frenzy Farm
3 Eliminations at Salty Springs
Complete the boat time trial at Motorboat Mayhem
Drive a car from Retail Row to Pleasant Park in less than 4 minutes
Collect 500 Wood from Holly Hedges
Deal 1 damage to opponents from inside of a vehicle
Deal 10,000 damage to opponents from inside of a vehicle
Search 7 Ammo Boxes at Lazy Lake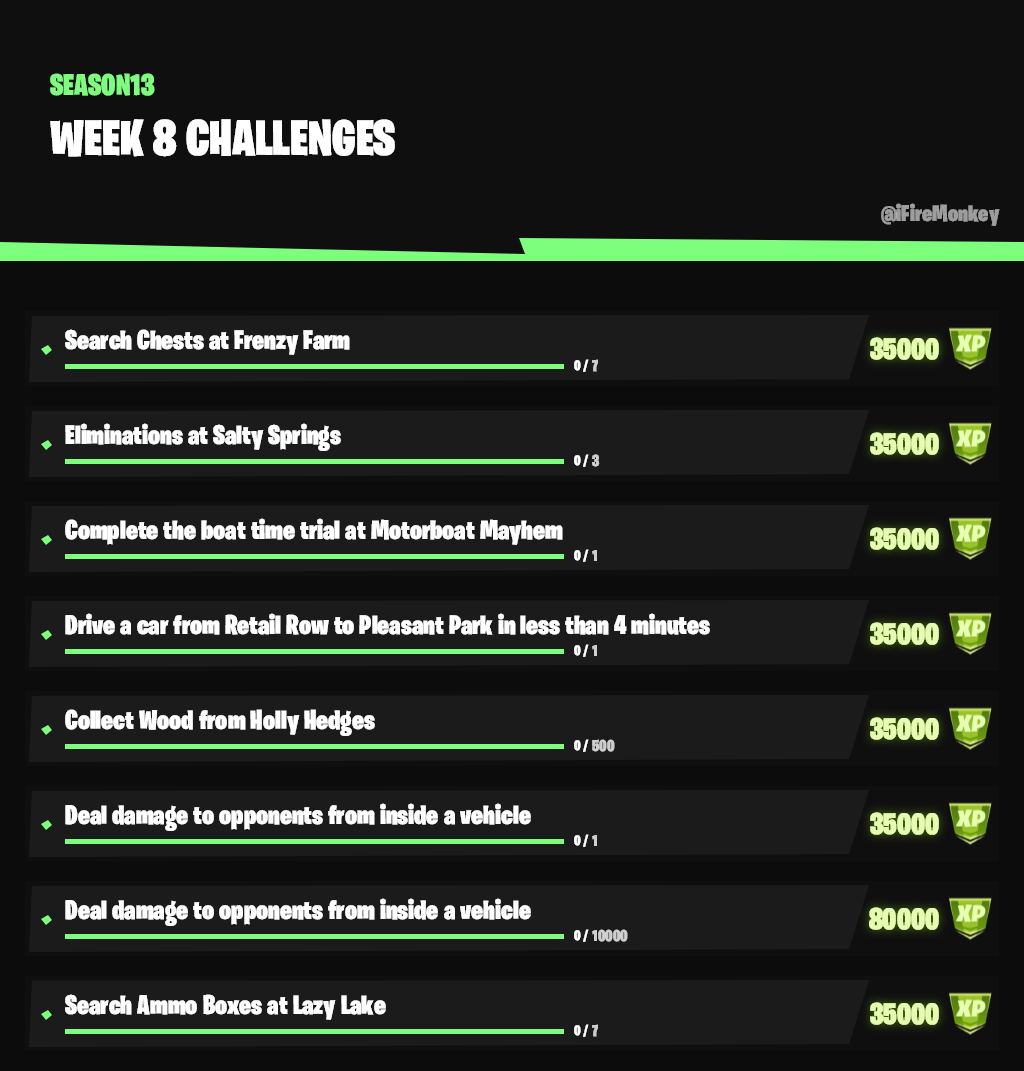 Most of these challenges will be easy enough to complete if you play the game as you normally would. The only exception might be the time trial at Motorboat Mayhem. You may need a bit of direction on this one.
Motorboat Mayhem is the new(ish) motorboat racetrack in the lake outside of Misty Meadows – the one close to the dam and waterfall. Driving from Retail to Pleasant might be a chore as well, but we'll do some testing and see if there are any tricks to it.
Other than that, you should be all set with these challenges. Again, most of them are easy enough to complete in normal games – we don't even have to get into Team Rumble this week. Good luck!
How to launch the Ancient Spaceship in Fortnite
Find out how to find the Fortnite spaceship parts and launch the ship
Secret challenges in Fortnite have been growing since their first release in Chapter Season 2. Fans who knew about these challenges helped intervene in the Bear vs. Gnome conflict that took over the middle part of the season.
When Season 3 released, we had the ability to help the Coral buddies rebuild their lost civilization. It turns out, they were working on a project much bigger than we thought – eventually leading to the Coral Castle that sits in their old home.
The water levels in Fortnite lowered, again, on August 1. This revealed the sunken spaceship that was sitting off the coast of Craggy Cliffs. The previously-leaked challenges are now live, allowing you to help the stranded astronaut rebuild his ship.
To complete this multi-part challenge, you'll first need to visit the spaceship off the coast of Craggy Cliffs. After that, you'll be able to start collecting the parts that will allow you to repair the ship. The first part is right next to the ship, under the water. You can't see it, but there should be a "collect" prompt when you get close enough.
The second part is on the shoreline to the east – under one of the rocks. The third and final piece is embedded in the cliff – many of you have already seen this piece, as it's been in the game for over a week. Once you collect all of the parts, you can return to the ship, install them, and launch the ship. Here's a video from EveryDay Fortnite that shows all of the locations you need to visit.
In the end, the ship takes off and leaves a couple of rifts behind. The astronaut will, likely, play a role in the Fortnite story at some point – no matter how small it may be. The presence of Rifts has obvious plot implications as we haven't seen them enter Chapter 2 in a large way – yet.
This isn't the last that we saw of this strange spaceship in Fortnite. We'll be keeping an eye on the sky, going forward.