A game of chess: an interview with a Fortnite cheat developer
We spoke with a cheat developer about cheating in Fortnite, the Fortnite anti-cheat, and the mentality of a cheat developer.
On July 31, we covered the story of a Fortnite player known as Bman. Bman was exposed for allegedly using cheats during the Bugha Cup and Cash Cups leading up to this tournament. His trio teammates in the Bugha Cup were the ones to expose him.
Zykoma, one of Bman's former teammates, tweeted several clips that showed Bman tracking players that should be invisible to him. In the tweet, he wrote, "I'm posting this to show how easily these hacks are accessible and can go multiple tournaments undetected."
After discussing the topic with the players involved, I was sent some information on how Bman got these cheats. One thing led to another and I found myself in a Discord server for a cheat developer – selling cheats for Fortnite, PUBG, and Apex Legends. I was directed to one of the Discord admins and creators of the cheats. For the purpose of this article, he will be referred to as "Clay," to avoid potential misuse of this feature for promotional purposes.
Clay agreed to be interviewed and provided some insight into cheating in Fortnite along with general information about himself and why he does what he does. According to Clay, he and his partner(s) sell one of the only effective cheats that gets through the Fortnite anti-cheat. He could not confirm nor deny whether these were the cheats that Bman used before his disqualification from the Bugha Cup.
I went into this conversation thinking that Clay would talk about the abundance of cheaters in Fortnite and how easy it is to get around their anti-cheat. I thought I'd find someone who just wants to watch the world burn – sending as many cheaters into a game as they could. As it turns out, neither assumption ended up being true. Let's get into it.
An interview with a Fortnite cheat developer
People are calling out the Fortnite anti-cheat. Would the Valorant anti-cheat detect this type of cheat? I know that's supposed to be much more advanced than other games.
The Valorant anti-cheat is definitely good, presumably the best anti-cheat since ESEA, both insanely invasive in ways that the communities have already found out about without any developers having to prove.
It's highly unlikely that any anti-cheat can detect our cheat(s) as it's operating at an extremely low level compared to what they're used to, and if they could see how we do it then they'd most likely steal some of our ideas.
In Fortnite – with public tournaments and open qualifiers – there seems to be a lot more incentive to use cheats to earn money. The same is true for developing cheats, I assume.
To be honest, we love what we do, and making money is simply an addition to it, we don't do this for a living or else we'd have many more customers.
Cheating has been around since forever, it has definitely changed and evolved from even year-to-year, but it's still cheating. The difference is definitely huge between players using it for content or public matches, as opposed to using it to earn tons of money but along with that, there are also greater risks. When you start trying to use third-party software or even non-tool assisted cheating for money, that's when legal actions begin to become a risk.
You said you do it for the love of the game and not for the money. What do you love about it? Getting around the system? Trying to have the best product?
Bypassing anti-cheats is a hobby, similar to how cheating in games is a hobby. It's enjoyable to bypass something that isn't supposed to be bypassed, and ahead of that we also provide for someone else's hobby which is cheating in a game. The money made isn't important, it's a bonus to what we do.
We don't even try to compete to have the best product, we're known for having the most secure products for many years now but we don't even attempt to mass-sell or advertise what we do, it simply comes to us because of how well we do it. It's simply a hobby, and when you do it well, people realize it.
Besides, when we see anti-cheats doing illegal stuff like pulling information from user's computers or even dumping memory – we want them to realize we can see what they're doing. What we do is just as illegal as what they do, probably even less illegal as they're doing it to millions of players. Well, it would be illegal but no one cares about the TOS each player agrees to. I guess cheaters and RE's (reverse engineers) just enjoy being on the opposite side.
The prices you list are quite expensive for a hobby. What do you think people get out of cheating in a game if not money and notoriety? Calling it a hobby suggests that people are doing it for fun – not trying to earn money or make a name for themselves.
There are definitely people who just cheat as a hobby, it may require an investment but when there's only one undetected cheat – people are willing to pay any price. Of course, there are people who also do it to gain an advantage and win tournaments, but those rarely ever continuously cheat.
Would you say that yours is the only undetectable cheat in a particular game?
In the specific game we're talking about (Fortnite), yes. At least the only one undetected that isn't extremely private and selling for over $2,000 a month.
Okay. So in your opinion, cheating in Fortnite isn't as widespread as people seem to think it is? Right now, a lot of pros are suspicious.
Cheating with third-party programs isn't as big as people think it is. There may be other forms of cheating, but not with third-party programs like this, as it's extremely rare or difficult for someone to get their hands on something like this.
I did see someone named "Zygama" (Zykoma) or something like that saying something along the lines of "I want to spread awareness to show how easy it is for people to get cheats that can go multiple tournaments without being banned." This is extremely false.
I'm in contact with many other developers and well-known cheaters who have tried numerous cheats and created cheats who haven't even been able to go a few days without getting banned.
The cheat we're offering isn't something out of the ordinary, and we aren't regular RE's with basic knowledge. We've been making cheats for over a decade, and to make this cheat as safe and undetected as it has cost us many weeks of reversing and studying how the anti-cheats work, luckily we didn't go out of our general knowledge as everything they do – we've already seen in previous anti-cheats.
Do you play Fortnite or any of the other games you have cheats for? When you do play, do you cheat?
I personally don't play the games, or if I do play them it's only with intentions to add/debug something about the cheat. I'm not entirely a gamer, not anymore at least.
"It bothers me when people say 'fix your anti-cheat' to developers who work day and night to catch a cheat that snuck past what they took months developing."
Would you ever switch sides and work for the good guys, catching cheaters and making anti-cheats?
Creating an anti-cheat was something a colleague and I have thought about, but there's something better about being the "bad guys".
Besides, when you're working on this side of the field not only are you learning the tricks anti-cheat developers are using, but you're also using your full knowledge to create new ideas while also understanding other's ideas. Which is something anti-cheat developers can't do, unless they get access to that specific cheat.
I will say that it bothers me when people say "fix your anticheat" to developers who work day and night to catch a cheat that snuck past what they took months developing. They truly work hard, but it's not an easy task to get rid of every single cheat available to people. Then when certain cheats like this one comes up, that they've never seen before or have an idea how it works – they can't do anything but spend half of their salary on getting their hands on the cheat to detect it.
This cheat is definitely going to be something head-breaking for them to solve though, and they will learn a lot from it if, and only if they are able to figure out even a small portion of it.
I want to get back to the prevalence of cheating in Fortnite. This past weekend the topic blew up with the FNCS. Has anything changed or is that statement still true?
I don't know of any cheats that are undetected, at all – other than us. I think Fortnite cheating is really dead, and I don't see it taking any turn anytime soon. Specifically speaking about third-party program cheating, because other forms of cheating may definitely be common.
Of course, teaming and all of that, but we've seen a ton of clips of players with "suspicious" aim and tracking from this weekend. Do you think players are seeing something in clips that isn't there or are more players actually using cheats?
We opened 5 slots prior to all of these tournaments. I'm not claiming any of those users are my customers and there have been numerous clips of people having suspicious aim who are simply just good.
It's highly unlikely that these users are cheating, but I do think Fortnite is becoming scared of what's going on and are enforcing bans without their anti-cheat picking up a clue. They're definitely desperate to clean up their game, but as I said it's highly unlikely that these players are using cheats unless they're paying what they make from the tournaments to only keep the publicity.
Can you clarify what the "slots" mean?
We have limited slots for each product we offer in order to prevent an abundance of cheaters, it's also an easier and more secure way to handle the cheats as opposed to mass-selling it. Usually, we have 25 slots for our products, but for Fortnite, we'd like it a bit more private as there are no other cheats that offer the security we offer.
Really, so at one time only 5 people were cheating using your cheats during the FNCS?
Correct, as I said it's very rare to have secure cheats and we don't want to hurt the game any more than we already do.
"This is definitely like a game of chess though, and I hope they're enjoying it the way I am; except I'm a few moves ahead at the moment."
You have an interesting stance on game development. Not wanting to hurt the game, standing up for anti-cheat developers, etc.
Truth is I like what I do, I'm not attempting to hurt anyone by doing this. There is a lot that could be bragged about, but there's a limit to when you can brag.
The anti-cheat developers are trying their hardest, but there's always someone who's better, just as I'm sure there's someone better than us – they just haven't shown up yet. This is definitely like a game of chess though, and I hope they're enjoying it the way I am; except I'm a few moves ahead at the moment.
The takeaway
My primary takeaway from this conversation was this: according to (self-proclaimed) one of the only successful Fortnite cheat providers on the internet, there aren't a ton of cheaters in Fortnite, especially in official tournaments. There are, undoubtedly, people using third-party cheats in Fortnite tournaments, but they aren't nearly as common as the professional community seems to think.
What's more, the Fortnite anti-cheat – which has been getting a lot of flack from pros – is one of the better systems in gaming. It might not be as sophisticated as some, but it's far better than the anti-cheat in other popular games. According to Clay, their cheats wouldn't even be registered by the most stringent anti-cheats in gaming, anyway. If you take his claims at face value, then you acknowledge that he's creating a cheat – unseen in gaming until now.
Cheating will always be a part of gaming. As Clay told me, it's a game of chess between cheat and anti-cheat developers. There will always be people like Clay, who enjoy skirting the system by developing cheats. There will always be players who purchase these cheats as a way to gain an advantage – or to, simply, anger other players.
I decided to look at the silver lining of the information we received: cheating in Fortnite isn't that bad. Third-party cheating Fortnite tournaments seems to be even less of an issue.
Sure, some people will get away with it and Epic can't keep up with everyone. As players, all we can do is keep an eye out and report what we see without getting too paranoid. As Ballatw stated in a tweet, false and frivolous accusations only harm the community.
This appears to be the end of my communication with Clay, for now. He claims to have no knowledge of any particular players who are cheating in Fortnite – although I have my doubts about that. I wouldn't expect him to admit it if he did. I'm taking some of his claims with a grain of salt, but feel as though he has no reason to lie about most of what he told me.
Hopefully, this interview gives players and developers alike more of an insight into the world of hacking in video games – specifically in Fortnite. Fortnite players can take some comfort in the knowledge that the anti-cheat is strong and catches most of the wrongdoers.
Some cheaters will always slip through the cracks, but those who use third-party software in tournaments are subject to legal action. It's a huge risk that carries more of a punishment than public humiliation if a player is caught.
I can only hope that this information helps to give some competitive Fortnite players peace of mind, dissuades potential cheaters, and informs those who were interested ideology of a cheat developer. I'll be answering some questions on the FortniteINTEL Twitter account, so make sure to follow us there.
Fortnite Galactus event: Nexus War start date and time
The exact date and time for the Nexus War finale in Fortnite has been confirmed, and there is little time to prepare for the Galactus event.
The event, which will bring Chapter 2, Season 4 to a climax, as Galactus – aka the Devourer of Worlds – is bombing towards the map to, presumably, destroy it all.
The countdown to the event appeared in-game on November 21, and Epic have now confirmed the exact date and time when the Nexus War will commence.
"It was only a matter of time." Epic say in their blog post. "Galactus is closing in on the Island and the fate of all Reality lies in the balance. Join the ultimate fight against Galactus in the one-time-only Nexus War finale event."
When is the Galactus event in Fortnite?
The Nexus War finale event will start on December 1 at 1PM PT / 4PM ET / 9PM GMT.
To make sure you don't miss out, Epic has given some tips to be prepared for the event:
DOWNLOAD THE LATEST UPDATE
If you haven't already downloaded the 14.60 update, load the game on your preferred device and download today.
DOWNLOAD HOUSEPARTY
Fortnite's new integration with Houseparty means you can have live video chat in Fortnite (PC, PS4/PS5) while attending the event.
GET IN EARLY
We've taken measures to ensure more people can attend the event, but we still recommend everyone log into Fortnite at least 60 minutes prior to the event start. The event playlist is expected to go live 30 minutes prior to the start time.
Of course, even if you can't play the game yourself at the time, you'll still be able to catch the action on Twitch and YouTube streams from content creators.
As Epic confirms, this is a one-time-only event, so there won't be any reruns unlike previous end of season events.
All leaked Fortnite skins & cosmetics from v14.60
Fortnite v14.60 brought leaked skins, pickaxes, and more cosmetics to the game.
Fortnite v14.60 is here, and you know what that means: a batch of leaked skins that will be hitting the Item Shop in the upcoming weeks.
Fans are eagerly awaiting the next Fortnite event, which is rumored to be the biggest event in the history of the game. Until then, we can pass the time by drooling over some upcoming skins. The Cob skin is going to be a must-have going into Thanksgiving.
Leaked Skins & Back Bling
Fortnite is bringing a couple of interesting Thanksgiving skins to Fortnite, this year, including a skin concept that has existed for a while. Peely is getting the seasonal treatment and being turned into corn on the cob. This will, reportedly, be a part of a skin bundle with the evil pie-looking skin.
Of course, players will also see Venom enter the game as early as today in the Venom Cup. Winners of the skin will be able to use it this week. Everyone else will have a chance to buy it at a later date – probably this weekend.
The resident witch and wizard – Elmira and Castor – received a Dark variant in this patch, as well. Players who already own these skins will be able to access this new style right away.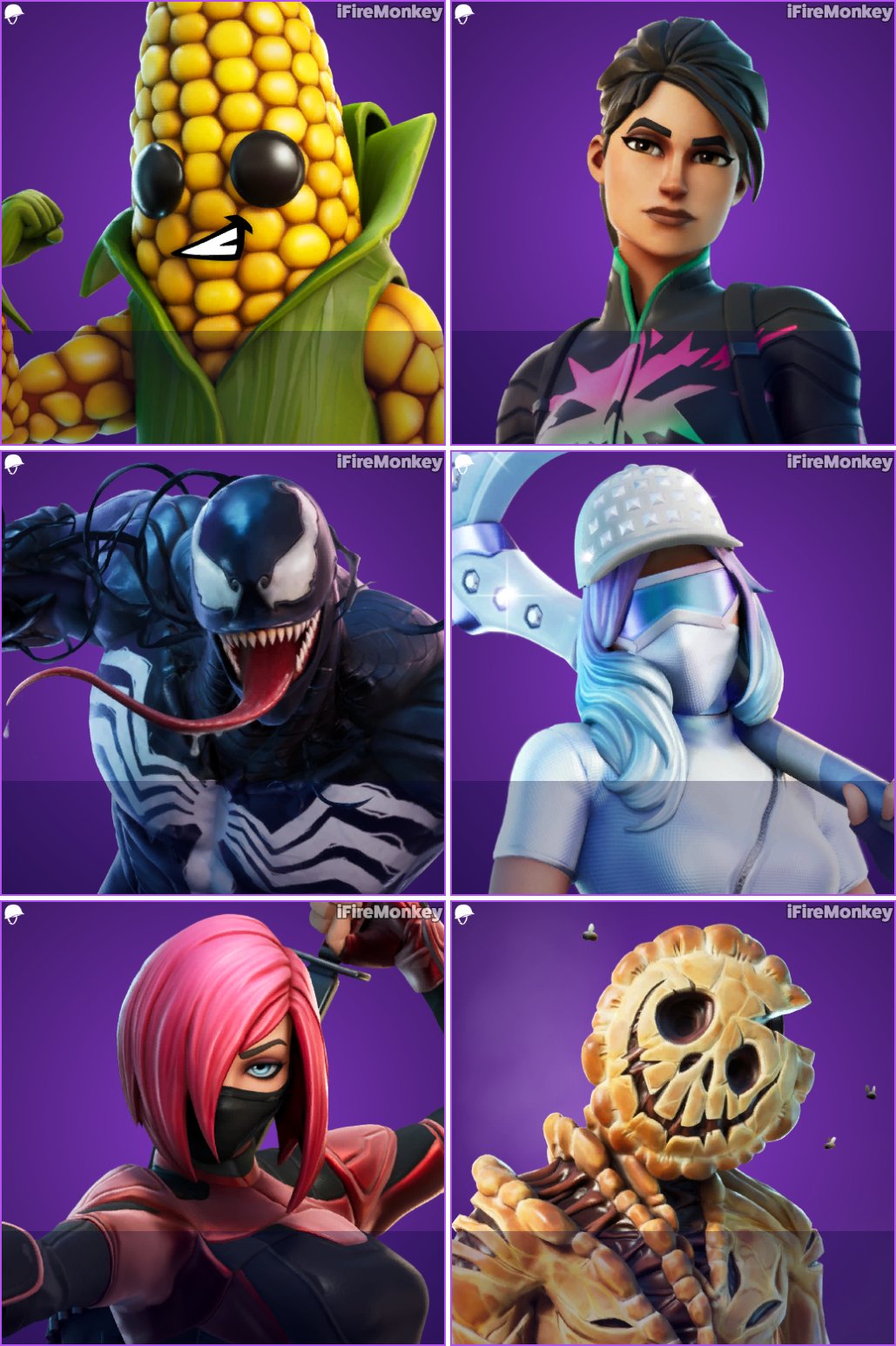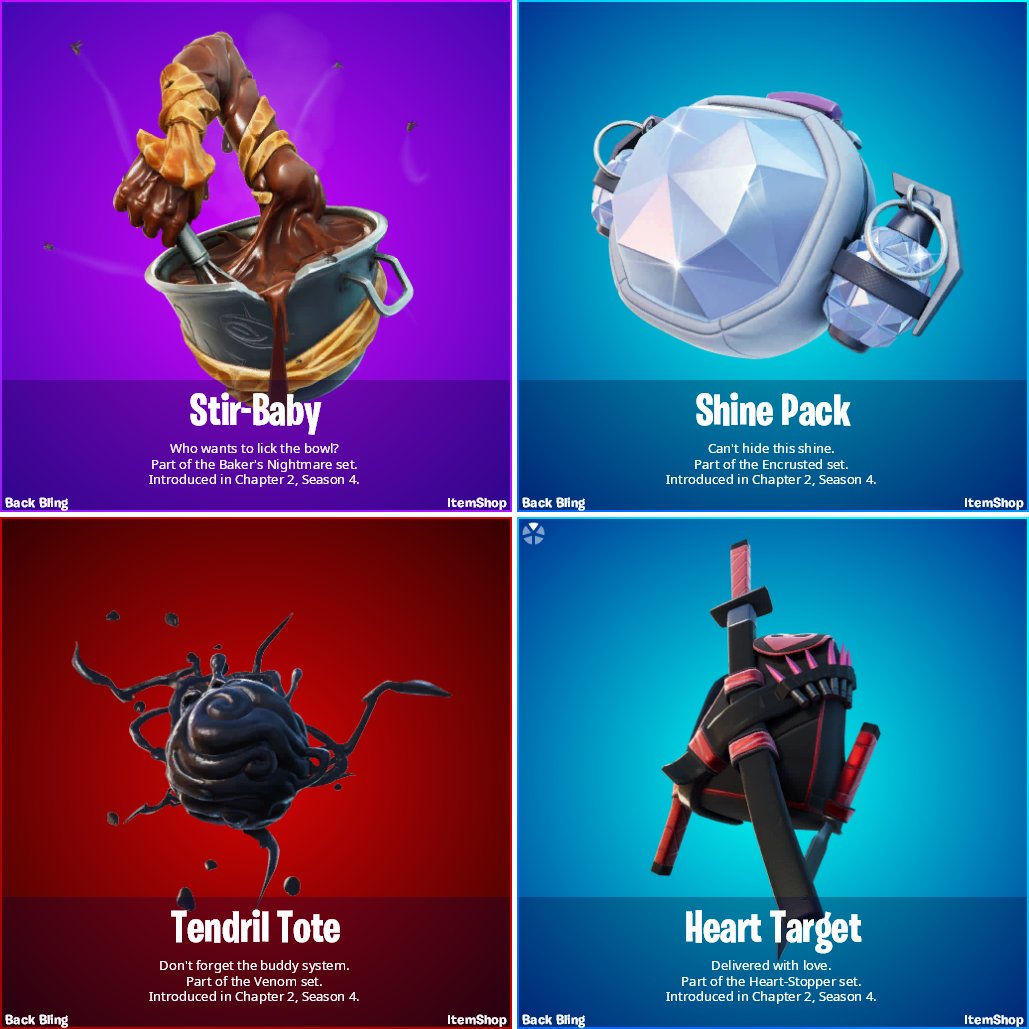 Leaked Pickaxes
The leaked pickaxes in this update aren't much to write home about – all but Venom's pickaxe. We have some bad news about that one, though.
According to Hypex, it will be a built-in pickaxe that we won't be able to use with other skins.
Leaked Wraps
We'll be getting a few wraps to go along with the leaked skins in the section above. The Galaxy Wrap appears to be another style for the female Galaxy skin that we saw a while back.
The Rainbow Fog wrap looks to be a part of the upcoming Fortnite X House Party collaboration, meaning players will probably be able to get it for free.
Misc.
There are a few miscellaneous leaked cosmetics as well, including a Reboot Van emoticon, a Thor music pack, and two sprays that relate to Ghost Rider and Peely.
We don't know whether or not you'll be able to buy these items, but most of the time Epic save these for free challenge rewards.
Cosmetics weren't the only leaks that were a part of the v14.60 update. We also have some information on what we can expect coming out of the next Fortnite event: Devourer of Worlds.
We'll keep you covered with all of the leaks ahead of the update, so make sure to follow us on Twitter @FortniteINTEL.
Fortnite update 14.60 patch notes: Venom Skin, Creative changes & more
Venom joins the fight in Fortnite Battle Royale, and there are lots of changes in Creative in the 14.60 update. There's still no official patch notes from Epic Games, but we've brought together everything you need to know here.
Despite being the final update of Season 4, it looks like the bulk of the new content will be coming at the start of the new season instead.
Although there's no complete patch notes, we can still put together all the changes here, along with the email sent out to content creators with the main features.
Venom
Venom is the highlight of this update. You can play for a chance to earn his skin the Venom cup.
The skin pack includes a Venom emote, symbiote slasher pickaxe, and tendril tote back bling. Check out the skin in-game:
XP Xtravaganza Part Two
XP Xtravaganza Part 2 starts this week: "Get the whole squad together and take on these party-wise challenges to finish out the Battle Pass in style," Epic explain.
Houseparty x Fortnite video chat
Fortnite has teamed up with Houseparty to bring a brand new video chat feature.
Houseparty video chat will be available to Fortnite players on PC, PlayStation 5, and PlayStation 4. Players will also need an iOS or Android mobile device with the Houseparty app installed. With the app installed, connect your Houseparty account to your Epic Games account to get started."
CREATIVE
Taken from an official blog post to the Fortnite website, Epic Games detailed specific changes for Creative mode.
HIGHLIGHTS
You can now hide the Elimination Feed and mute Elimination Audio to encourage sneaky sniping!
ISLANDS
Updated the Hub Island portal layout to accommodate the recent updates to hub creator guidelines.
ISLANDS BUG FIXES
Fixed an issue where the time of day lighting appeared differently on featured islands and personal islands.
GAMEPLAY
Added a new option to My Island > Settings

Player Elimination Audio: Off, On (Default: On) – causes eliminated players to be despawned silently.

Added new options to My Island > UI

Hide Elimination Feed: Yes, No (Default: No) – completely hides the elimination feed during the game.
Hide Party Eliminations: Yes, No (Default: No) – hides the number of eliminations for each party member in the Party UI during the game.
GAMEPLAY BUG FIXES
Fixed an issue where an eliminated player could spectate a player on the enemy team.
Fixed an issue where Team Size did not limit the number of players when Join in Progress was set to 'Spawn Next Round'.
Fixed an issue where the sky would flicker on PS4.
WEAPONS AND ITEMS BUG FIXES
Fixed an issue where the X-4 Stormwing was de-synced after player interaction.
Fixed an issue where husks did not fall off edges to follow players.
CREATIVE TOOLS AND PHONE BUG FIXES
Fixed an issue where players could not open the Creative Inventory after cutting and pasting a device.
Fixed an issue where the Creative Inventory appeared distorted when customizing a device.
PREFABS AND GALLERIES BUG FIXES
Fixed a collision issue with the pillar wall asset from the Princess Castle Wall galleries.
Fixed an issue with the bush from Winter Variant Foliage Gallery A having a yellow glow.
Fixed an issue with a bridge girder asset from the Steel Bridge galleries being difficult to place with the phone.
Fixed an issue with some of the Steel Bridge prefabs & galleries placing outside of the preview boundary.
Fixed an issue with the bridge street asset from the Steel Bridge set having a misaligned grid snap box.
Fixed an issue with assets from the Swamp Cliff Gallery displaying the wrong texture.
DEVICES
Added new options to the Class Selector device.

Activation Audio: On, Off (Default: On) – allows the audio effect played when a player changes class to be muted.
Zone Audio: On,Off (Default: On) – allows the ambient audio effect for the zone and the audio effects for players entering and leaving the zone to be muted.

Added new options to the Mutator Zone device.

Selected Team: None, 1-16 (Default: None)
Affects Team: Selected, All But Selected (Default: All But Selected)

These two options replace the old Safe Team option to allow the zone to affect all teams (Selected Team = None), just the Selected Team, or every team except the Selected Team.

Selected Class: None, Any, 1-16 (Default: None)
Affects Class: Selected, All But Selected (Default: All But Selected)

These two options replace the old Safe Class option to allow the zone to affect all classes (Selected Class = Any), players without a class (Selected Class = None), just the Selected Class, or every class except the Selected Class.

Update Selected Team When Receiving From: No Channel, 1-150 (Default: No Channel) – sets the Selected Team on the device to be the same team as the player who instigated the signal.
Update Selected Class When Receiving From: No Channel, 1-150 (Default: No Channel) – sets the Selected Class on the device to be the same class as the player who instigated the signal.
DEVICES BUG FIXES
Fixed an issue with the Player Spawn Pad's lighting being too bright on PS5 during mixed island filters.
Fixed an issue where the Mutator Zone Class Selected option was offset by 1.
Fortnite 14.60 bug fixes
As per usual, the Fortnite team has also added a number of bugs and issues to their official Trello board. This week's patch actually only has a few fixes included but will cover the battle royale, Creative mode, and even Save the World.
Here is the full list of bug fixes coming in v14.60:
General
Disabled voice chat cannot be re-enabled on Xbox Series X/S.
'Lock Input Method as Mouse' does not lock the input method.
Battle Royale
Doctor Doom's Mystical Bomb disabled in competitive playlists.
Creative Mode
Team Size setting does not properly function when Join In Progress is set to Join Next Round.
Save the World
Wild West Llama not granting Steampunk weapon.