9 unfinished weapons leaked in Fortnite v14.30 update
The v14.30 update leaks brought nine new weapons to the Fortnite game files.
The Fortnite v14.30 update brought the first taste of Fortnitemares to the game. Not much changed on the surface, but the patch prepped the game for some larger changes that will come in the near future. Namely, the annual Halloween update.
Another leak that didn't get as much attention included a list of unfinished weapons with unique names and properties. These weapons are all still in the works and some of them may never even come to Fortnite. There are nine listed, however, meaning that a few of them are bound to make it in.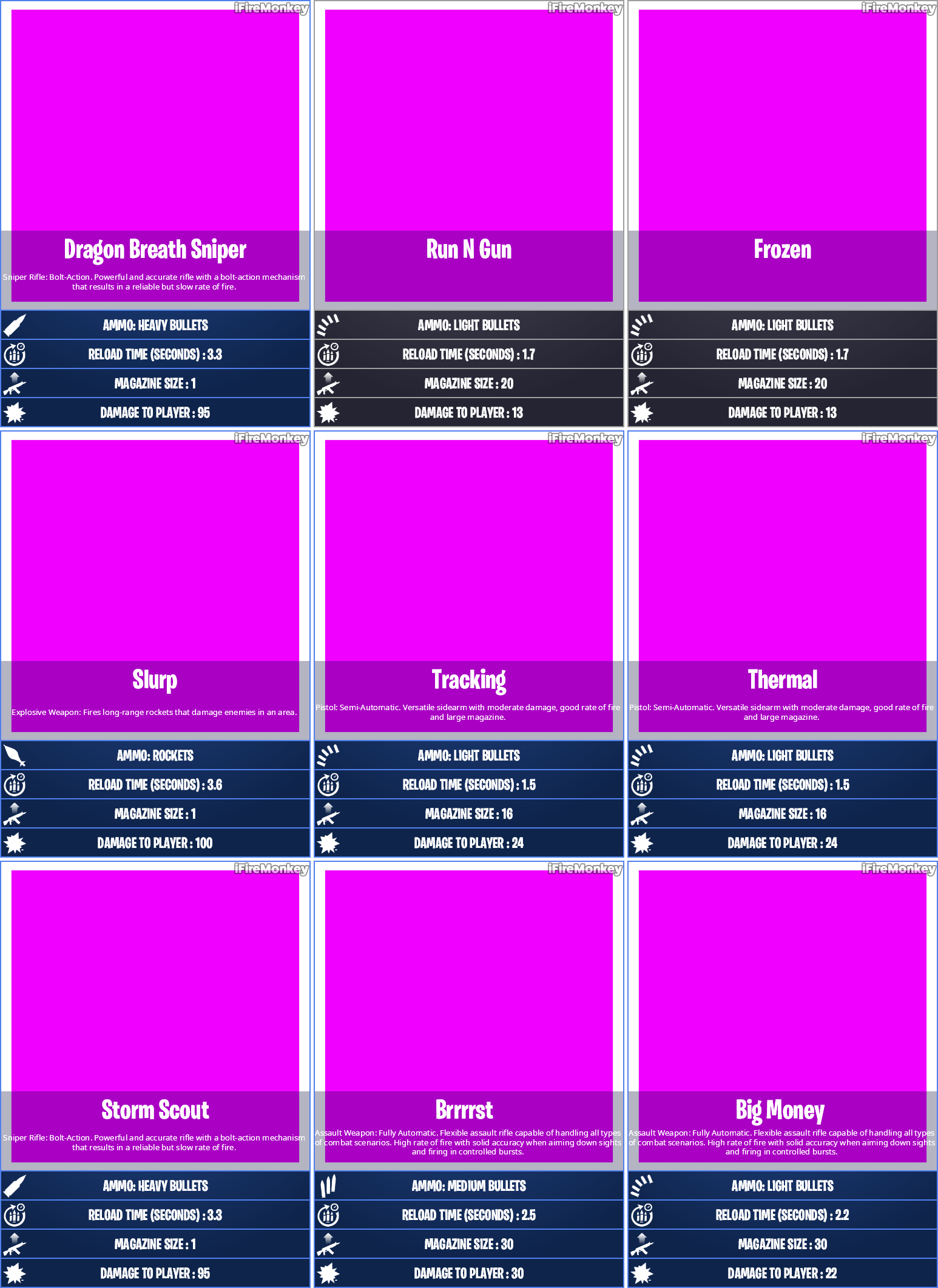 The descriptions of these weapons only tell us what kind of gun they'll be – not what they'll do. Chapter 1 players will recognize the Storm Scout as one of the more powerful competitive tools, allowing players to peak at where the next zone will end.
With unique names like Big Money and Brrrrst, we can only assume that these new weapons will have similar, unique capabilities.
We have no idea if and when any of these weapons will come to Fortnite. The aforementioned "Brrrrst" weapon seems like it should be related to winter, meaning we could see it next season.
Of course, these could be LTM weapons as well – we won't know until we learn more about them. For now, they're only weapons to keep an eye on as Season 4 winds to a close.
Leaked 'Fancy Kevin' skin set & Jetpack leaked for Forntitemares
More Fortnitemares leaks come rolling in with an update expected any day now.
Fortnitemares 2020 is just around the corner, with an update expected to come to Fortnite as early as this weekend. Fans have been speculating as to what the new update will bring this year: Zombies? Husks? A unique LTM? We won't know until the update drops.
We saw several leaks about the event come out of the v14.30 update, including one that suggested that Midas would be coming back as a ghost or zombie. Data miner, Mang0e, added to the leaks with news of a "Cosmos" Jetpack and a new "Fancy Kevin" skin set.
Kevin, for those who don't know, was the community-given name for the cube that landed on the island during Chapter 1. Epic embraced the name, and have used it in several promotional cosmetic items, announcements, and in-game hints. It's the reason that the Kevolution Energy plant has its name.
As for how this skin will look, we may not know until it hits the Item Shop. Kevin fans should saver their V-bucks in the meantime.
Now, moving onto the Jetpack that was found in the game files. We have already seen Jetpacks in Fortnite, and they've almost always been relegated to LTMs. According to Mang0e, this Jetpack has some new effects and, reportedly, won't be for an LTM.
We're not 100% sure whether or not this Jetpack will come to Fortnitemares or if it will be a part of Stark Tech later in the season. Jetpacks occupy an interesting place in Fortnite when it comes to balancing them. With Shockwaves, Bouncers, and Crash Pads already in the game, do we need another way to take height without using builds?
Keep in mind that this Jetpack could be among the nine leaked weapons found in the game files, and that it's not guaranteed to ever see regular play in Fortnite.
If you want to know more about what to expect in this year's Fortnitemares, you can take a look at our predictions and guide to the leaks here. We'll keep you posted when the update goes live, so stay tuned!
5 times Fortnite tricked their player base
The Fortnite plotline is tricky with a lot of dead ends. Here are five times Fortnite tricked their player base.
Casual Fortnite fans may not know about all of the nuances of the game's plotline. On its surface, Fortnite seems like little more than a cartoony Battle Royale game. The plot that's spanned three years of the game's lifecycle can be a lot to digest for new or casual players.
Dedicated players know that there's a ton going on behind the scenes, however. In fact, there's hours worth of content on YouTube dedicated to deciphering the subtleties of the Fortnite storyline – always updating and changing with each event.
Epic knows this and is intentional with what they tell their fans and what they omit. They also set traps for theorists, giving the red herrings that ultimately lead to dead ends.
That's what we're focusing on, here; the times when Epic tricked Fortnite players into thinking something would happen when it wouldn't. Here are five times that Fortnite ticked their player base.
1. Heroes vs. Villains
Longtime Fortnite players know that Chapter 2 Season 4 isn't the first time that heroes made their way into the game. Chapter 1 Season 4 had the same theme – albeit without the Marvel crossover.
Most fans assumed that the theme of the season was "Heroes vs. Villains." When the season ended, however, we found out that the Battle Pass characters were actually a part of a film – not heroes and villains in real life. This was all a distraction while the Visitor set his plan in motion.
Not only did this red herring lead theorists down the wrong path for the season, but the theme led us to believe that The Visitor was evil – something that wouldn't get cleared up for another six seasons.
2. Tilted Towers Destruction
The destruction of Tilted Towers was rumored to take place almost every season of Chapter 1. When the Visitor's rocket first took off, it headed directly for Tilted before rift-jumping into the sky. From that point forward, fans assumed that each update would bring the destruction of Tilted Towers with it.
Season after season, Titled stayed standing – save for one building in the middle of the POI that kept getting destroyed. When Tilted eventually did get destroyed at the end of Season 8, the building that was constantly under construction was the only one that stayed standing.
3. Fortnite X It 2
When It 2 came out in September of last year, red balloons began popping up all over the Fortnite map. This was right after the Fortnite X Stranger Things crossover, so fans assumed that It was coming next. We even saw leaks surrounding Pennywise and possible voice tracks.
Unfortunately, none of that ever came into the game. The red balloons hanging out of sewers were all that we got. We don't know if this was intentionally misleading or if something happened between the studio and Epic, but the Fortnite X It 2 crossover never came to fruition.
4. The Crashed Astronaut
In the Fortnite Season 3 Battle Pass, one of the characters seemed a bit out of place with the theme. Sonia, an astronaut, seemed like she belonged in the Chapter 1 Season 3 Battle Pass rather than in Chapter 2.
Later on in the season, when the water level began to lower, we found Sonia's ship with another astronaut inside. Players were able to complete a mission to get the ship back in the sky, but that was the last we saw of this strange visitor.
It might be too soon to call this a Fortnite red herring, but we haven't seen anything happen with this astronaut. For now, it seems like Epic were misleading us, here.
5. Ghost and Shadow War
Much like the theme of the heroes and villains in Chapter 1 Season 4, the Chapter 2 Season 2 theme strongly misled players as to where things were going. Players assumed that there was a massive war brewing between Ghost and Shadow, and that the Chaos Agent and Midas were the leaders of it.
When we heard that Midas was working on a Doomsday Device, we assumed that this would be his retaliation against Shadow. They had taken over most of the major POIs, after all. When the Doomsday Device went off, however, we learned that Midas was fighting against the storm and the creators of the simulation. The war with Shadow was only a front.
To this day, we don't know the exact objective of Midas. The last we saw, he was eaten by a shark at the beginning of Season 3. One thing's for sure, though: the Ghost vs. Shadow war was nothing more than a distraction.
There were other moments of trickery throughout the seasons of Fortnite, but these were the most jarring ones. Some honorable mentions include The black helicopters from Chapter 1, along with the Enforcers – who never really did anything once they got here.
Epic Games is playing a subtle game with their plotline. As players and theorists, we don't know what's important and what's a red herring. We still have a lot to uncover within the story of Fortnite, but keep an eye out for dead ends.
DreamHack Open ft. Fortnite October results
Demonspect wins the NA-West region of the DreamHack Open featuring Fortnite.
Another month, another DreamHack Solo competition to help carry us through a week of competitive Fortnite. On October 8, the NA-West region completed its stage of the tournament to kick things off for the month. Last night, October 16, NA-East joined them.
So far, the tournament has showcased some household names, some off-ping warriors, and some rising stars that call North America home. Here are the entire results of the NA-West and NA-East DreamHack competitions, so far.
NA-West DreamHack Open results
The NA-West region is, as always, the first to wrap up the DreamHack October tournament. Players on NA-West finished the tournament on October 8, with Demonspect taking home first place. He finished six points higher than 77 Xarez in second.
Rising star in the region, Reet, came in third and one of the established juggernauts in NA-West, EpikWhale, finished in fifth. Nosh and Maken rounder out the top ten. Other noteworthy finishes outside of the top ten include WHofishy at 12, VerT at 14, Marzz_Ow at 20, Jamper playing off-ping at 25, Skqttles at 26, Wavy Jacob at 36, MackWood at 45, and H1ghSky1 at 47.
NA-East DreamHack Open results
Furious, one of the top controller players in any region, walked away with the win in NA-East with a score of 307 points – 7 points higher than skqttles in second. Furious padded his victory by winning two out of the six games.
After Skqttles was Degen in third and Okis in fourth. Other noteworthy finishes include Paper at 10, MackWood at 16, Zexrow at 17, Slackes at 18, and Th0masHD competing off-ping at 19. Here's a look at how the top 15 looked at the end of the tournament.
We're still waiting on the results of EU, which is set to take place next week. We'll update this post when the final region completes their DreamHack October tournament.