5 Best landing spots for Arena in Fortnite Chapter 2
Want to survive longer in Fortnite Chapter 2? Take a look at the five best landing spots for Arena Mode points and easy paths to victory.
Want to survive longer in Fortnite Chapter 2? Take a look at the five best landing spots for Arena Mode points and easy paths to victory.
Fortnite Chapter 2 is still relatively young. Only a select few players have had the chance to explore and evaluate the entire map just yet.
The Arena Mode grind also feels more intense than it has in years past. Playing for placements is the strategy of most players who want to rank up quickly, so we've compiled a list of five of the best landing spots for Solo and Squad Arena Mode.
Logjam Woodworks/Shanty Town
Logjam Woodworks, located directly southwest of Weeping Woods, is my personal landing spot for Solo Arena in Fortnite. You can get maximum wood in under two minutes from all of the pallets and leave with max metal as well.
There are four or five chest spawns, several floor loot spawns, and a handful of ammo boxes in the area as well. You'll likely come across a fishing pole, and you can head to the swamp to do some fishing.
If you have zone, you can move over to Shanty Town to hit the Slurp kegs for the free shield, not to mention the glowing mushrooms on the way there. If not, you can rotate to Weeping Woods and finish off anyone who landed there.
I use Shanty Town as my bail spot for Logjam. If someone has a better drop than I do – or if Logjam is too contested – I'll bail to Shanty to get some shields before I push.
You can also split-land with a squad between Logjam and Shanty. The two locations are close together and provide enough loot for four people.
Risky Reels
Risky Reels was one of the fan-favorite locations that didn't come back in Fortnite Season X, despite being teased through a projector screen near Sunny Steps.
In Fortnite Chapter 2, it's an underrated landing spot for Solos that allows you to max-out your wood and metal before leaving. There are a ton of chests here as well, so you shouldn't be hurting for loot when you rotate.
Risky Reels also sits near the middle of the map, meaning you won't have to travel very far to hit your next zone. You can also rotate out of Risky to hit Frenzy Farm which should be home to several hot-droppers.
Camp Cod
Camp Cod is the southernmost island on the map. It has awesome loot and enough materials for a whole squad to max-out. The only issue with this one is the zone. You're going to have to travel a long distance in some cases.
From landing here a few times, there doesn't seem to be many boats around. You're gambling a far circle for some of the best loot you can get in an uncontested location.
Squads can all land here or split to some of the smaller landmarks on the nearby mountains. Be careful if other teams have the same idea, though.
The Orchard
The Orchard is one of the more popular landing spots on this list due to its close proximity to Frenzy Farm (The Orchard is just to the north). Frenzy has shown itself to be Fatal Fields meets Tilted Towers in Fortnite Chapter 2, which means 20% of the lobby is guaranteed to land there – at least in public matches.
The Orchard is big enough for a whole squad with enough loot and materials to go around. It also provides several safe and lucrative rotations, depending on where the next storm circle is located.
This one might not be the best for Solos because of its popularity. You'll see two or three enemies land here every time, and one or two players will likely rotate here after landing at Frenzy Farm. Still, it's a good landmark with a lot of loot.
Eye Land
Eye Land is the centermost point in the Fortnite Chapter 2 map, which means you're automatically at an advantage. You can quickly cap your wood and get some metal and brick before moving onto your next looting spot.
There are several boats and fishing holes around the island as well. Overall, this is an ideal spot to land as a solo. There might not be enough loot for a squad, but you could always split-drop with half of the team landing somewhere like Risky Reels instead.
If you're on the island, though, other players will likely rotate to you. It's not the safest place on the map, but it does ensure you'll never have to travel far to make it to the next zone.
So, there are five of the best places to land for easy wins and points in Fortnite Chapter 2 Arena mode. Let us know some of your favorite landing spots in the comments!
Ninja's test stream points to potential YouTube signing
Fans are speculating, heavily, that Ninja will be moving to YouTube Gaming.
Ever since Mixer dissolved overnight, fans of popular streamers have been speculating about where two of the biggest names in gaming will land: Shroud and Ninja. The consensus was that Shroud would return to Twitch, while Ninja would head off to YouTube. Fans of the latter will remember the fallout that Ninja and Twitch had when the streamer left – leaving little chance of the two entities settling their differences.
At the end of the day, YouTube and Twitch were the only two realistic options for these streamers – short of the rumors of a new streaming platform. Both Ninja and Shroud turned down massive contracts from Facebook Gaming, signifying that they wouldn't want to join their platform for any amount of money.
We haven't heard any news about where Ninja would land since Mixer shut down. He is, undoubtedly, in the midst of contract negotiations with his future platform, but we hadn't seen any concrete clues that pointed to Twitch or YouTube.
That was, until July 7 when the streamer scheduled a test stream on YouTube. The scheduled test was set to take place on the same day and, as Hypex stated in a tweet, likely wasn't supposed to be public. It was, though, and has fans speculating that Ninja is heading to YouTube Gaming.
As we touched on, above, this is far from a surprise. Ninja's friend, CourageJD, has been killing it on YouTube – actually seeing his viewership increase after switching over from Twitch.
Although this test stream doesn't confirm anything, it provides us with a strong hint that Ninja is moving to YouTube Gaming. It also tells us that the official announcement may be sooner rather than later. This is all one more step to having one of the biggest Fortnite streamers on any platform back – his incredibly entertaining "Ninja Battles" tournament series with him.
Replay images suggest Vending Machines will return in Fortnite Season 3
Could Vending Machines make their return in Fortnite Season 3?
You might not remember the days of the old Vending Machines in Chapter 1, but they took a while to find their footing. They started by charging players too many materials for a particular weapon before lowering their requirements and becoming much more popular. After some final adjustments, Epic decided to make the Vending Machine free, but only dispense one weapon per machine.
In Chapter 2, Epic removed Vending Machines from the map. There wasn't a ton of need for them in the first two seasons. The loot pool was simple and Upgrade Stations allowed you to improve your loadout. In Season 3, however, things are starting to get a bit more cluttered. We could have a need for Fortnite Vending Machines, yet again.
It's clear that Epic have the intention of adding Vending Machines back to Fortnite, eventually. We've seen some glitches and rendering problems that cause players to get a glimpse of Vending Machines in both Seasons 1 and 2. Season 3, however, seems like the most realistic time to add them back.
Theories of the return of Vending Machines are back in the news because of what some players are finding in Replay Mode. We've seen screenshots of Vending Machines at The Shark, Camp Cod, and other locations around the map. It's clear that Epic know where they'd put them, at least.
As the water levels lower throughout Season 3, we may begin to see Vending Machines poke out. They all seem to offer Miniguns, at the moment, which are not in the base loot pool. This could always change in a later patch, however.
Epic seem to be dedicated to bringing back the ever-changing Fortnite world that we saw during Chapter 1. The more item in the loot pool, the more RNG you'll have. Vending Machines have always been a way to mitigate RNG, and could be perfect in Season 3 – at least, we hope.
Entire Fortnite Summer Smash LTM lineup revealed
Here are all of the upcoming LTMs for the Fortnite Summer Splash event.
We're in the midst of Fortnite's annual Summer event – this year called, "Summer Splash." Last year, we saw Epic unvault a new weapon each day during the 14 Days of Summer. This season, we're getting a healthy rotation of some LTMs.
The return of LTMs was one of the most-requested features from the Fortnite community during the first two seasons of Chapter 2. Fans wondered why Epic didn't add these modes to the game. Well, we may now know: they were saving them for a small event.
We'll be treated to five more LTMs over the course of July, starting with Fog of War, which came out on the 6th. Tomorrow, July 8, the rotation will split to High Explosives as a Squads mode.
Fortnite data miner @iFireMonkey took a look at the game files and found all of the LTMs coming to Fortnite in the next month. Along with the game types, he also found the team size that each mode will feature. Here's his infographic on all of the LTMs coming to the Summer Splash event.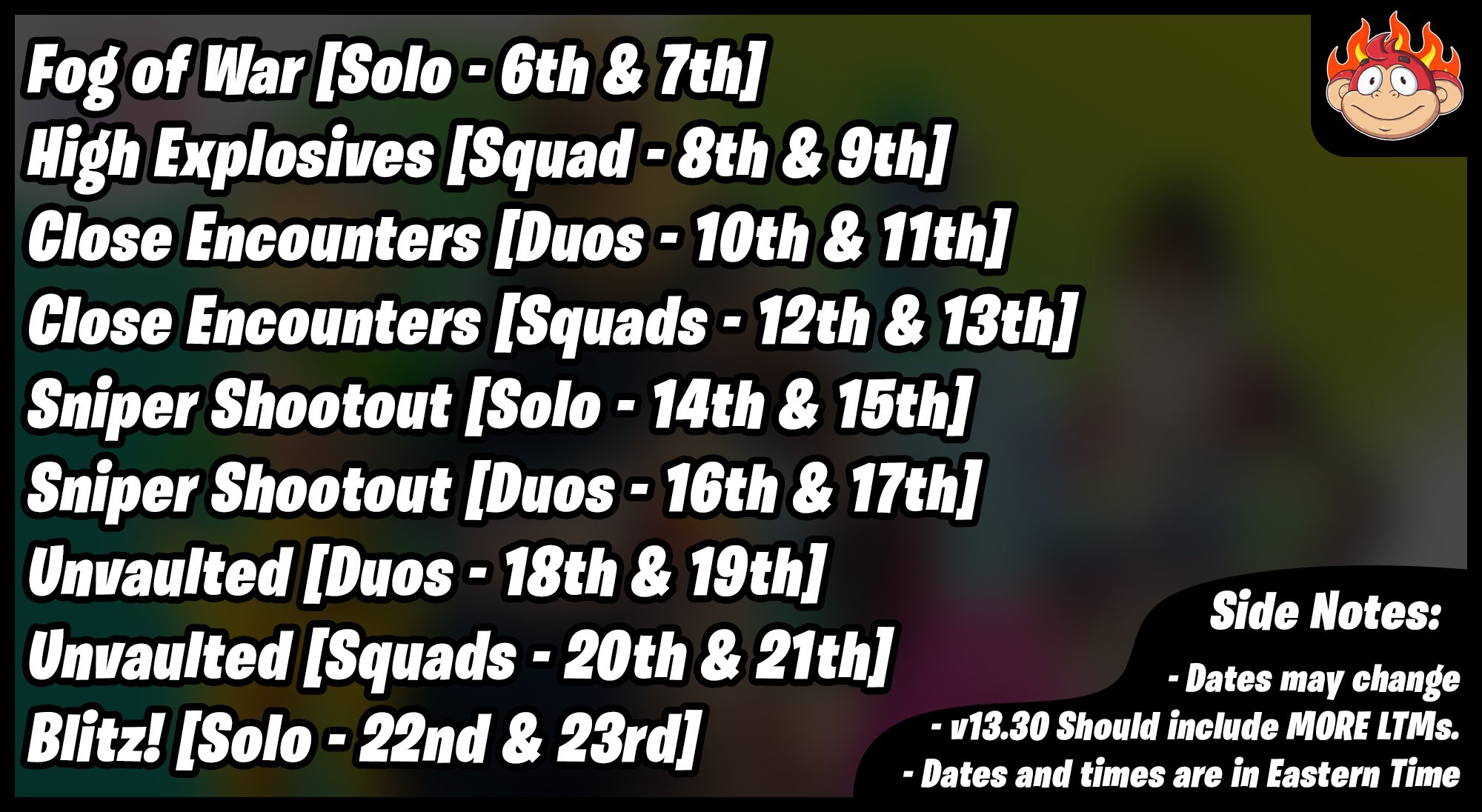 As you can see, Epic are, traditionally, keeping their LTMs around for four days each – switching the team size after two days. Sniper Shootout, Blitz, and Unvaulted are three of the most popular LTMs, so it makes sense that we're seeing them here.
Of course, there will be a few fan-favorites that missed the rotation. The Floor is Lava, Air Royale, and The Getaway are probably all Chapter 1-specific, but we would have loved to see Bounty in this lineup. Hopefully, Epic continues to keep up with their LTM rotation after Summer Splash concludes.