100 Thieves showcase the new Fortnite team mansion
The organization owned by Matthew 'Nadeshot' Haag has always been known for showing the larger side of the esports life, and the brand new Totino's Fortnite World Cup house follows that 100 Thieves standard.
The Fortnite World Cup will be held from July 26-28 in New York and will offer a massive $30 million prize pool.
100 Thieves went through a roster overhaul by parting with some players while welcoming some new ones.
What is the 100 Thieves Pro Team house?
The 9,000 square house will be meant as a home and practice space in order to prepare for the Fortnite World Cup.
100 Thieves' Fortnite team will be moving to the East coast in order to "reduce latency to the East Coast servers, and provide three times the amount of opportunity to qualify."
The mansion consists of a piano room, game room, and a theater room which will provide plenty of entertainment for the players.
Who will be apart of the 100 Thieves Fortnite mansion?
100 Thieve's roster looks intimidating for the Fortnite World Cup.
Right now, their Fortnite roster consists of original Fortnite members Ken 'Kenith, Sawyer 'SirDimetrious' and newcomers Hayden 'Elevate' Krueger, Davis 'Ceice' McClellan, Maurilio 'Blind' Gramajo, and Gabriel 'Kyzui' Harlos.
This year, we're making a resurgence into competitive Fortnite. Welcome @Ceice & @ElevateFN to 100 Thieves!

As a notorious duo, Ceice & Elevate have made major strides in competition, placing 1st at WSOE 3 & finalists at TwitchCon 2018. Excited to have both join our team! #100T pic.twitter.com/xHLJdfX0C7

— 100 Thieves (@100Thieves) February 21, 2019
The first two members of the house are Ceice and Elevate.
The Fortnite World Cup Online Opens are in progress, with Ceice qualifying the first week.
All players who make it through the Online Opens will be given the chance to compete in New York from July 26-28, with the main event offering a $30 million prize pool.
The winner of the solo event will walk away with an impressive $3 million.
Fortnite x Kaws collaboration confirmed to bring a new Peely skin
American artist Kaws has announced another collaboration with Fortnite. This time around, loopers can expect a Peely reskin in his style.
Kaws and Fortnite collaborated during the Chapter 2 Season 8 Fortnitemares event that brought four Skeleton outfits to the Item Shop. The artist has teased his return in Chapter r3 Season 3 and has most likely worked on a Peely reskin.
The first collaboration between Kaws and Fortnite was a massive hit. Fortnitemares was the perfect occasion for the artist to introduce his characters to the Battle Royale game.
Leakers were anticipating that a new crossover with a renowned artist will be announced tomorrow, but Kaws himself has confirmed it beforehand.
Kaws confirms his return to Fortnite through an Instagram post
Kaws recently posted an image with a card that says, "Dear Fortnite, see you soon". What's more interesting is the fact that a banana is placed beside the card.
It wouldn't be an overstatement to say that Peely is one of the, if not the most popular character in Fortnite. The walking banana was first introduced as a meme in Chapter 1 Season 8, and countless variants have arrived ever since. These include Unpeely, Agent Peely, Frozen Peely, and Peely Bone, among others.
A few minutes before Kaws confirmed the collaboration, leakers iFireMonkey and Shiina had these things to say about an upcoming Fortnite collaboration:
A collaboration with a prominent artist will be announced tomorrow.
A well-known Fortnite character will get a new style from the artist.
Alongside the skin, there will be a back bling, a wrap, and a glider.
The collaboration files will be decrypted tomorrow while the skins will arrive in the Item Shop 2-3 days later.
It is fairly easy to join the dots now. A Kaws x Fortnite collaboration is imminent and Peely is the 'well-known' character who will receive a skin style. Having said that, the release date of the skin is still uncertain.
Considering that Peely already has a skeleton style (Peely Bone), it will be interesting to see how Kaws has redesigned the character this time. It is worth noting that according to the lore, Peely is not a single character but a tribe.
All crashed IO Airship locations in Fortnite Chapter 3 Season 3
Fortnite Chapter 3 Season 3 Week 4 challenges are here. Here's how players search chests or ammo boxes at crashed IO Airships.
Following the war in Fortnite Chapter 3 Season 2, the map now has several crashed IO Warships with a Vibin' theme. A weekly challenge requires you to visit these Airships and search for ammo boxes or chests.
A new set of Weekly quests arrive in Fortnite every Thursday. Loopers can get 15,000 XP from each quest and there are bonus rewards for completing them all. These challenges do not leave the quests menu until the end of the season, but considering that they are quite simple, it is more convenient to complete them right away.
Where to find crashed IO Airships in Fortnite Chapter 3 Season 3
There are a total of five crashed IO Airships on the map. To complete the weekly challenge, you need to find two ammo boxes/chests. Hence, landing at any of the following locations should be worthwhile:
Northeastern Edge of the map
The first IO Airship in Fortnite is located on the northeastern edge of the island. Loopers can either land near Daily Bugle and swim towards the ship or directly land there.
It is safe to assume that this will be one of the least-contested crashed IO Airships. Even though there aren't any fixed chest/ammo box spawn locations, finding one shouldn't be a major problem.
The southeastern edge of the map
Another IO Warship can be found in the ocean at the southeastern edge of the island. Condo Canyon is the nearest named location but depending on the Battle Bus' path, you can directly land at the location marked in the image below:
Rocky Reels
A crashed IO Warship is located near Rocky Reels. You can either land in Greasy Grove and head east or land at Rocky Reels and head west. It is worth reiterating that the challenge requires players to open a chest/ammo box in the ship, and not just visit it.
Loot Lake
Towards the end of the war between the Imagined Order and The Seven, the final IO Airship crashed inside Loot Lake which is currently one of the best locations on the island in terms of loot.
It won't be a surprise if you meet a ton of other loopers when landing at this Airship as Loot Lake has an abundance of chests.
Southeast of Coney Crossroads
The fifth and final IO Airship is near Coney Crossroads which is also one of the most crowded locations in Fortnite. This airship will at least have one chest and one ammo box, and you can also expect floor loot here.
Completing this Week 4 challenge will grant you 15,000 XP which eventually helps in leveling up the Battle Pass. The Chapter 3 Season 3 Battle Pass is loaded with exciting original and crossover skins including the likes of Evie and Darth Vader.
Fortnite x Fall Guys crossover is a big disappointment and here's why
Fortnite x Fall Guys was one of the most sought-after events ever and Epic Games has managed to disappoint many players with it.
Fans naturally had sky-scraping expectations from a collaboration between Fortnite and Fall Guys, two of the biggest Battle Royale games in the world. Unfortunately, it turned out to be a damp squib for many.
Even though there hasn't been an official announcement yet, Fortnite players have started receiving the free Major Mancake skin and other cosmetics in his set. This means that the much-anticipated collaboration with Fall Guys is finally live.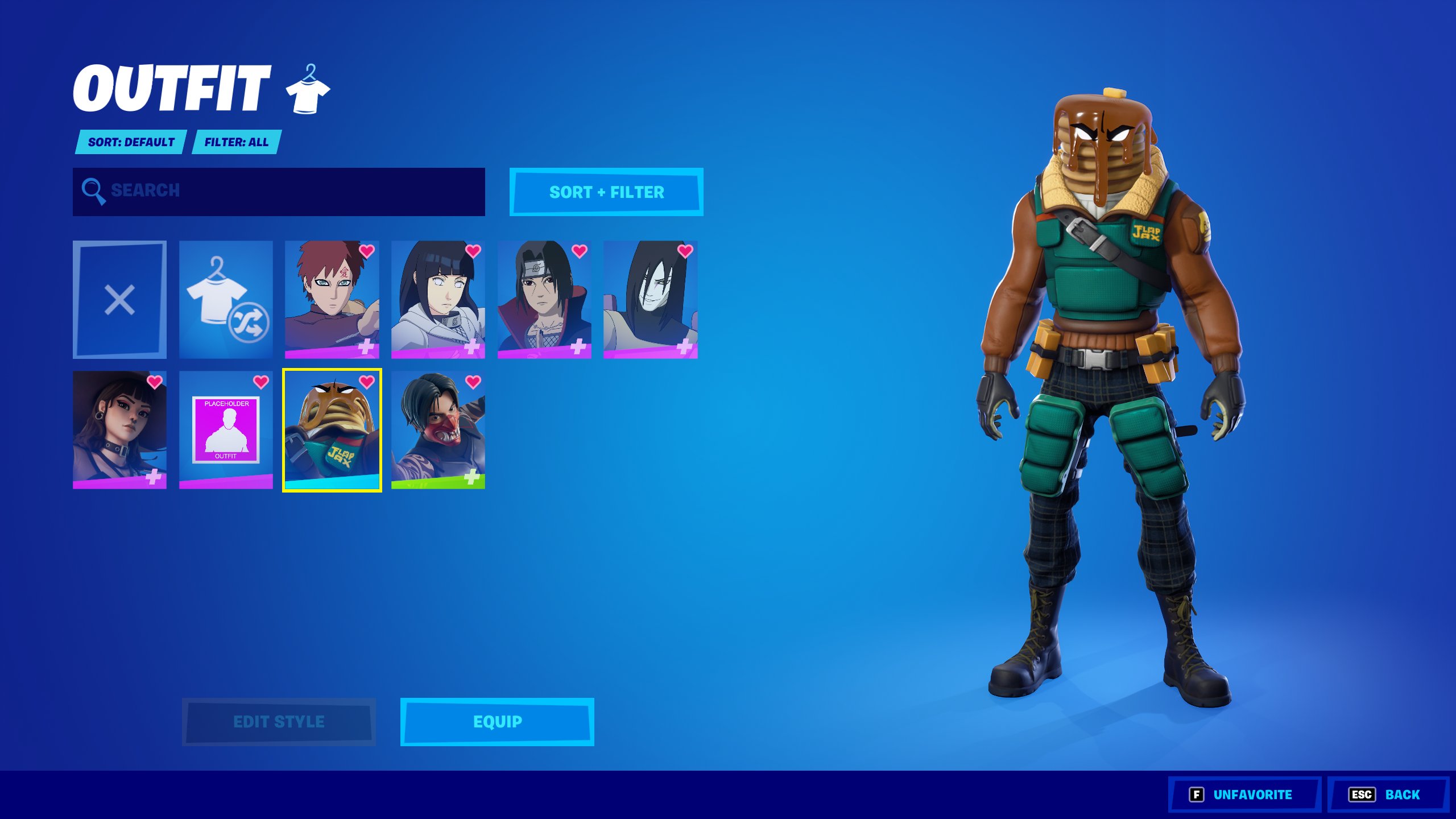 Despite having an opportunity to get a skin set for free, loopers aren't satisfied with the ongoing Fortnite crossover.
Some glaring issues with Fall Guys x Fortnite: Crown Clash event
Fall Guys x Fortnite's Crown Clash event began on June 29, 2022 although Epic Games has ignored it completely. The Galaxian emotes and return of Pac-Man have been mentioned in latest Twitter posts, but players still have no 'official' information on the free Major Mancake skin.
As of now, leakers have single-handedly promoted the entire crossover.
The spread of misinformation and confusion among loopers was inevitable, to say the least. Leakers and data miners have been flooded by messages about the free cosmetics, who obviously have no real advice to give.
Another bone of contention is the lack of a Fall Guys-themed reward. Mancake is a popular Fortnite character, but he has no relation to Mediatonic's Battle Royale title. To play 100 rounds of Fall Guys for a 'not-so-Major' Mancake skin is not worth the effort for several players.
Is the latest Fortnite x Fall Guys: Crown Clash event even a crossover?
While the critique of the Fall Guys crossover has been mentioned above, there are players that are happy with it too. They argue that Crown Clash isn't necessarily a collaboration, but a celebration.
Epic Games' goal here is to simply promote Fall Guys (as it recently went free-to-play). Getting a free skin set for a prominent character like Mancake is a great incentive for a devoted Fortnite player to try another game.
Considering that Fortnite is a free-to-play title as well, it is always great when the developers hand out free rewards. To be fair, playing 100 rounds of Fall Guys is much easier than The Nindo challenges that only grant a glider, a wrap, and some emoticons.
All in all, the mixed response towards Fortnite x Fall Guys is understandable. While Major Mancake is good enough for some players, others look forward to unlocking cosmetics that 'actually' represent a collaboration.
For now, we await Epic Games' blog post on Crown Clash event. Leakers have revealed that the event ends on July 11, 2022. It is unlikely that Major Mancake will arrive in the Item Shop later, and this could be your only opportunity to unlock it.