10 things only Fortnite OGs will remember
How long have you been playing Fortnite? Do you remember all of these features and mechanics? Take a look at the Fortnite days of old, here.
How long have you been playing Fortnite? Do you remember all of these features and mechanics? Take a look at the Fortnite days of old, here.
Fortnite Battle Royale released on September 26, 2017. For many of us, that was the day that we fell in love with this brand-new title that eventually became a worldwide pop-culture sensation.
Not everyone played the game back then, though. It took several months to catch on. Here are 10 things that only the OG Fortnite players will remember.
1. Team Killing
Team killing might have been the most toxic element ever in Fortnite, which makes it surprising that it used to be the norm. Do you have a random teammate who is taking all of your loot? No problem, just kill them.
Of course, team killing led to a lot of accidents on the battlefield – which was what it was meant to do – but it bred more toxicity than anything else. Just look at this famous clip of NickMercs trolling one of his random teammates back in the day.
Epic took this out of the game in the early seasons, meaning only original players will remember downing and finishing their teammates. After that, they had to rely on sneakier ways to kill allies like hitting them with an Impulse Grenade.
2. The Sniper Pump
The Pump has gone through more changes than any weapon in the Fortnite roster. Most players remember – or heard about – the double-pump days, but not many know that the Pump used to be completely broken from long-range.
Damage fall-off wasn't as stark as it is today – for any weapon – but the pump could deal legitimate damage when an opponent was nothing but a dot on your screen.
Pumps have been nerfed into the ground in Chapter 2. It's funny to think that a Green Pump used to deal 90 damage from 200 meters. Say what you want about the current state of Pumps in Fortnite, but no one is asking for this to return.
3. Unnamed Salty Springs
Most Fortnite fans know that Salty Springs has been in the game since it came out, but not many players remember the days when it was the unnamed gem between Retail Row and Dusty Depot.
Early players, such as myself, discovered the small town with ample loot before it blew up. Once Epic threw a name on it, though, it became a central hub for battle.
Now, Salty Springs is more of a 'squad-fill' meme than anything else. Want to flip a coin on whether or not you'll survive your drop? Land at Salty.
4. Transparent edits
Transparent edits were in Fortnite for a while – so long that a lot of pros and streamers were angry with Epic when they changed the system.
Looking back on how things were, however, it's easy to see why they made the change. Imagine these crazy pro players could see through a fully-transparent edit. That's way too OP and Epic made the right move with this change.
5. You couldn't build through trees and cars
There are a lot of annoying little things in Fortnite. Certain areas won't let you place a wall and others force you to build a cone rather than a floor. This was nothing compared to how Fortnite used to be.
Back in the day, you couldn't build through cars, trees, or any other natural structure. If you got caught near one of these and tried to build, it was game over.
Adding the ability to build through these natural structures was one of the best quality-of-life improvements Epic has added.
6. The OG Default Dance song
The Fortnite Default Dance is still in the game – and remains one of the more toxic ways to taunt your opponent. We all know the two variants, but not many players remember the third.
The third Default Dance tune is nothing to write home about, but it was a strange removal from the game. It isn't the iconic 'root-doot-doot-doo-doo,' but it's arguably better than the drum solo version.
Here it is if you don't know what I'm talking about.
7. No back bling
Back bling wasn't always a thing in Fortnite, either. Back in the day, you couldn't mix and match your skins and back bling.
Whichever back bling came with your skin was the one that you were wearing. If the skin didn't have one, then your back would be bare.
This was the case throughout Season 2. The Dark Knight skin was forced to wear his signature shield before this was eventually changed in Season 3.
8. Pre-edited cone meta on controller
Anyone who played Fortnite on a controller before the implementation of the Builder Pro setting may know what this one's about.
Back in the Combat Pro days, we had to use the bumpers on our controller to cycle through our structures – the same way we cycle through weapons, today.
In those days, it was often easier to pre-edit your cone into a ramp rather than cycling all the way to the ramp piece. This kept everything closer together.
In the old days of Fortnite, someone running at you with a pre-edited cone was incredibly intimidating. Just by seeing this, you knew that they took the game seriously enough to maximize their advantages.
Builder Pro removed the need for this and drastically increased the skill ceiling on a controller. Now, some pros are arguing that the controller is actually more powerful than a keyboard and mouse.
9. Manually switching material types
Even if you don't remember the days before Turbo-Building, you probably know that there was a time when players had to individually place each structure.
The implementation of Turbo-Building was a massive game changer, but people forget that there was a small quality-of-life improvement before this setting was added.
In the old days, you'd have to press a separate button if you ran out of wood and wanted to switch to brick or metal. If you didn't, the game would act like you didn't have any materials. Thankfully, this wasn't the case for long – once the community started to take building seriously.
10. Platform-specific traps
There are currently 0 traps in Fortnite, but when the game first came out there were a few different types. What's more, is that each type was specific to a certain kind of surface.
The Spike Traps that we all know were only able to be placed on the floor. There was an electricity trap for a wall and another for the ceiling. Anyone who plays 'Save the World' knows that Epic was using the same model, here.
Of course, the number of traps complicated things and Epic eventually widdled it down to one before expanding the roster and, eventually, removing all of them.
So, there you have it: ten things that only OGs will remember about Fortnite. Do you remember any of these? All of them? None of them? Let us know when you started playing in the comments.
All Fortnite Season 6 Exotic Weapon locations
Fortnite Season 6 is here, and only a few Exotic weapons made it. Here are all Exotic weapon locations for the new Fortnite season.
Fortnite Season 6 marked the return of Exotic weapons to Fortnite. Not all of the Season 6 weapons are there, however, and they've moved locations.
There's no shortage of new mechanics in Fortnite Season c, with the addition of crafting, the map changes, and a whole lot more.
Mythics have returned to the game in Season 6 but in a limited capacity. The only classic Mythic items in Fortnite Season 5 include the Spire Jumpboots and the Spire Assassin's Primal Shotgun.
What's more, Epic added craftable items to the game that allow players to create unique weapons out of existing parts. For instance, a Mechanical Bow and two Shockwave Grenades make the Shockwave Bow – a massive upgrade from both weapons.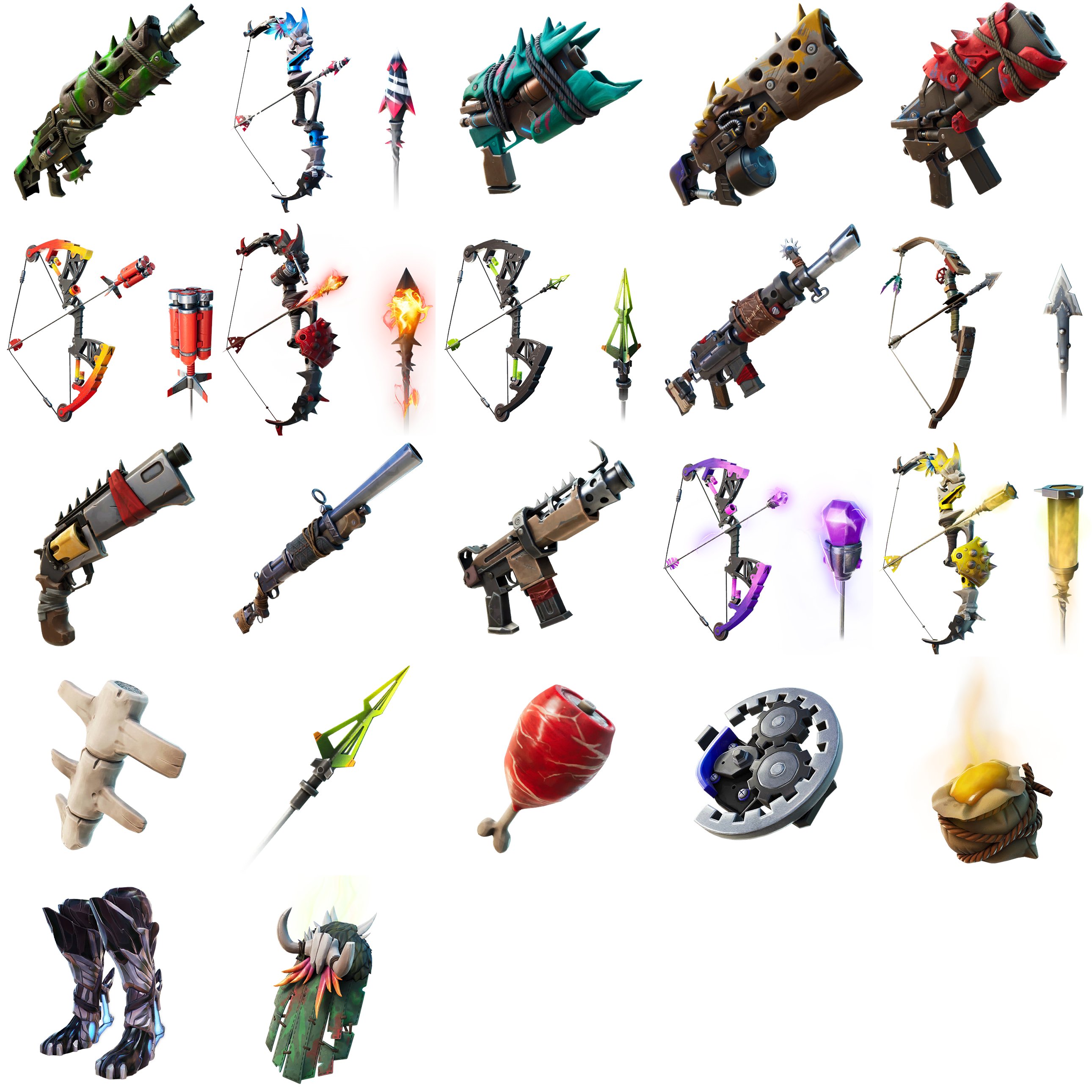 Fortnite Season 6 Exotic weapon locations
Exotic weapons have returned to Fortnite Season 6, but not as many as we had in Season 5. These will be supplementary items rather than the focus of the season, which appears to be on the new crafting mechanic.
Many of the NPCs who sold these items in Season 5 have also either moved locations or don't sell them anymore, so a new guide is needed. Here's a map of all of the Season 6 Exotic weapon locations.
As you can see, there are only four Exotic weapons and items that made it to Fortnite Season 6. These are the:
Hop Rock Dualies: sold by Gutbomb in Logjam Woodworks
Chug Cannon: sold by Slurp Jonesy in Slurpy Swamp
Shadow Tracker Pistol: sold by Power Chord in Dance Club Cabin
Dub Shotgun: sold by Burnout south of Steamy Stacks
The good news is that, unlike last season, all of the NPCs that sell Exotics only spawn in one location – at least, so far.
We'll keep this post updated as Epic add more Exotics to Fortnite Season 6. We expect to see them takes things further as the season goes on, so stay tuned to more news on Exotic weapons.
Image Credit: Epic Games, Fortnite.GG
Fortnite split-screen: how to play with friends
Epic introduced the ability to play split-screen Fortnite in Chapter 2 Season 1. Here's how to enable the setting.
Epic introduced the ability to play split-screen Fortnite back in Chapter 2 Season 1. Here's how to enable it so you can play locally with a friend.
Fortnite has always had a focus on playing with friends, but that always meant you had to play online. Even if you were in the same house as your friend or family member, the two of you had to play on two separate devices.
This changed back in the v11.30 update in Chapter 2 Season 1. Epic introduced split-screen capabilities on consoles for the first time. It wasn't perfect when it first came out, but it's since gotten a lot better.
How to use the Fortnite console split-screen feature
Initiating split-screen is simple. All you have to do is connect two controllers to your Xbox or PlayStation. Split-screen still isn't available on mobile, PC, or Nintendo Switch. Here are the steps you need to follow:
Start Fortnite
Connect a second controller to the console and turn it on
Hit 'Main Menu'
Player 1 will need to invite Player 2 with their Epic account
Player 2 will need to sign into their account
Player 2 will join and split-screen will automatically initiate
You can even save another player's information on another account on your console, making split-screen easier and quicker to complete.
The feature still isn't perfect and doesn't replace the feeling of playing online. You'll only have access to half of your screen, so you're going to miss a few things that normal players will see. Still, playing split-screen is far more preferable than switching off with your friend or family member game after game. Enjoy!
Image Credit: Epic Games/u/SmonkYT
Fortnite v16.20: what to expect
The Fortnite Season 6 v16.20 update is expected to go live this week. Here's what we expect to see in the next Fortnite update
The Fortnite v16.20 is expected to release this week. Here's what we'll see in the patch notes when the update goes live.
We're working our way through Fortnite Season 6, but Epic are continuing to give us new content to explore. We're only a week past v16.10 and are already expecting to see v16.20 go live this week.
Here's our typical patch breakdown on what to expect in the update, including some leaked items and a long list of bug fixes.
Bug fixes
Epic are consistently updating their game to fix bugs, glitches, and exploits. In the v16.20 patch, we'll see a ton of fixes – including a fix for an exploit that allowed players to gain unlimited health/shield over the course of a match.
Here are all of the bug fixes that should be addressed in the v16.20 update.
Cannot create system-level parties between PS5 and PS4 when playing Fortnite.
Code Green Wrap not appearing correctly.
Arena playlist issues.
Storm visibility is clear when using Performance Mode.
Collection Book Character #17 not appearing on the Island.
Slurpshrooms and Coconuts temporarily disabled.
(Creative) Start with 'Pickaxe' Creator setting still spawning with a Pickaxe.
(Creative) Vehicles not moving properly in Creative.
(Mobile) Cosmetics in Lobby appearing blurry on Nintendo Switch.
(Mobile) 3D resolution reset itself even if the player saved the settings.
Leaks
We've seen a few leaks about content that could be coming to Fortnite in the coming weeks. The most likely addition to Fortnite in v16.20 would be the Unstable Bow – a rumored Exotic weapon that should be coming to Season 6.
On top of that, we've seen leaks about vehicle and weapon mods, additional crafting materials, and more. We don't know if/when any of these will come to the game. We always take leaks with a grain of salt, but many of these items will likely make their way to Fortnite – possibly in the next update.
We'll keep you posted when we have official word from Epic on the v16.20 patch. We expect to see it on April 13 or 14, at the latest.
In the meantime, make sure to follow us on Twitter @FortniteINTEL so you never miss out on any of the latest Fortnite news.